North Korean Leader Kim Jong Un Publicly Speaks of Trump Summit for the First Time
North Korean-state run media made a first official mention of the planned summit between the country's leader Kim Jong Un and President Donald Trump on Tuesday.
Kim gathered the top regime officials and members of the ruling Workers' Party of Korea (WKP) on Monday for a meeting discussing the state budget and recent developments in foreign policy ahead of the sixth session of the 13th Supreme People's Assembly—the country's unicameral legislature—on Wednesday.
The North Korean leader discussed both the development of the relations with its southern neighbour and the planned meeting on April 27 at the truce village of Panmunjom with South Korean President Moon Jae-in, as well as referencing "dialogue" with the U.S.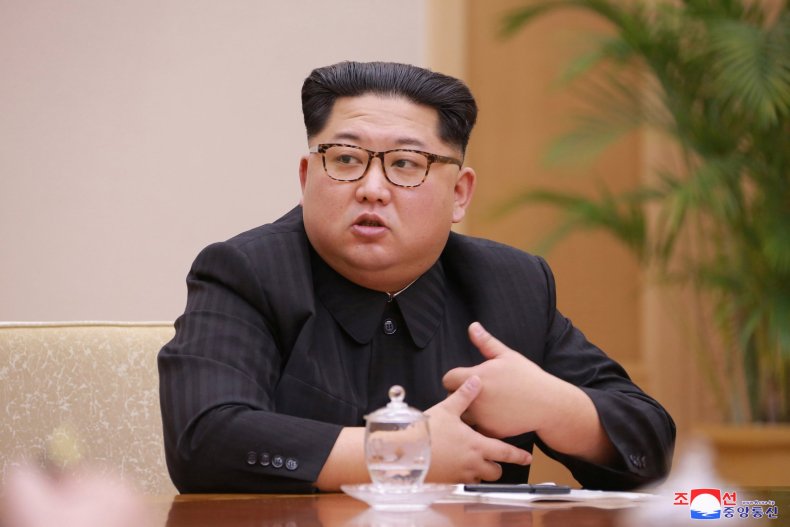 "He made a profound analysis and appraisal of the orientation of the development of the north-south relations at present and the prospect of the DPRK-U.S. dialogue and clarified the strategic and tactical issues to be maintained by the WPK including the future policy of international relations and the orientation corresponding to them," read the article published on both the North Korean state-run news agency KCNA and in the ruling party newspaper Rodong Sinmun.
The confirmation comes as Trump discussed with his cabinet the timing of the summit with Kim, initially scheduled to happen in May, and now pushed further into "early June" at a location still to be confirmed.
"We'll be meeting with them sometime in May or early June. And I think there'll be great respect paid by both parties and hopefully we'll be able to make a deal on the de-nuking of North Korea," Trump said at the meeting on Monday.
The president criticized his predecessors for not having done so themselves, despite the fact that former president Jimmy Carter met Kim's grandfather Kim Il Sung and Bill Clinton met Kim's father Kim Jong Il after the end of their respective presidential terms—but remained optimistic about what the meeting could achieve. Experts have been more sceptical, however, arguing that the U.S. and North Korea have differing understandings of what denuclearization means.
"I think it's going to be a very exciting thing for the world," Trump said.