U.S.-North Korea Talks: What Does Kim Jong Un Mean by 'Denuclearization'?
North Korean leader Kim Jong Un has officially notified the U.S. of his willingness to discuss denuclearization at a planned summit with President Donald Trump, U.S. officials said Sunday, according to Reuters.
The statement is the first direct confirmation of what South Korean envoys discussed with Trump after their trip to Pyongyang last month and Chinese media reported following Kim's historic visit to Beijing at the end of March.
It also confirms the existence of preliminary talks between American and North Korean diplomats occurring via the so-called backchannel offered by the U.N. diplomatic missions.
Trump stunned the world when he agreed to meet Kim by the end of May without preconditions after months of fiery rhetoric against the regime. Now, getting North Korea to clarify what it means by denuclearization is going to be one of the main challenges for the White House ahead of and during the summit.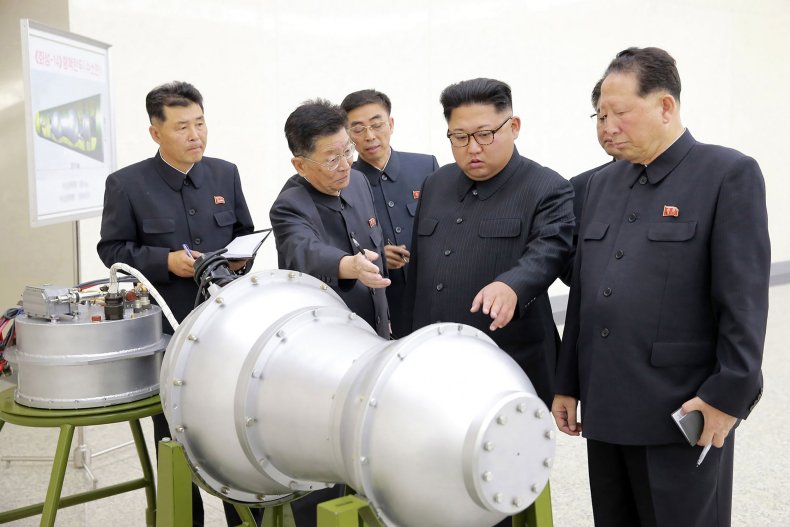 For years, the American understanding of denuclearization entailed the "complete, verifiable and irreversible dismantlement" (CVID) of North Korea's nuclear weapons program. North Korea has repeatedly said it would give up its nuclear weapons only if the U.S. disengaged from the Korean Peninsula.
Pyongyang most recently detailed five conditions for denuclearization in a statement dated July 6, 2016, which all related to U.S. presence and activity in the peninsula.
"For North Korea, 'denuclearization' is an age-old, highly conditional concept that pertains to the entire Korean peninsula. It means the removal of what Pyongyang perceives as a 'threat,' which are the U.S. nuclear umbrella over South Korea and Japan, U.S. military forces from the Korean Peninsula and their strategic assets, and ultimately the U.S.-South Korean alliance," Duyeon Kim, visiting senior fellow at the Seoul-based think tank Korea Peninsula Future Forum, told Newsweek.
"Pyongyang has said it will consider abandoning its own nuclear weapons only when it feels secure for a long time after the 'threat' is eliminated," she added.
Experts doubt that the proposed Kim-Trump summit will result in North Korea giving up its weapons to the standards the U.S. expects. Indeed, some experts believe the talks are just a ploy to "buy time" to continue the development of nuclear weapons on the ground.
Trump nonetheless expressed optimism that a deal would be reached with the North Korean leader. "There is a good chance that Kim Jong Un will do what is right for his people and for humanity. Look forward to our meeting!" Trump tweeted on March 28. According to Chinese media reports, Kim has committed to solving the issue of denuclearization "if South Korea and the United States respond to our efforts with goodwill."