'Not a Joke': Biden Insists He'll Reinstate Ban on Assault Weapons
President Joe Biden says he'll add a federal ban on assault weapons to his list of legislative accomplishments despite the political headwinds facing gun control and the president's agenda.
Biden made the comment in an interview to CNN's Jake Tapper on Tuesday evening as the president touted his legislative wins since taking office. Those victories include a bipartisan bill that became the first gun safety package passed by Congress in nearly two decades. Without offering details, Biden said he would successfully seek national prohibitions on military-style rifles, a goal that's long eluded gun safety advocates.
"By the way, I'm going to get an assault weapons ban," Biden told Tapper. "Before this is over, I'm going to get that again. Not a joke, and watch."
Newsweek has reached out to the White House for comment.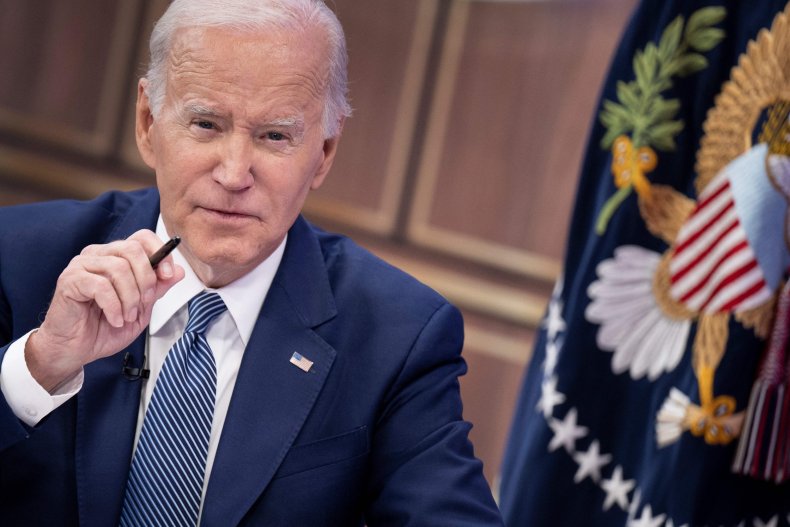 "Any President serious about decreasing crime would enforce this nation's many gun laws against criminals who break them," the National Rifle Association (NRA) told Newsweek in an email. "Perhaps this President has a personal reason for disregarding the enforcement of common sense and effective measures that target criminals.​"
Semi-automatic AR-15s and other military-style rifles became legal federally in 2004 when then-President George W. Bush and Congress, then controlled by Republicans, allowed the national ban to expire. The federal ban on military-style rifles had been passed in 1993 with bipartisan support and was signed by then-President Bill Clinton.
Gun control advocates have unsuccessfully called for Washington to readopt the ban, arguing that access to military-style rifles contributes to mass shootings. Gun rights advocates have fought restrictions on the rifles as an infringement of the Second Amendment.
Meanwhile, the previously banned weapons have become more popular, with a 2020 estimate from the National Shooting Sports Foundation putting the number of military or modern sporting rifles in circulation at 20 million.
Congress continued to steer clear of gun safety legislation until this year when lawmakers faced more pressure from a wave of mass shootings, including the massacre at an elementary school in Uvalde, Texas, that left 19 students and two teachers dead.
Biden in June signed the Bipartisan Safer Communities Act that closed loopholes for domestic abusers to obtain firearms and tightened background checks on gun purchasers under 21. Also included in the bill was more funding for mental health and to help states enact "red flag laws," which allow local authorities to temporarily remove firearms from those deemed to be a threat to themselves or others.
Getting the bill through the evenly divided Senate meant Democrats had to drop efforts to reinstate the ban in order to get Republican votes. At the time of its passage, Senate Majority Leader Chuck Schumer said that weeks earlier in the negotiations, the bill seemed "impossible."
The political environment for Democrats to pursue more stringent gun control could become all but impossible after the 2022 midterm elections, where polls have shown voters are prioritizing the economy over firearm safety. The Senate is expected to remain narrowly divided and Republicans could retake the House.
The House in July voted to ban military-style rifles on a mostly party-line vote. Biden gave a primetime speech a month later urging citizens to vote out politicians who oppose the ban.
While the measure stalled in the Senate, Democrats haven't given up on bringing back the ban on military-style weapons as the election approaches.
"While America's last assault weapons ban was in effect, the risk of dying in a mass shooting was 70 PERCENT lower than it is now," Washington Democratic Representative Pramila Jayapal, leader of the Congressional Progressive Caucus, said in a tweet Monday.
Newsweek has reached out to Everytown for Gun Safety for comment.
Update 10/12/22, 5 p.m. ET: This story has been updated with comment from the NRA.