Is 'Not Okay' Based on a True Story? Director on Movie's 'Surreal' Backdrop
Not Okay is the satirical black-comedy film on Hulu starring The Politican's Zoey Deutch and Teen Wolf's Dylan O'Brien.
The movie focuses on the journey of Danni Sanders ( Deutch) a 20-something millennial who is so lacking in empathy and awareness, that she will do absolutely anything to be the center of attention.
In a bid to catch the attention of her workplace crush, Colin (O'Brien), Danni pretends to go on a writing retreat to Paris, but when the city is hit by a terrorist attack, instead of telling her friends and family the truth, Danni makes the jaw-dropping choice to pretend to be a survivor.
In a world where we share only snippets of our life on social media, it is almost impossible to tell what is real and what is not. Is Not Okay based on a true story?
Newsweek spoke to the director and creator Quinn Shephard to find out more.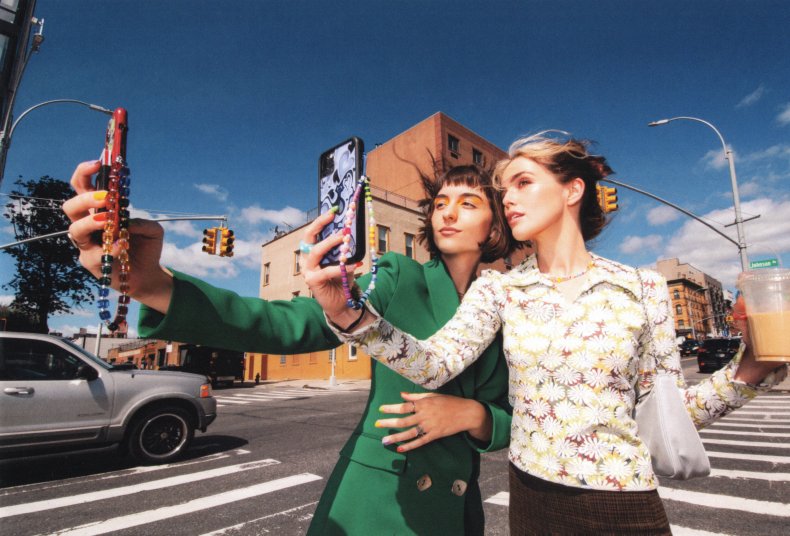 Is Not Okay Based on a True Story?
No, Not Okay is not based on a true story and the characters in the movie are entirely fictional, except for a very brief guest appearance from social media influencer Caroline Calloway. Additionally, the look for the character of Colin was inspired by the likes of Machine Gun Kelly, Pete Davidson and Justin Bieber.
However, the movie is set against an entirely real backdrop.
As Danni's lies get bigger and bigger until she is inevitably found out to be a fraud, Not Okay explores everything from trauma, social media trolls, influencer culture and mental health, to burnout, forgiveness and self-awareness.
Speaking to Newsweek, creator and director Quinn Shephard shared the "surreal" world the movie is set against.
Shephard began writing Not Okay in 2018 in "reaction" to what was going on in the United States at the time.
She reflected: "At the time, it was peak Trump America and there was a huge rise in gun violence and that was all happening played against a backdrop of influencer ads and celebrity gossip and skincare. It just felt so surreal, waking up and immersing myself in that world daily when I checked my phone. I really wanted to talk about that feeling of the cognitive dissonance of those two worlds being constantly blended together."
She continued: "So this kind of struck me as an idea that would pull you into one world and then turn it on its head and really become a lot more political and like social satire as the film goes on. It was nerve-racking, I definitely pitched it to a few people like, 'is this offensive? Terrible? Is this funny? Is it maybe all three?' And then I pitched it to my fiancé, my mom, and a number of friends. And everyone was like, 'go for it. If, if anyone can do this, it's your twisted brains.'"
In particular, Not Okay refers to school shootings and terrorist attacks in Paris—two very real issues that do and did take place.
The school shooting in Not Okay is fictional but school shootings are ever more prevalent in the U.S. In 2022 alone, 27 school shootings have taken place in the U.S.
The Paris attacks portrayed Not Okay are not the same attacks that occurred in November 2015, when coordinated groups of terrorists struck at the heart of Paris, killing 137 people.
To ensure both subjects were taken seriously and portrayed authentically on screen, Shephard worked with trauma consultants.
"I'm very passionately anti-gun, I have a tremendous amount of empathy for and respect for trauma survivors," she said. "Honestly, it was scary but I tried to have faith that if I wrote from a very true place in my heart of wanting to never ever speak where it wasn't my place or depict those things with humor or satire, I wanted those to feel very seriously handled by the film.
"I really hoped that I would navigate them all right, but to make sure that I was doing so I did vet the script with a number of people, including a trauma consultant, to make sure that I was navigating all of those scenes in an authentic way and I guess that's the best you can do when you're going to try to talk about topics like these."
In Not Okay, Danni gets so swept up in her own lies that she joins a survivors group, attending every week where she pretends to have trauma. She even befriends one of the group's members, Rowan (played by Mia Isaac), a survivor of a school shooting who is grieving the loss of her sister.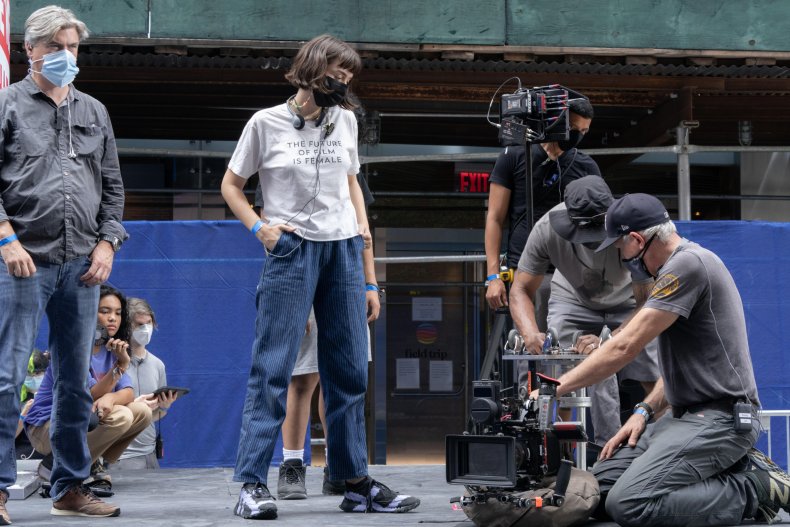 Shephard said one aim of the movie was to shine a light on privilege and trauma.
"I don't think that the film intends to take a black and white stance on influencer culture or canceled culture and to me, it's really more of an indictment of privilege and of co-opting trauma. And it really intended to help an audience self reflect more than criticize if that makes sense," she said.
"Danni is intentionally both terrible and very relatable," she continued. "I think especially for young white women on the internet. I want it to be a character that people see themselves in so that they can kind of question how they can be less of a Danni in their daily lives."
When Danni's lies unravel thanks to the detective work of her colleague, she experiences a whole host of abuse online, sending her into a dark place.
Shephard aimed to find the fine line between holding people accountable for their actions, whilst shining a negative light on those who troll others online for doing something wrong.
"I think ultimately, I just want to ask questions about whose stories get told and why and how they get told and to kind of encourage people that self-reflection and listening and trying to educate yourself is the only good thing you can do in this situation," she said. "Tearing women down on the internet is not always the answer, even though they should be held accountable for their wrongs."
Not Okay is streaming on Hulu now.