NRA Faces Uncertain Future After Departure of Longtime PR Firm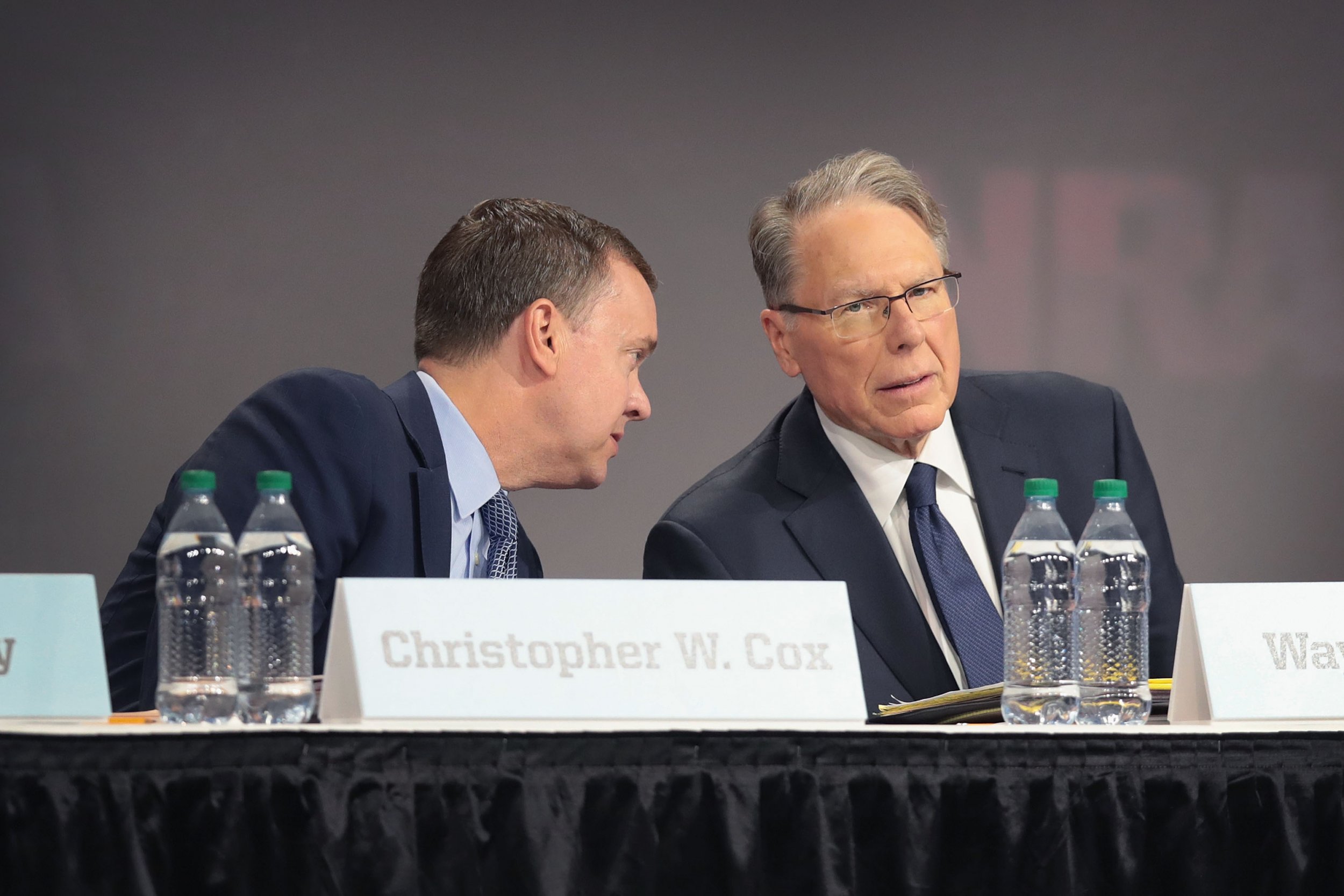 Ackerman McQueen, the controversial Oklahoma-based public relations firm widely regarded to have helped shape the National Rifle Association (NRA) into a national political and cultural force, has moved to terminate its nearly 40-year relationship with the gun-rights group.
"Faced with the NRA's many inexplicable actions that have constructively terminated the parties' Services Agreement, Ackerman McQueen decided it is time to stand up for the truth, and formally provide a Notice to Terminate its almost four-decade long relationship with the National Rifle Association," Ackerman told Newsweek in a written statement.
This news comes amid a maelstrom of controversy for both the NRA and its PR firm. The NRA sued Ackerman in April over an alleged failure to provide billing records related to multiple transactions under scrutiny from, among others, the attorney general of New York, where the NRA has its charter.
It is difficult to overstate how synonymous the NRA and Ackerman have appeared to outside observers. Robert Spitzer, the author of The Politics of Gun Control, told Newsweek that the NRA and its operations have been "intimately associated with Ackerman McQueen for 30 years."
"They've clearly been heavily connected and heavily reliant on them," he observed.
Leaks, internal power struggles and accusations of impropriety spilled out into the public in April at the NRA's annual meeting in Indianapolis, where news was delivered that NRA President Oliver North — a retired U.S. Marine Corps colonel known for his key role in the Reagan-era Iran-Contra scandal — was stepping down.
Reporting simultaneously revealed that NRA CEO Wayne LaPierre believed he was being extorted by North, who, according to LaPierre, had tapped a staffer to pressure him to resign or otherwise be named in a letter alleging financial and sexual misconduct at the organization.
Further reporting uncovered documents detailing lavish spending on clothing, travel and other luxury amenities by LaPierre through Ackerman, which received the bill for these transactions but ultimately passed on most of the cost back to their client, the NRA.
The Ackerman split and internal turmoil comes amid reportedly dire financial times for the NRA, which has seen membership revenues fall to their lowest levels in recent history after President Donald Trump's election. The New York Times reported that the group's $25 million line of credit is nearly depleted, and it is becoming increasingly reliant on infusions of cash from an affiliated foundation to shore up its finances.
"There are definitely leaders, some of whom have been publicly vocal, top NRA leaders who have been concerned about the NRA being badly mismanaged," Spitzer, who is also chair of the political science department at SUNY Cortland, told Newsweek. "If they're not able to solve these problems, members may begin to see the effects one way or another."
Given how Ackerman and the NRA had become so fundamentally intertwined through their billing practices, personnel, political priorities and public messaging, Spitzer said the "big question" is now what the NRA will look like without the support of its longtime public relations partner.
"But the NRA has come back in the past from serious money problems and leadership struggles so you can't count them out," noted Spitzer.
Ackerman reportedly reaped over $40 million from its NRA contracts in 2017, and the gun group's mounting financial woes may have facilitated the recent break-up.
"To suddenly split the two in this really acrimonious dispute certainly leaves the NRA without the kind of institutional management they've come to rely on," Spitzer pointed out. "Obviously they've come to rely on it heavily because of the millions and millions they've funneled to Ackerman McQueen over the years. Part of the motivation for [the lawsuit] was to try to stem the hemorrhaging of money at a time when revenues are down and membership has not increased."
But the very path that Ackerman has helped pave for the NRA's political cachet may now be putting the organization in a bind as it tries to carve out a sustainable financial future. Spitzer noted that Ackerman's polemical NRA-branded campaigns were "effective in stoking and mobilizing their base."
At the same time, he added, this aggressive messaging "pretty much foreclosed any possibility they might have had to expand their base beyond the hardcore gun-rights people in the country."
Ackerman managed NRATV, whose outspoken host Dana Loesch has frequently waded into the most contentious cultural issues in recent years. The firm was also reportedly instrumental in developing Carry Guard, an insurance product widely criticized for offering protections to individuals who kill others with a firearm. This product is among the many aspects of the NRA's business being scrutinized by New York's attorney general.
As these campaigns have given the NRA a definitive identity within the gun-rights community, they have also left many longtime NRA members disillusioned with the political fray they have been dragged into.
"Today's NRA barely resembles the organization formed almost 150 years ago to aid marksmen with firearm training, safety and enthusiasm," Marine Corps veteran Alonzo Neese, a former lifetime NRA member, wrote in an op-ed for Newsweek earlier this month.
Since observing the political toxicity that has disturbed many members who long for a return to the group's origins, Neese has joined a gun reform group's Veterans Advisory Council.
"I believe the overwhelming majority of NRA members are good people and responsible gun owners, but I decry the NRA's leadership and direction," he explained about his change of heart. "I oppose its tactics. I condemn its inability to support its members, and I lament its transformation from a sportsman's organization into a shill for gun manufacturers and a wedge-creator in society."
Spitzer highlighted longstanding structural issues concerning NRA membership that Ackerman, through its somewhat-singular focus on outspoken PR campaigns, may have let fester.
"The NRA faces the existential problem that, given all their efforts, gun ownership in America continues to decline," he said. "The chief category of those who do own guns is older, white males. You don't find new generations of people picking up gun habits as had happened in prior generations. In the long term, that's sort of bleak for them."