Trump's Latest Conflict of Interest? A Weekend at His D.C. Hotel Offered as Prize for Donating to Republicans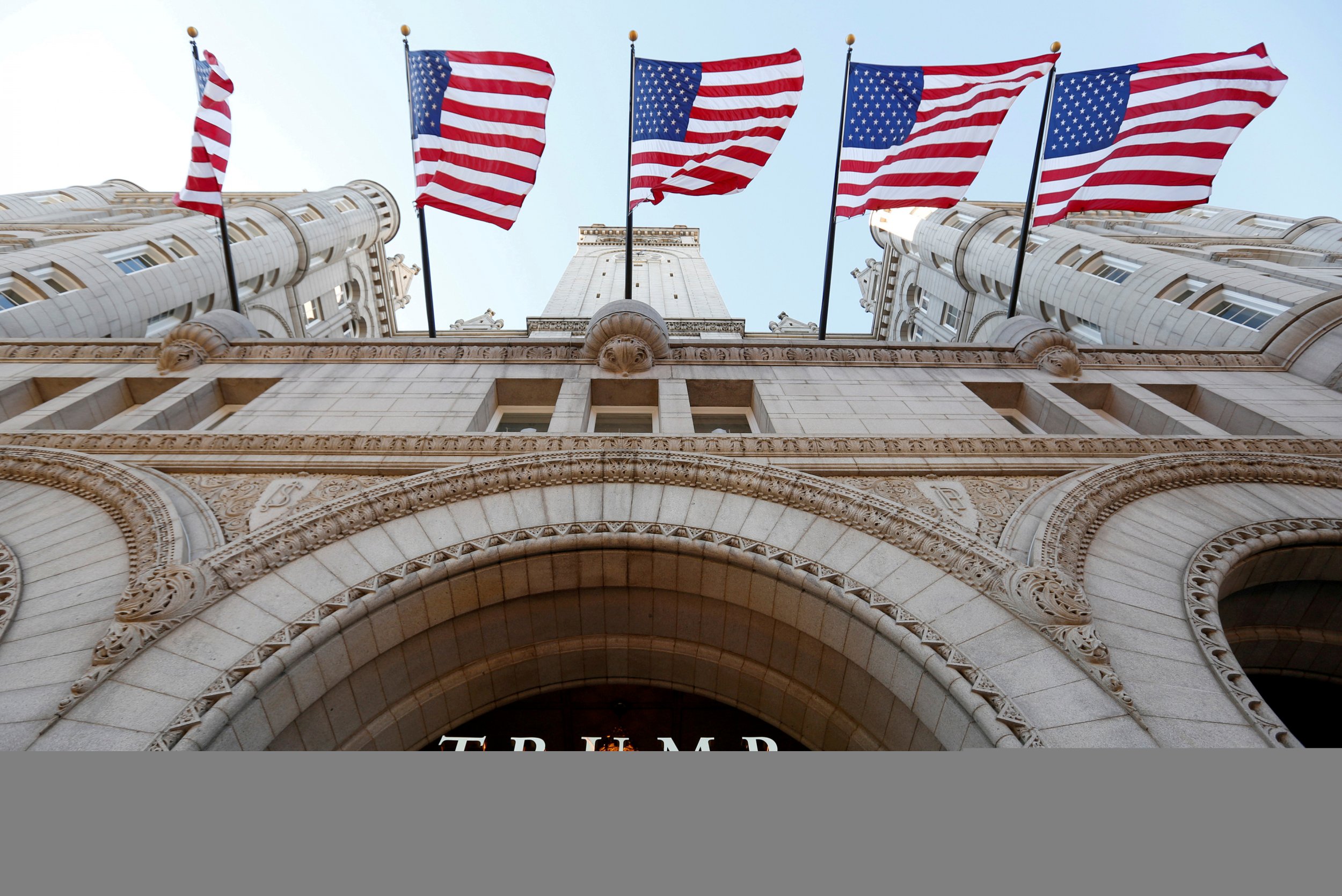 House Republicans are raffling off a weekend of "Christmas magic" in Washington, and that magic-filled place is—you guessed it—President Donald Trump's hotel.
"Want to experience The Trump Hotel during the holiday season in Washington, D.C.? We're sending a lucky conservative (and a friend) to our nation's capital to experience the most magical time of the year," reads a fundraising solicitation from the National Republican Congressional Committee. "Get an all-expenses paid trip and stay in TRUMP Hotel in Washington, D.C. for a weekend of Christmas magic."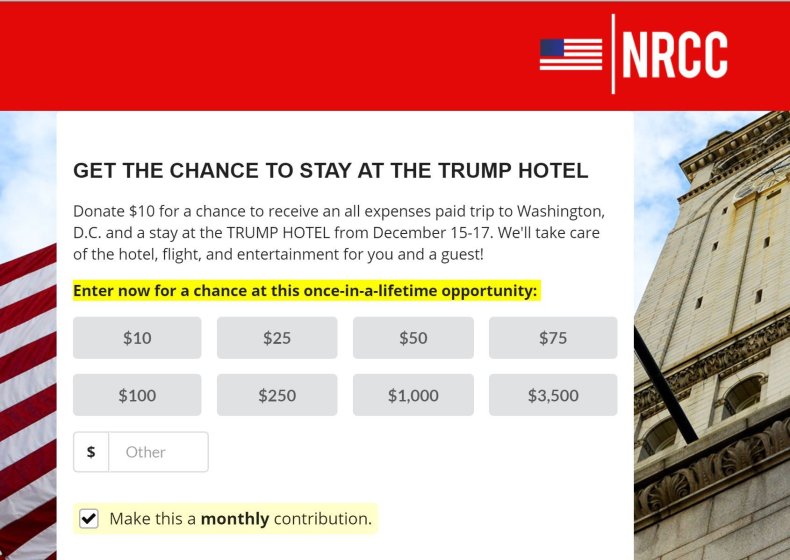 The NRCC wasn't put off in the least by the controversy over Trump's promotion of his resorts while serving as leader of the free world: "No concern of conflict of interest," committee spokesman Matt Gorman told Newsweek Monday morning. "Also, the hotel is comparably priced to others in the area."
Trump revels in talking up his golf and vacation resorts whether at home or abroad: In South Korea earlier this month, he name-dropped his golf course in Bedminster, New Jersey. He threw in a reference to one of his Manhattan properties during his first address to the United Nations in September.
But the issue goes far beyond talk: Trump, who has turned over control of his private business empire to his sons, has been accused by critics of running a for-profit presidency. His Washington hotel, formerly the city's Old Post Office building, has become a magnet for GOP and other political fundraisers, as well as stays by representatives of foreign governments.
The president has been accused of violating the emoluments clause of the Constitution, which is meant to prevent federal government officials from accepting gifts and favors from foreign powers.
The White House didn't immediately respond to a request for comment about the NRCC fundraiser.
"This is the problem with a president who refuses to divest from his businesses: Political groups allied with him will go out of their way to profit his businesses," Jordan Libowitz of the watchdog group Citizens for Responsibility and Ethics in Washington, which sued Trump over the emoluments clause, told Newsweek Monday. "There's a difference between what's technically legal and what's ethically right. Donald Trump should not be personally profiting off the presidency."
Donors are asked to give the NRCC at least $10 for a chance to win a trip December 15 to 17 (billed as a "once-in-a-lifetime opportunity") that includes "hotel, flight, and entertainment" for two.
The property, per its website, features "263 luxurious guest rooms and suites, BLT Prime by David Burke, Benjamin Bar & Lounge and The Spa by Ivanka Trump™." A search for accommodations for two for the December weekend picked by the NRCC showed a "deluxe" room with a king bed priced at $395 per night. (By comparison, a similar stay at the Four Seasons would start at about $476 per night.)
Before the Christmas season begins, Trump will be celebrating Thanksgiving at his Mar-a-Lago estate in Palm Beach, Florida, which he has used to greet world leaders including China's Xi Jinping and Japan's Shinzo Abe.