Number of Proud Boys Chapters Almost Doubled From 2020 to 2021: Report
The number of Proud Boy chapters registered across the United States has increased while other similar groups are reporting fewer members than before.
The number of active Proud Boy chapters has increased from 43 in 2020 to 72 in 2021. When these chapters were registered in 2021 is unknown, but with events such as the January 6 Capitol riots, their message was arguably spread more in the past year than ever before.
This increase of Proud Boys chapters, however, comes as the number of active hate groups in the United States is reported by the Southern Poverty Law Center to have decreased from 838 in 2020 to 733 in 2021.
However, the center wrote that this is not something to celebrate.
"Rather than demonstrating a decline in the power of the far right, the dropping numbers of organized hate and anti-government groups suggest that the extremist ideas that mobilize them now operate more openly in the political mainstream," said the report.
The Proud Boys describe themselves as a "pro-Western fraternal organization for men who refuse to apologize for creating the modern world, aka Western Chauvinists." The Southern Poverty Law Center says that their primary beliefs include those with roots in white nationalism, Islamophobia, and misogyny.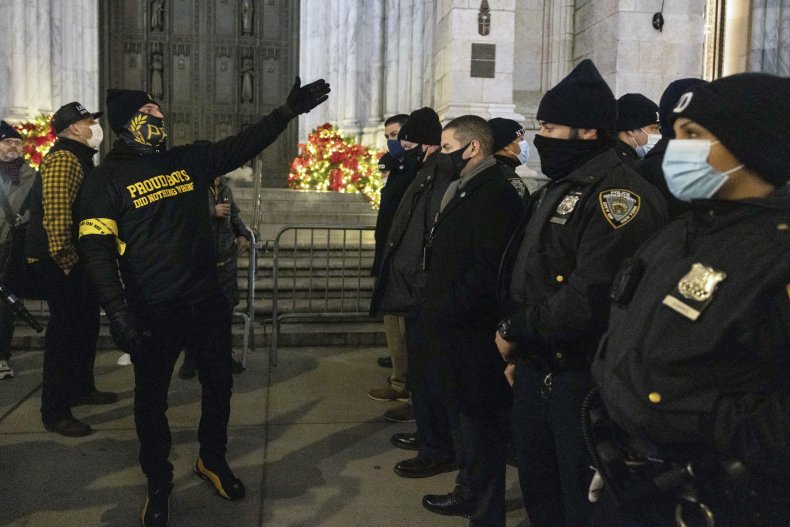 The organization posits that groups, such as the Proud Boys, were able to become mainstream through a proliferation of local communities. Rather than new chapters being established in major cities, they were often created in small towns.
"In the aftermath of Jan. 6, they shifted their efforts to local politics, focusing especially on COVID safety protocols and school curricula," explained the Southern Poverty Law Center. "Hard-right organizations disrupted school board and city council meetings around the country and, in the process, created space for more extreme and bigoted voices."
The increase in Proud Boys chapters comes at a volatile moment for the group due to its involvement in the Capitol riots. Henry "Enrique" Tarrio was arrested on March 8 for allegedly helping to plan an invasion of the U.S. Capitol weeks prior with the sole focus of disrupting the Electoral College certification of then-President-elect Joe Biden. While Tarrio was not present at the event, he also supposedly "claimed credit for what had happened on social media and in an encrypted chat room during and after the attack," according to the U.S. Department of Justice. Several other Proud Boys have been charged in connection to the January 6 Capitol riots.
The Proud Boys were among several groups studied by the Southern Poverty Law Center for their annual report. Explicitly white supremacist and neo-Nazi organizations, such as Patriot Front, were also studied.
Update at 3/9/22, 3:27 p.m. ET: This story has been updated to include additional information on the Southern Poverty Law Center.