#NunesKnew Trends After GOP Representative Admits He Spoke To Lev Parnas After Initially Saying He Didn't Know His Name
#NunesKnew began trending Thursday morning after U.S. Representative Devin Nunes of California said that he did remember a phone call that he had with Lev Parnas after earlier saying that he did not.
Parnas made the remarks to Fox News Martha MacCallum Wednesday night. As the ranking member of the Republican Party in the House Intelligence Committee, Nunes played an important role in the impeachment proceedings against President Donald Trump that resulted in Trump's impeachment on December 18. During the proceedings, Lev Parnas, an associate of Trump's lawyer Rudy Giuliani, said that he had spoken to Nunes about arranging meetings with Ukrainian officials to investigate former Vice President Joe Biden, but Nunes claimed he could not confirm that the call had happened.
But on Wednesday, Nunes said that he did remember the call, but did not know that he had been speaking to Parnas.
"I just didn't know the name, this name Parnas," Nunes said to MacCallum. "So what I always like to remind people is that we are dealing with people every day. We are an oversight committee, so we have incoming calls that come to my office, to my cell phone, et cetera, et cetera."
Nunes also said he remembered going back to check where he was when the phone call took place, and described the conversation as "very odd" and "random."
On Twitter, some users were unhappy with the news that Nunes did in fact remember the call, and expressed their displeasure at what they appeared to consider corrupt politics with the hashtag #NunesKnew.
"[S]o he knew all about the [U]kraine affair, and still sat on the committee next to adam schiff and said there is nothing to look at here?" one user, @mattkovner15, wrote. "#NunesKnew"
"Lev Parnas went on TV and only confirmed what we already knew and what the@GOP has actively been trying to cover up," user @Grandpa_Rufus wrote.
"All I want is to see Devin Nunes escorted out of Congress, crying like Bud Fox at the end of 'Wall Street' #Maddow #NunesKnew" wrote user @SantaInc.
User @cracraone addressed the Twitter account of Senate Republicans directly and cited the fact that Nunes remembered the call as sufficient reason for them to vote to permit witnesses in the upcoming Senate impeachment trial for President Donald Trump.
"Dear@SenateGOP, after Lev Parnas interview, if you still vote to not have witnesses, EVERY time a new piece of info comes out, the coverup WILL BE tied around your necks for the rest of your lives," the user wrote.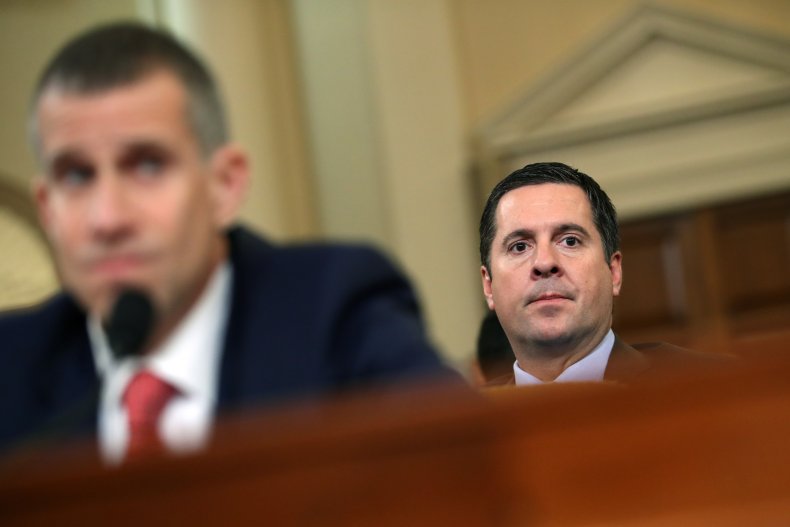 Correction: A previous version of this story misidentified Devin Nunes as a senator.