#NunesNonsense Trends After Fiona Hill Calls Out Republicans Who Believe Ukraine, Not Russia, Conducted Campaign Against the U.S.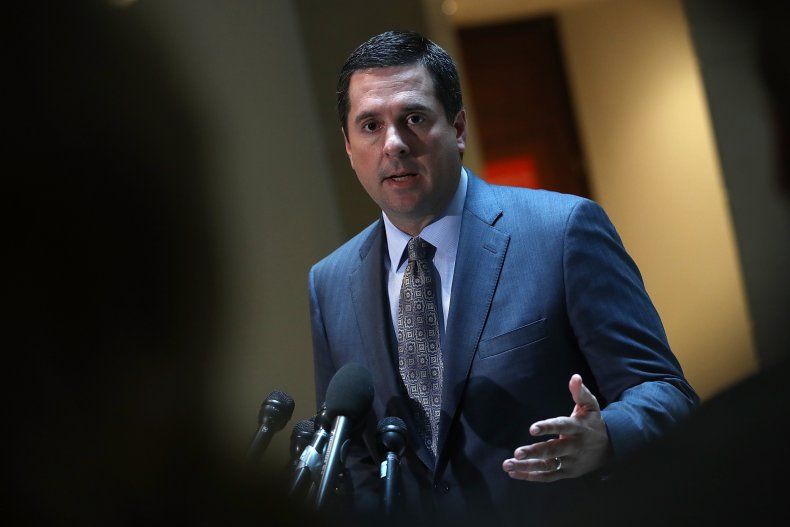 Hashtag #NunesNonsense, a dig at the rhetoric of House Intelligence Committee member Devin Nunes, became a trending topic Thursday during the testimony of foreign affairs specialist Dr. Fiona Hill on the fifth day of the Trump impeachment inquiry hearings.
The hashtag appeared to have been used during the hearing testimonies from Wednesday. However, it picked up steam Thursday morning after journalist Grant Stern shared remarks from Hill, an expert on Russia who observed President Donald Trump's close advisor put forth a quid pro quo deal with the government of Ukraine.
Hill's words were directed at Republicans who believe Ukraine interfered in the 2016 U.S. presidential election, not Russia. With his use of the hashtag, Stern appeared to imply that Nunes was one of the politicians operating under that belief.
"This is a fictional narrative that is being perpetrated and propagated by the Russian security services themselves," Hill said. "The unfortunate truth is that Russia was the foreign power that systematically attacked our Democratic institutions in 2016. This is the public conclusion of our intelligence agencies, confirmed in bipartisan congressional reports. It is beyond dispute."
On the day of Hill's testimony, journalists, pundits and others referenced the hashtag to highlight what they saw as more "nonsense" from Nunes, a GOP congressman from California.
User @LadieTee7 used the hashtag to share a political cartoon that depicted Nunes' attempts to defend Trump as roundabout and nonsensical, whereas the reasons for impeachment provided by House Intelligence Committee Chair Adam Schiff were simple and straightforward.
Holly Figueroa O'Reilly, who has written op-eds for The Guardian and The Washington Post, shared a meme related to Wednesday's testimony from U.S. Ambassador to the European Union, Gordon Sondland, who said Trump wanted a quid pro quo deal with Ukraine. She further wrote that Nunes was asking Hill unimportant questions.
"[D]oes this hack ever get tired of beating the same dead horse?" she wrote.
User @Steadyspirit commended Hill for being a "patriot" who would not "be swayed by #NunesNonsense."
Broadway performer Telly Leung wrote that "#NunesNonsense is LAUGHABLE during these Impeachment Hearings."
Another user, @LincolnRepblcan, wrote that Schiff should be awarded a Presidential Medal of Freedom "just for having to listen to #NunesNonsense without" vomiting.
And @DedulaOblongata wrote that Nunes' defense of Trump during the hearing were no more logical than a child's justification for carrying a piece of fruit to bed.