NXT's Candice LeRae Talks New Attitude, Working with Johnny Gargano and the Next Chapter in Her Career
It's been a rollercoaster three years for NXT superstar Candice LeRae.
After logging years in the independent wrestling scene, LeRae earned a contract with the WWE as part of the NXT brand in 2017. Her in-ring ability and look gave LeRae a massive upside in NXT, and although she's been in some high-profile matches, she seems to have been lost in the shuffle a bit.
The NXT women's division is the deepest division in all of WWE. Rhea Ripley, Io Shirai and Charlotte occupy the title scene while newcomers like Tegan Nox, Dakota Kai and Shotzi Blackheart are getting more opportunities and television time.
The frustration of being looked over came to a head when LeRae helped her husband, former NXT Champion Johnny Gargano, defeat his longtime rival Tommaso Ciampa, starting a new chapter in the Gargano family's career, and introducing their new attitudes.
Unhappy with the state of NXT, LeRae and Gargano look to remake the black and gold brand. With a new attitude and a brutal new finisher, LeRae seeks to rise up the ladder of the NXT Women's Division—which means everyone in her way should consider themselves on notice.
Newsweek caught up with "The Poison Pixie" over the phone ahead of Wednesday's match with Mia Yim, to talk about the new direction for her character and what she hopes to achieve moving forward. This interview has been edited for the sake of clarity and length.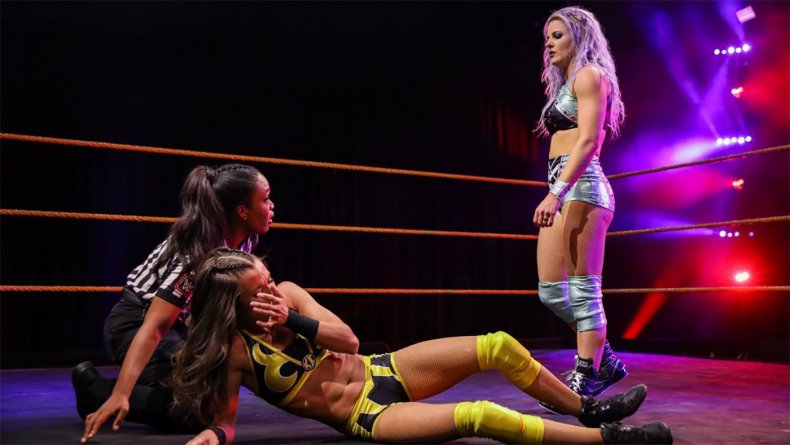 Your new character, this new Candice LeRae, has been interesting to see. How has playing this new role been for you?
It's been great. I'm getting to show another side of me. It's not a new thing, it's always been there just hanging out. And now everyone gets to see. I love it, I love sharing it with the world.
Transitioning from a heel to face and vice versa normally comes with a change in wrestling style. Your style is known for being fast and acrobatic, but do you see it changing moving forward?
No. The style I've always had was because I'm not the biggest person. I'm never going to be the biggest person in the match with the exception of being in there with Kacy [Catanzaro]. I'm going to likely be thrown around, and I'm not going to be throwing anyone around. So the style I've always had, I find, works for me. It got me here, it made me successful and I don't see it changing.
I may add a few things and change a little bit, but there won't be a massive change in my style.
Something that has changed is your new finisher. It's a callback to your career before NXT. What was it like bringing that out?
I was trying to find something that would have my opponent feel the way that I've always felt. I was suffering internally and had to think back to what I have experienced through my career that could compare to all the anger and hate and the negative feelings that were inside of me and that was the first thing I thought of. So it seemed like the best fit for the new me.
A lot of this new character has you working closely with your husband, Johnny Gargano. What's it like to work with him this way?
It's pretty amazing, I will say. Even before Johnny and I were dating, I always admired him as a wrestler and as a person. We obviously have our usual married couple banter here and there, a little bickering. But I feel like we bring out the best in each other. I mean that's why we're married, right? I love it.
You and Johnny have been laying out your frustrations with NXT in your videos, especially the first one. Did you use some real-life frustrations?
There were a lot of real-life feelings. There were a few times that Johnny and I were noticing that fans were turning their backs on us. In Io [Shirai's] cage match with Shayna [Baszler] where she lost, and I was out there to help Io. [The crowd] were like 50/50 and even after the match they were like, "Io is alright I guess" and then when she turned her back on me and started beating me up some people were cheering.
I was just laying there thinking, "How are you cheering for this? This is bad. You shouldn't be supporting somebody doing something bad."
I didn't cost her the match, but they were booing me and cheering her and it was just so weird. And I just realized the shift in fans and how they were just, like, being little rebels. And Johnny was experiencing some of the same things and we both started to get frustrated. And a little bit of it was what was bottled up inside of us and we used that to fuel everything that we're doing now.
You and Johnny's shift began right when his final match with Tommaso Ciampa happened. How was it to be a big part of that storyline's finale?
I felt really lucky. Any time I can work with my husband I'm grateful. But everyone that was involved in that whole match, from the film crew to the backstage guys that no one gets to see, they worked so hard. So to be a part of that and to have a big impact on that match... I just feel very lucky.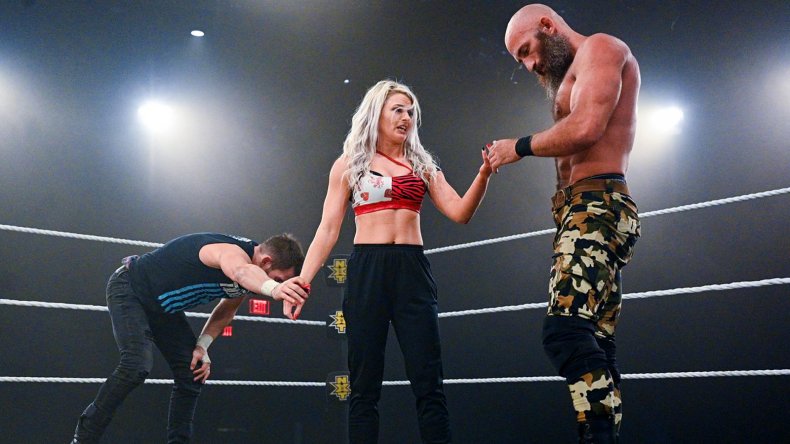 Have you been able to watch it back?
This is going to be a weird thing to admit, but I don't like to watch myself. I watched it until I knew I was going to show up.
But Tomasso and Johnny put so much into that match, physically. I felt the way the cameras captured that, I feel like you could see how much they were putting into that match—how time-consuming it was. The match ended up being close to 45 minutes and they were going at it for that long and putting their bodies through so much. I honestly think the cinematic style of that match needed to be that way because I don't think any other way could have captured the physicality of the match itself. I thought it was amazing.
Can we talk about the cup? You guys immortalizing it in your videos, where did that come from?
The dinner thing was something that Johnny and I just stumbled upon because we needed to find a way to give the world insight into why this is all happening. Why are we the way we are and what we are going to do, and we thought it would be a great idea to welcome everyone into our home for dinner. It should be a celebratory dinner because we need to celebrate. Tomasso is out of our life now. We should celebrate.
And in the process of putting the dinner together we thought it would be ridiculous and funny if this cup was on the table. The cup was such an important part of the match. Who sees a cup being in a case on someone's dinner table? Nobody.
I do think we are going to bronze it, though, so you have that to look forward to. We're committed.
Johnny is such a talker and you're more reserved and measured when you talk. How is that dynamic when you two are together, especially on camera?
I always tell people, Johnny is the talker and I'm the wrestler. He loves all the craziest parts of wrestling that I'm so uncomfortable with. I'm a little bit more insecure with talking and people listening and looking at me when I'm talking and he loves it. [Laughs] He's just the center of attention and I'm not that way. I feel, as a Libra, I'm always looking for balance and he's my perfect balance. I need someone who is comfortable in those things.
If you tell me to go wrestle for an hour I'll do it, but if you tell me to talk to a group of people for 60 seconds, I'll be stressed out so much. And that's ok, because I have him.
For weeks NXT had no crowds, so was it easier for you just to get out there and wrestle and do your promos?
For me, I just love wrestling and the physicality of it so much. And doing that in front of no one has been no issue for me. I was a little nervous when I first went to do it because you just don't know what to expect, because you think so many times where the adrenaline you get from the crowd pushes you through things. I was worried with having no crowd, but I kept in mind that there were people watching from home and they need to be happy, especially right now. We need people escaping from paying their taxes and other stuff. Even if they're spending 24 hours a day with their children, they need that escape. I think of that.
The only thing that's been awkward for me is the entrance. So other than the entrance, it's been about the same for me.
What's awkward about the entrances?
I'm a cheerleader for myself when I go out for my entrance, and the crowd and me are there together. It's like if you go to a sporting event and they announce the team and they get that initial rush. Having nobody there and you're walking out, the weight is so heavy. "Yup, there's the ring and I'm going to wrestle now."
All the showmanship type stuff, there's nobody in the arena to do it for. You can do it for the people at home, but how am I supposed to hype these people up so that I can get pumped up? There's no one there to help pump me up.
Yeah, just thinking about it makes me think of Adam Cole's entrance and how odd it is without an audience.
Isn't that sad? [Laughs] Maybe he doesn't care, though. Maybe he's just like, "Whatever, I'm just saying it to myself all the time anyway." I don't know, maybe he's fine.
Your career prior to NXT had you perform in intergender matches. Is that a possibility again, especially with you and Johnny feuding with Mia Yim and Keith Lee?
We do mixed tag matches here. I think there's a possibility and I'm done with Mia on Wednesday when she learns her lesson. Who knows, maybe she won't handle a loss that well because I'm not going to lose.
Mia Yim is your opponent this Wednesday. This is your first big feud with the new character. How important is it to get on the right track in this match?
I just think that it's important to see this different side of me. I'm getting the opportunity to show that there's more to me than just sunshine, rainbows and bubbles. [Laughs]
So even though I'm going to be in this match against Mia, I'm also battling something within to prove myself and prove to myself that this version of me is going to be amazing. I have to. I have to do this.
Does having a blank slate make it easier to try new things and start in a new direction?
Yes and no. Trying new things can be a little scary because you can fail. Fear of failing doesn't make for a successful person. I'm down to try these new things, play around. But honestly, the stuff I'm doing with Johnny, I feel like a little kid getting to play wrestling. And I'm going to do whatever I can to keep this feeling going.
You've spoken about your insecurities. But as you enter your match on Wednesday, how does it feel to put this new character out there, for the fans and for yourself?
I'm so excited. When you're doing kind of the same thing for a while, you get a little tired of it, you get a little bored. If the day comes that [Johnny and I] have kids and I can't come back right away or come back at all, who knows, I want to feel good about it. I'm excited for this new chapter because I feel this is me giving it all I got, and it's exciting.
NXT airs every Wednesday at 8 p.m. on USA Network.