A wild beaver shocked New Yorkers at an NYC park on Wednesday evening after they witnessed the rare animal running toward the Williamsburg Bridge.
The beaver was discovered at the Domino Park in Williamsburg, Brooklyn, at approximately 9:15 p.m. Wednesday evening.
Although beavers became the official state mammal of New York in 1975, habitat loss and over trapping led to a sharp decline in population in and around New York City, with 2007 being the first time a beaver was spotted in over 200 years.
Usually weighing up to 60 pounds and measuring 3.5 feet long, beavers are the largest rodent in North America and are uniquely adapted to life in water due to their signature flat tails.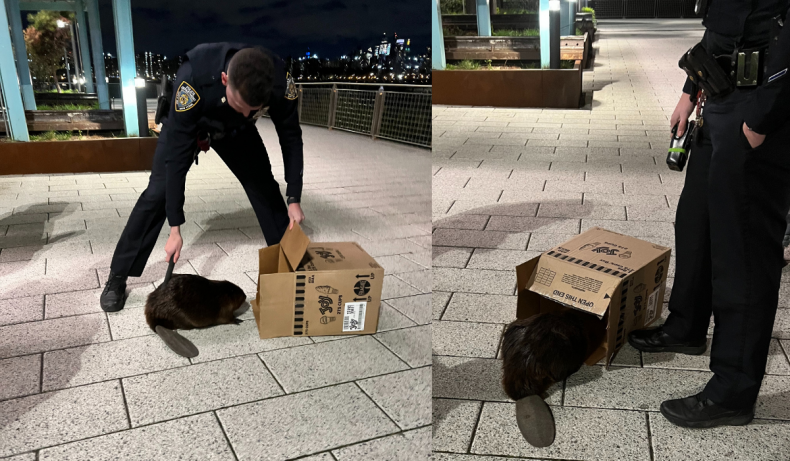 Nick La Rosa and his wife Franziska La Rosa were walking their dogs through Domino Park, a popular public park encompassing five miles along the East River near the Williamsburg Bridge. The park is named after the former Domino Sugar Factory.
La Rosa told Newsweek he and his wife live in the neighborhood and often walk their pups near the water, but this time they were shocked at what they discovered.
"My wife saw it first and we thought it was a raccoon," La Rosa said. "But then we realized that it was not a raccoon. It was a big boy."
He and his wife stood around, shocked at the discovery and two additional people walked over to see what they were looking at.
Beaver sightings are always rare regardless of location due to the fact that they are nocturnal animals. They are also often found near bodies of water such as ponds or rivers.
Eventually, a pair of New York City Police officers saw the people gathered in a circle and walked over to check out what was happening.
He told Newsweek the police were just as confused as everyone else and were not sure what the next steps were.
"The cops were like, 'what do you think we should do?'" La Rosa said.
Eventually, the officers decided to attempt to capture the beaver in a large cardboard box but were unsuccessful. Instead, the beaver pivoted away from the box and scurried away.
"The beaver just started walking on the concrete walkway at the park toward the Williamsburg Bridge," La Rosa said.
The NYPD phoned Animal Control for assistance but the officers were told to leave the animal alone. La Rosa told Newsweek that the animal control worker said to an officer on the scene they have been trying to reintroduce beavers to the area for decades and seemed excited about the beaver's presence.
WildlifeNYC, a campaign launched by the city, recommends that individuals enjoy beavers from a distance in order to avoid unnecessary stress. It also asks anyone in New York to report a beaver sighting in order to track their expansion through the state.
Newsweek reached out to NYPD for comment.
Additional reporting by Mark Suleymanov