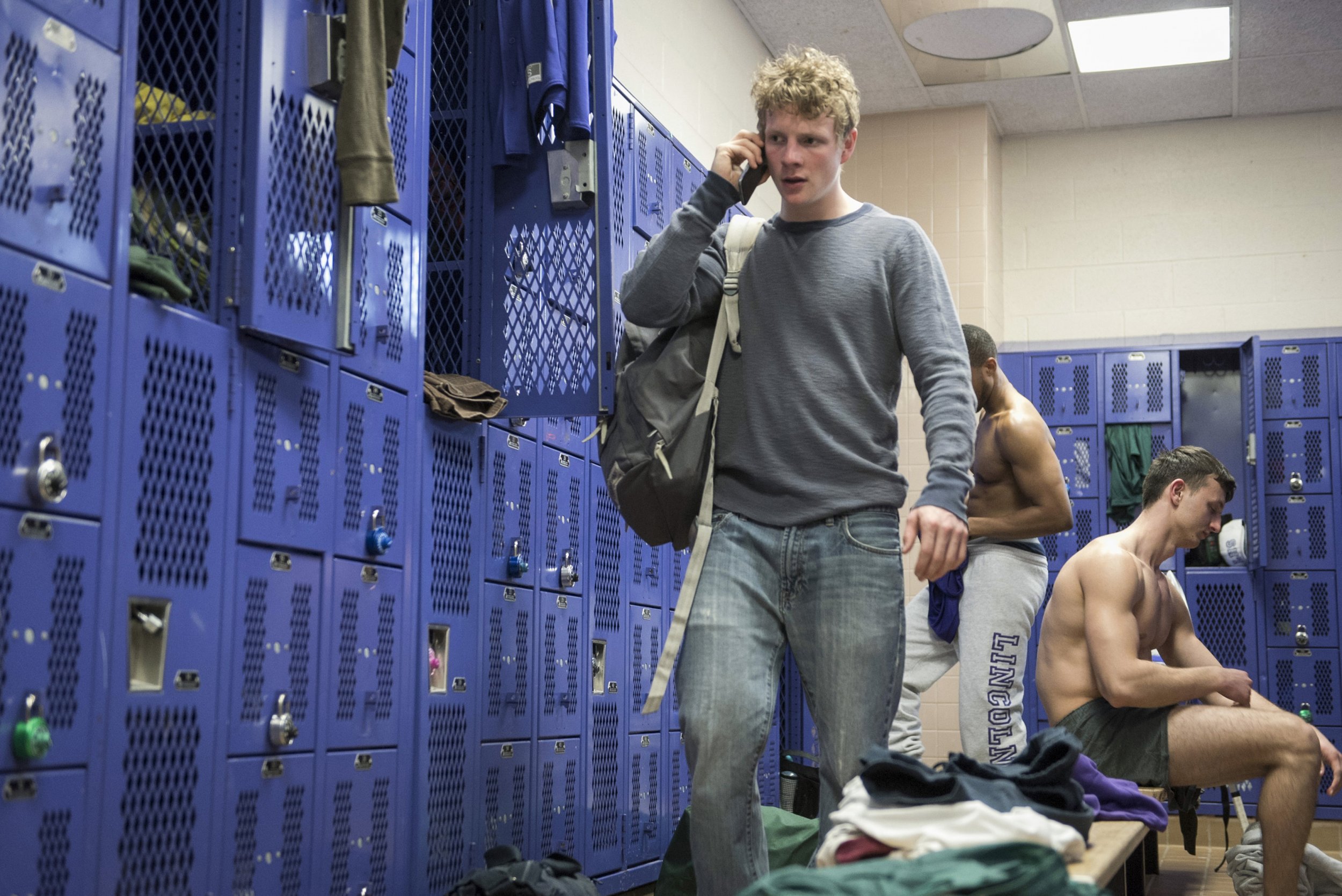 As the rebels of Rogue One: A Star Wars Story stormed theaters and stole the box office crown just over a week ago, another potential game-changer for the science fiction genre had a more muted debut on Netflix.
The OA, co-created and written by Brit Marling and Zal Batmanglij, and starring Marling, crept onto the streaming service in a shroud of mystery on December 16. Netflix only debuted the trailer for the series four days earlier and, before that, no other promotion was undertaken. Even the trailer didn't quite spell out what the show was about.
The eight-part series follows Prairie Johnson, a blind woman who reappears seven years after going missing—and she can now see. Prairie, played by Marling, enlists five strangers to tell the story of her life and disappearance, believing they are the key to helping her on a celestial quest to find others who went missing.
It has been a little over a week since The OA began streaming on Netflix. In that time it has drawn favorable comparisons to Netflix's summer breakout hit Stranger Things, with which it shares a genre in common—but little else. Where Stranger Things had a nostalgic familiarity about it, nodding to Spielberg-esque sci-fi fare of the early 1980s, The OA feels like nothing that has been done before on television with its nonlinear story structure, schizophrenic episode lengths (ranging from over one hour to just 30 minutes) and emphasis on expression through rhythmic movement instead of dialogue.
Related: Our Favorite TV Shows of 2016
Perhaps the one other similarity between The OA and Stranger Things is mixing a handful of known names (Winona Ryder in the latter, Harry Potter's Jason Isaacs in the former) with a relatively unknown cast poised to break big. Marling and Batmanglij, who previously collaborated on Sundance film festival hits Sound of My Voice and The East, have assembled an impressive cast around Marling's Prairie. The breakout star of the first season is conflicted, often violent, teenager Steve Winchell, played by Irish actor Patrick GIbson, who is enlisted by Prairie on her mission, but not without some friction.
Newsweek spoke to Gibson about his role, The OA's unusual formula and whether a second season is on the cards. Note: This interview contains plot spoilers about the first season of The OA .
Newsweek : The OA is out there and gaining a lot of chatter on social media. What has the last week been like?
Gibson: It's been surreal. When you do a job it can feel like this little world you live in and you forget it's going to come out and people are going to see it. It dropped so quickly. It was a pleasant surprise.
What were your initial thoughts on the show? It is very different, that it's hard to gauge how it would play out.
When we got the script, everything about the show felt new and fresh—the structure, the pace of it, it was unlike anything I'd read before.
There's a lot of mystery around The OA . Did you receive redacted scripts like on Game of Thrones ?
All five of us [core supporting characters]—me, BBA, Buck, Jesse and French—we all got episodes one to eight. But people who came in for like a week, they only got their scenes and had no idea what the rest of it was about.
[Marling and Batmanglij] never told us the answers to what some of the big mysteries on the show are. They definitely know the answers but they wanted to keep it a mystery for us because our characters are battling with OA's story.
Marling tweeted last week that there was a worldwide search to find Steve and that your performance will break hearts. What was your audition process like?
They didn't give us the scripts. They wanted to keep that secretive. I had a couple of scenes of Steve's [to perform] from the first episode. It was a long process. I did an audition tape, then there was a few meetings over Skype and then I went to meet Zal and Brit in New York. We had a really long meeting compared to what they usually are and we workshopped scenes. It didn't feel like auditions where you're being judged, it felt like I was working with them to make this character work.
I did quite a lot of stuff on Steve... I guess I fought a little bit to get [the part]. I put together a diary from Steve's perspective. There was only two or three scenes in the audition and I didn't want to go over those too many times and have those scenes go stale. To keep the character in my head and not lose it I started doing a diary.
On set, was there a sense even that early on that you were making a different kind of show?
I really like indie filmmaking and that style of filmmaking keeps a lot more integrity than a lot of different voices getting involved. Brit and Zal being able to work on a platform on Netflix and yet keep their vision so close to its inception is amazing.
Steve is very angry when we meet him—he punches another guy in the throat in the first episode—but as the season goes on, we see his own journey of redemption unfold. Why is he so angsty and violent?
His home situation has a lot to do with that. I don't think his parents fully understand him and have never been able to fully communicate with him. And he lacks an ability to communicate with others. He does try to better himself but when that doesn't work, he won't give it a second shot—he'll go the opposite way.
The movements that OA learns in captivity and then teaches her five followers are so intricate. You don't see communication like that on television very often. How much of a challenge was that to learn, and who did that come from—Brit and Zal?
I loved learning that side of it. You don't often get to be that expressive with your body on screen. It's a huge risk.
That came from Brit and Zal, but it was choreographed by Ryan Heffington [who choreographed Sia's Grammy-nominated "Chandelier" video, lauded for its dance routines]. He's got an incredible aptitude for inventing these wild movements.
We did four rehearsals a week so we could get it to the point where we weren't just moving, but we were trying to say something even getting from movement A to movement B. Brit says in the show, "You don't know something until your body knows it." Once we knew the movements well enough that we could put emotion into it, it's strange how cathartic that can be.
The season ends with OA's story in doubt—did she make up her experience? What was your interpretation of it?
I fully geeked out and became a complete nerd on this. When I watched it, I'm like: "What does this mean?" I've got my own theory but I'll keep it close to my chest.
You finished filming around May/June. Netflix didn't promote the premiere until a few days before launch. Did you and the cast worry that it wasn't going to air?
I had faith there was something going on behind the scenes. From the very start, from the auditions, it's been a mysterious thing that was like, you'll know when you know. When it got into December and we still hadn't heard anything, it was like: "OK, this show is not coming out." None of us knew that it was around the corner. We found out a couple of weeks before.
Finally, do you know if it'll be back for a second season?
There is a lot more to be told, definitely. Brit and Zal have that story. They spent the last however many years working on the mechanics of the show. Whether [Netflix will] do a second season or not, [the story] is all there ready to be told.
Do you have to sign a contract for seven-odd seasons like other U.S. TV shows?
Yeah, it is a long contract like that.
Seven seasons?
Yeah.
The OA is streaming globally now on Netflix