Oak Fire Approaching Yosemite Explodes in Size, State of Emergency Declared
A fast-moving fire near Yosemite National Park exploded in size on Saturday, prompted a state of emergency to be declared for California's Mariposa County.
The blaze—called the Oak Fire—broke out on Friday afternoon near the town of Midpines and has since grown into one of California's largest wildfires of the year.
It covered more than 14,281 acres and was zero percent contained as of Sunday morning, according to the California Department of Forestry and Fire Protection, or Cal Fire.
California Gov. Gavin Newsom proclaimed a state of emergency for Mariposa County on Saturday due to the effects of the Oak Fire.
The fire "has destroyed homes, threatened critical infrastructure and forced the evacuation of more than 3,000 residents," his office said in a news release.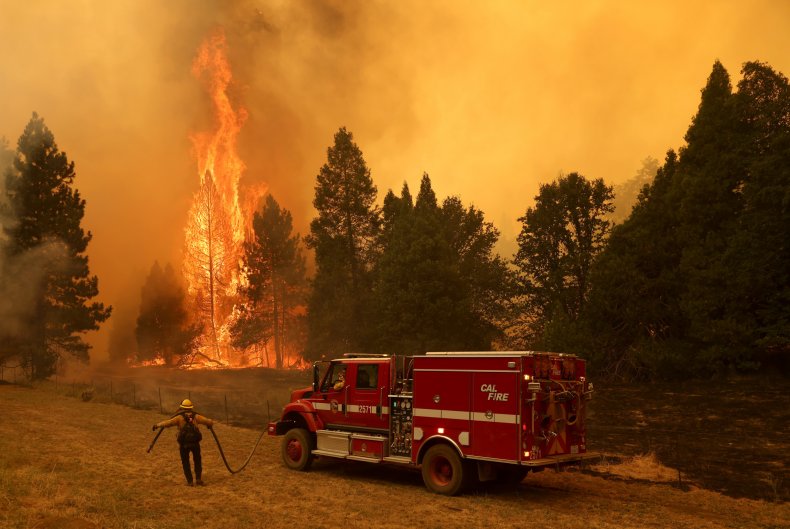 Evacuation orders were put in effect on Saturday for over 6,000 people living in the sparsely populated, rural area, said Daniel Patterson, a spokesman for the Sierra National Forest, according to The Associated Press.
More than 2,000 firefighters are battling the blaze, using helicopters, bulldozers and water tenders, Cal Fire said in a status report on Saturday.
"The fire grew significantly in the northern section, moving further into Sierra National Forest," Cal Fire said. "On the west side of the fire, crews were able to keep the fire west of Highway 140. The south side of the fire saw minimal growth today. Fire activity picked up in the afternoon, with winds increasing and temperatures rising. Spotting is a major factor in the growth of the fire. Extreme drought conditions have led to critical fuel moisture levels."
The fire has destroyed 10 residential and commercial structures, damaged five others and is threatening around 2,700 others, according to Cal Fire.
Cal Fire has been contacted for comment.
Energy provider Pacific Gas & Electric (PG&E) said on its website that at least 2,290 homes and businesses have been without power since Friday and it was not known when power would be restored. "PG&E is unable to access the affected equipment," the company said.
The cause of the fire is under investigation.
Meanwhile, firefighters have made progress against another wildfire that began in Yosemite National Park and burned into the Sierra National Forest.
The Washburn fire, which began on July 7, was 79 percent contained on Saturday after burning about 4,856 acres, officials said.
California has seen increasingly bigger and deadlier wildfires in recent years as climate change has made the state much warmer and drier—and experts have warned that wildfires may not be restricted to the summer months.
"Climate change has made wildfires worse," Matthew Casale, environment campaigns director for Public Interest Research Group, a non-profit organization that advocates for the interest of the public, recently told Newsweek.
"There have always been wildfires, but it's hard to deny that things are different now. The number of annual large fires in the West has tripled. Five of California's ten largest wildfires on record occurred in 2020, as the state set a new record for acres burned."