Yosemite Wildfire Likely Caused By Humans, Authorities Say
A fire that has been burning in Yosemite National Park since July 7 was caused by human influence, according to the Yosemite superintendent.
Also called the Washburne fire, the blaze now covers an area of over 3,500 acres, and, as of July 12, is 22 percent contained by firefighters. There has been a mandatory evacuation of the Wawona area, with Highway 41 being closed.
At a community meeting on July 11, Yosemite Superintendent Cicely Muldoon said that she thinks the fire occurred due to human actions.
"As you all know there was no lightning on that day so it is a human start fire," Muldoon said in the meeting in response to a question about the fire's origin. "It's under investigation. That's all I can say about that right now. We're looking at that really hard."
Newsweek has contacted Muldoon for comment.
Usually, wildfires naturally start due to a spark, like a lightning strike, igniting fuel on the ground. In the areas of the Washburne fire, there is lots of tree-based fuel like timber and dead trees or the fire on the ground and thick shrubs growing. The drought and dry weather will have dried this fuel out, making it ideal kindling for a wildfire.
In response, as well as using water and fire retardant, firefighters are starving the fire by pre-emptively burning this fuel in controlled fires, before the unchecked blaze reaches it.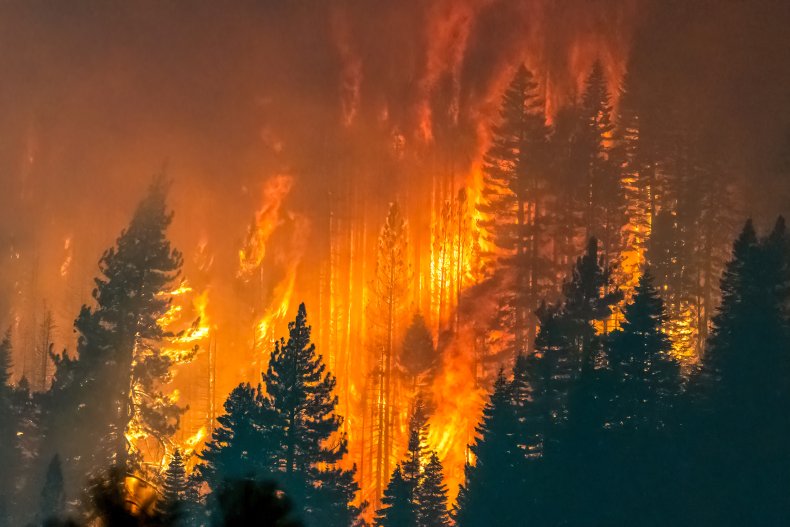 The fire is very close to the Mariposa Grove of over five hundred Giant Sequoias, many of which are centuries old. Firefighters are attempting to protect the ancient trees from the blaze using these preventative burns, and have done so for years in preparations for a wildfire near the site.
Garrett Dickman, a park worker, told The Associated Press: "We've been preparing for the Washburn Fire for decades," "It really just died as soon as it hit the grove."
Some of the sequoias got a little bit charred, with nearby flames reaching up to 70 feet up their trunks. Thankfully, Dickman doesn't think that any of them will die, including the famed Galen Clarke Tree.
"It got a little bit of heat," he said. "But from the pictures I've seen it, too, is gonna survive."
Threats to nearby communities like Fish Camp are low, according to officials.
"Right now the threat is low," said Matt Ahearn, the deputy operations chief for Team 13, in the community meeting on Jul 11. "We're feeling comfortable right now but we still have a lot of work to do. "We still have days worth of going in and cleaning out these downed trees, removing the heat from the edge. There are still pockets of unburned fuel in the interior."
Visitors to Yosemite National Park can still enter through any other entrance, bar the southern one near to Wawona, via Highways 140 and 120. There are high levels of smoke from the fire being wafted across the park, however, with various locations being rated as having "very unhealthy" and "hazardous" air quality.
"There's going to be widespread smoke and haze," Bill South, a meteorologist with the National Weather Service office in Hanford, told SFGate. "That will suppress the high temperatures in the Yosemite area, so we're looking at afternoon highs in the high 70s on Monday and in coming days. Smoke will be most prevalent in the afternoon hours. That's when we'll see the worst air quality as well."