Obama Calls for End to Voter Suppression in John Lewis Eulogy: 'Make Election Day a National Holiday'
Former President Barack Obama on Thursday afternoon said the late Democratic Representative John Lewis had "vindicated the faith in our founding," in his eulogy of the civil rights leader.
During his speech, the former president also he took aim at efforts by conservatives to disparage mail-in-voting and "discourage" voting.
"I've come here today because I, like so many Americans owe a great debt to John Lewis and his forceful vision of freedom," Obama said, before calling the life of Lewis "exceptional."
"It vindicated the faith in our founding, redeemed that faith, that most American of ideas, that idea that any of us, ordinary people without rank or wealth or title or fame can somehow point out the imperfections of this nation and come together and challenge the status quo and decide that it is in our power to remake this country that we love," the former president continued. "Until it closely aligns with our highest ideals."
"What a radical idea."
The former president called out "those in power who are doing their darndest to discourage voting by closing polling locations, and targeting minorities and students with restrictive ID laws and attacking our ballots with surgical precision.
"Even undermining the postal service in the run up to an election, that's going to be dependent on mail-in-ballots so people don't get sick," he added.
Obama pointed out that Lewis had spent his life fighting to guarantee voting rights.
"John Lewis devoted his life to fighting the very attacks on Democracy," he said. "The fate of this Democracy depends on how we use it ... Democracy is not automatic," Obama said.
The funeral service for the Georgia lawmaker was held at the Ebenezer Baptist Church Horizon Sanctuary in Atlanta, Georgia and began just after 11 a.m. ET. Obama stepped up to the pulpit to speak around 1:45 p.m., after a string of heartwarming and thought-provoking remarks delivered by colleagues, family, staff and friends of the late congressman.
Due to the ongoing coronavirus pandemic, the ceremony was not open to the public and those in attendance were required to wear face coverings. But a large crowd of mourners gathered outside the church to remember the civil rights icon, who helped organize the historic March on Washington back in August 1963.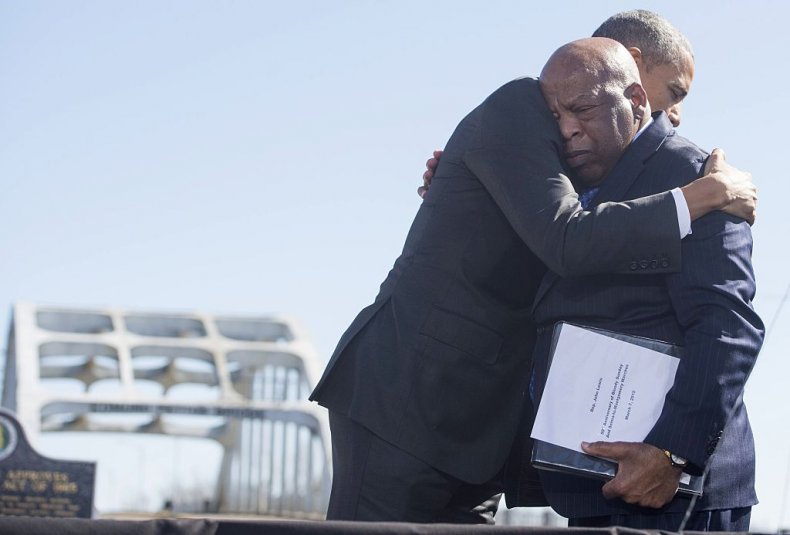 Obama highlighted that many of the violent attacks that Lewis and those of the civil rights era experienced persist to the present day. He said Lewis and those he marched with were "victims in their own country of state-sponsored violence."
"We can witness our government sending agents to use tear gas and batons against peaceful demonstrators [today]," Obama said, an apparent reference to the police violence witnessed across the country toward anti-racism demonstrators.
The former president called on the nation to "honor" Lewis "by revitalizing the law that he was willing to die for," arguing that the Voting Rights Act should be expanded.
Obama called for a system where "every American is automatically registered to vote, including former inmates... adding polling places and expanding early voting, and making Election Day a national holiday."
Lewis died on July 17 at the age of 80 following a battle with pancreatic cancer. The legendary civil rights leader was known as the "conscience of the Congress," and had marched alongside Martin Luther King Jr. He was committed to a philosophy of nonviolence, as was King.
"I was proud that John Lewis was a friend of mine," Obama said.
Although the funeral service in Atlanta was attended by former Presidents George W. Bush, a Republican, and Bill Clinton, a Democrat, in addition to Obama, President Donald Trump did not attend the service. Lewis and Trump had clashed publicly, with the congressman slamming the president for racist tweets posted last year.
"I know racism when I see it. I know racism when I feel it. And at the highest level of government, there's no room for racism," the congressman said at the time. "It sows the seeds of violence and destroys the hopes and dreams of people."
Following Lewis' death, Trump posted condolences to Twitter on July 18. "Saddened to hear the news of civil rights hero John Lewis passing. Melania and I send our prayers to he and his family," the president wrote.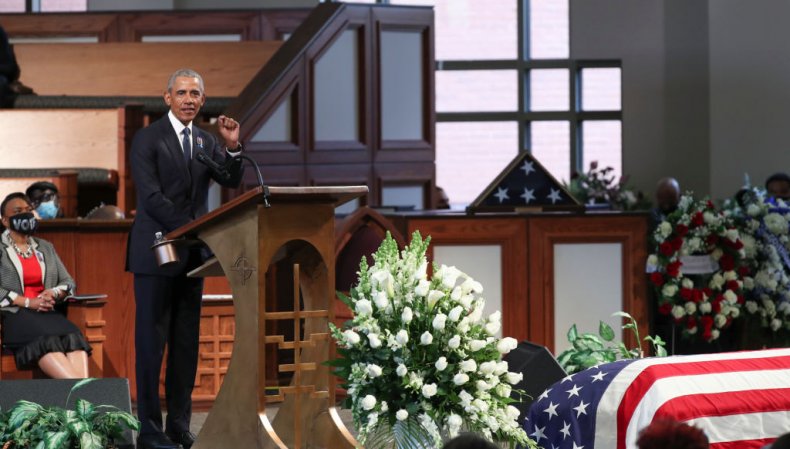 Bush and Clinton presented brief eulogies at the Atlanta service on Thursday. The former Republican president shared a humorous anecdote about the deceased congressman raising chickens as a child, pointing out that the young Lewis had baptized and performed weddings for the chickens.
Lewis "always looked outward, not inward. He always thought of others," Bush said. The former president emphasized Lewis' desire to promote peace and leave a better world for future generations.
Clinton described Lewis as a "quick thinker" that was "here on a mission." The former Democratic president said "we honor our friend for his faith, and for living his faith." He said Lewis "always kept walking to reach the beloved community," and had an "uncanny ability to heal troubled waters."
"I just loved him, I always will," Clinton said, describing the deceased representative as "a friend." He encouraged those in attendance to "march on," as Lewis would want them to do.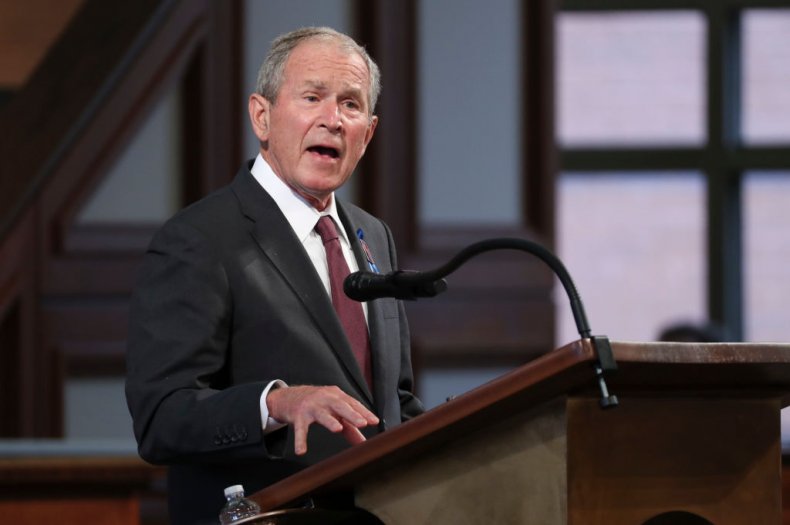 Speaker of the House of Representatives Nancy Pelosi, a California Democrat, spoke as well. Pelosi teared up as she described Lewis as "our friend, our mentor, our colleague, this beautiful man that we all had the privilege of serving with in the Congress of the United States."
"He told us so many stories, he taught us so much," the House Speaker said, adding that "he insisted on the truth" during his time in Congress."He always worked for a more perfect union."
In a moving essay written before he died and published by The New York Times on Thursday morning, Lewis told Americans that "in the last days and hours of my life you inspired me," referring to the wave of Black Lives Matter and anti-racism demonstrations that spread across the country following the death of George Floyd on May 25. Floyd, an unarmed black man, died in police custody in Minneapolis after an officer kneeled on his neck for nearly nine minutes.
"When historians pick up their pens to write the story of the 21st century, let them say that it was your generation who laid down the heavy burdens of hate at last and that peace finally triumphed over violence, aggression and war," Lewis wrote. "So I say to you, walk with the wind, brothers and sisters, and let the spirit of peace and the power of everlasting love be your guide."