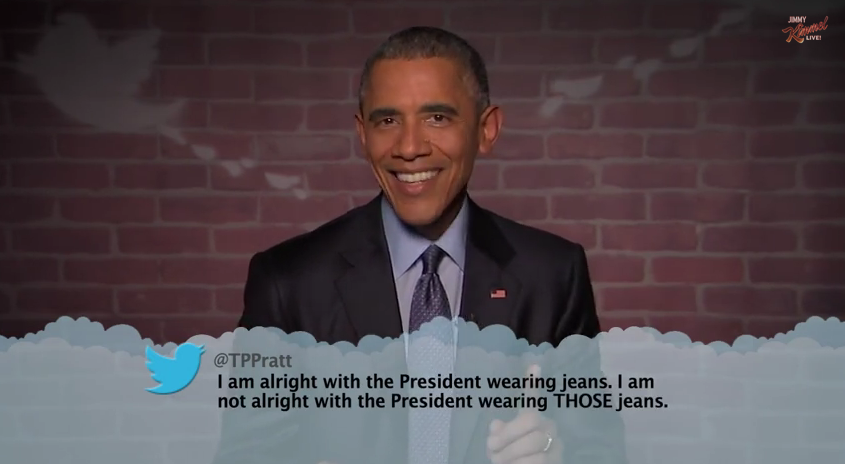 No celebrity is above Jimmy Kimmel's series in which he has a famous person read mean tweets directed to them aloud—including the leader of the free world. President Obama's appearance on Jimmy Kimmel Live! brought some moments of serious reflection, but it also involved the president of the United States reading mean (if still family-friendly) tweets as R.E.M.'s "Everybody Hurts" set the mood:
When he wasn't reluctantly mocking his own fashion sense, the president participated in a long-ranging conversation with Jimmy Kimmel that touched on racial tensions in Ferguson, Missouri, his daughters' Facebook presence ("Michelle and I try to emphasize to them that we don't want them on TMZ") and Kanye West.
"What had been happening in Ferguson was oppressive and objectionable and was worthy of protest," President Obama said of racial violence in the Missouri city, where earlier this week two police officers were shot. "But there was no excuse for criminal acts. They need to be arrested … What we have to make sure of is that the folks who disregard and disrespect the other side, people who resort to violence, that they're marginalized."
Though he expressed concern and prayers for the wounded officers, Obama spoke plainly about the Justice Department's report on Ferguson, which he said exposed "both racism and just a disregard for what law enforcement is supposed to do."
Host Jimmy Kimmel managed to get in some lighter questions about Hillary Clinton's secret email address (Obama: "I can't share it with you") and about Kanye West, whom the president once described as "a jackass." This time, Obama was much more diplomatic. "I love his music and he's incredibly creative. I don't think I've got his home number," President Obama said. "I do love his music though. He's terrific."
Watch some clips from the show below.