Obama Netflix: What the Former President and First Lady's Deal Is Worth and What They're Producing
President Donald Trump renewed interest in the Obamas' production deal with Netflix Monday by suggesting an investigation into the pact. The purpose of an investigation is unclear, as the Obamas are no longer in office.
Nonetheless, Trump mentioned former President Barack Obama multiple times on Twitter Monday, calling for a probe into the financial terms of he and wife Michelle Obama's deal with the streaming service. This, Trump said, would be a "better idea" than mounting questions about his own business deals and whether he is profiting from his presidency.
All this led to "Obama Netflix?" trending on Twitter as people tried to decipher what Trump meant by his tweets calling for Democrats to "look at the Obama book deal, or the ridiculous Netflix deal."
Unlike Trump, the Obamas are private citizens. They announced their deals with Netflix and publishing house Penguin Random House after they left the White House in January 2017.
If you're curious about what exactly the Obamas' pact with Netflix entails, here's what we know:
Obama Netflix deal explained
After completing their two terms as president and first lady, Barack and Michelle Obama have signed up for some pretty lucrative projects.
The first, announced in February 2017, was a joint deal worth an estimated $65 million to publish their memoirs. Michelle Obama's Becoming was released last November and became an instant best-seller; Barack Obama's was reportedly due for release this fall but has been pushed back to 2020.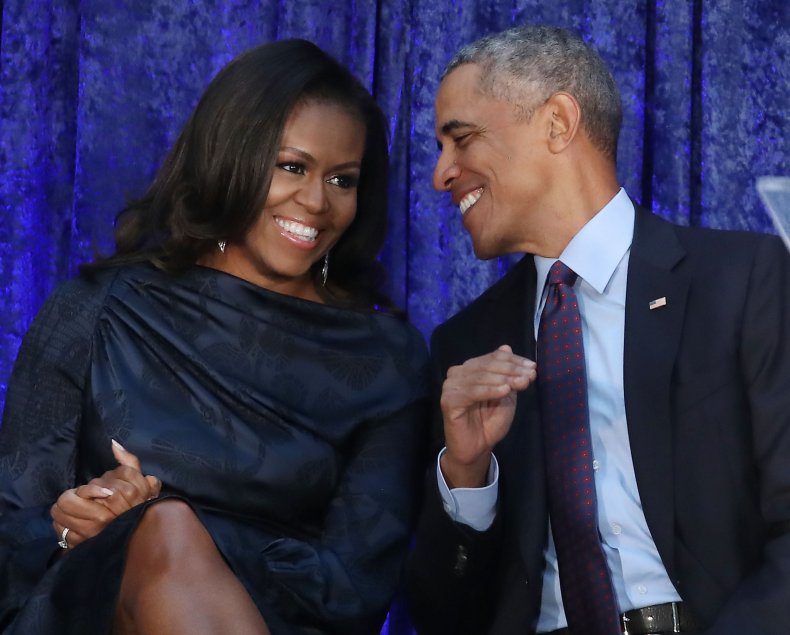 While memoirs from past presidents are nothing new, the forward-thinking Obamas also struck an exclusive deal with Netflix to produce their own movies, series and documentaries to continue the philanthropic and social change work they championed while in office.
The deal was first announced in May 2018, with the Obamas launching their own production company, Higher Ground, to both produce their own shows and acquire and distribute existing content. The financial terms of the deal were not disclosed and there are no concrete estimates about the ballpark figure either. All that was revealed at the time is that it is a multi-year agreement.
Netflix has courted and locked down other big players in the entertainment industry to similar exclusive deals, which might give an idea of what the Obamas will earn over the course of theirs. Grey's Anatomy creator Shonda Rhimes signed a deal estimated to be worth $150 million over five years in 2017 and Glee and American Horror Story creator Ryan Murphy signed a five-year deal worth a reported $300 million last year.
What the Obamas are producing for Netflix
Nearly a year after signing their deal with Netflix, the Obamas gave us the first flavor of what to expect from their collaboration with the streaming service in April this year.
In an announcement, Netflix said the Obamas' first slate of releases through Higher Ground would feature "a wide range of fiction and non-fiction signature productions for all audiences including scripted, unscripted and documentary series, as well as full-length features and documentaries."
The slate includes a biopic about abolitionist leader Frederick Douglass and a children's series promoting healthy eating, continuing the former first lady's work to promote healthy diet and exercise among America's youth.
The shows and movies include:
American Factory
The first Higher Ground project, a documentary acquired at Sundance Film Festival in January, is American Factory, which began streaming on Netflix in August.
Netflix says the "film takes a deep dive into a post-industrial Ohio, where a Chinese billionaire opens a new factory in the husk of an abandoned General Motors plant and hires two thousand blue-collar Americans. Early days of hope and optimism give way to setbacks as high-tech China clashes with working-class America."
Bloom
Bloom is described as an "upstairs/downstairs drama series set in the world of fashion in post-WWII New York City that depicts barriers faced by women and by people of color in an era marked by hurdles but also tremendous progress."
Untitled Frederick Douglass biopic
A feature film based on the life of Frederick Douglass, based on the 2019 Pulitzer Prize-winning biography Frederick Douglass: Prophet of Freedom by David W. Blight.
Overlooked
Overlooked is a scripted anthology series based on The New York Times' obituary column of the same name. It will tell "the stories of remarkable people whose deaths were not reported by the newspaper."
Listen to Your Vegetables & Eat Your Parents
A half-hour series aimed at preschoolers, this show "will take young children and their families around the globe on an adventure that tells us the story of our food."
Fifth Risk
Based on Moneyball author Michael Lewis' book The Fifth Risk: Undoing Democracy, this non-fiction series "will aim to portray the importance of unheralded work done by everyday heroes guiding our government and safeguarding our nation."
Crip Camp
Crip Camp is a feature-length documentary about a summer camp for disabled teenagers in the 1970s. The camp "would transform young lives, and America forever by helping to set in motion the disability rights movement."
At the time of the announcement, Barack Obama said: "We created Higher Ground to harness the power of storytelling. That's why we couldn't be more excited about these projects. Touching on issues of race and class, democracy and civil rights, and much more, we believe each of these productions won't just entertain, but will educate, connect, and inspire us all."
"We love this slate because it spans so many different interests and experiences, yet it's all woven together with stories that are relevant to our daily lives," added Michelle Obama. "We think there's something here for everyone—moms and dads, curious kids, and anyone simply looking for an engaging, uplifting watch at the end of a busy day. We can't wait to see these projects come to life—and the conversations they'll generate."