What Happens To President Obama's Twitter Handle When He Leaves the White House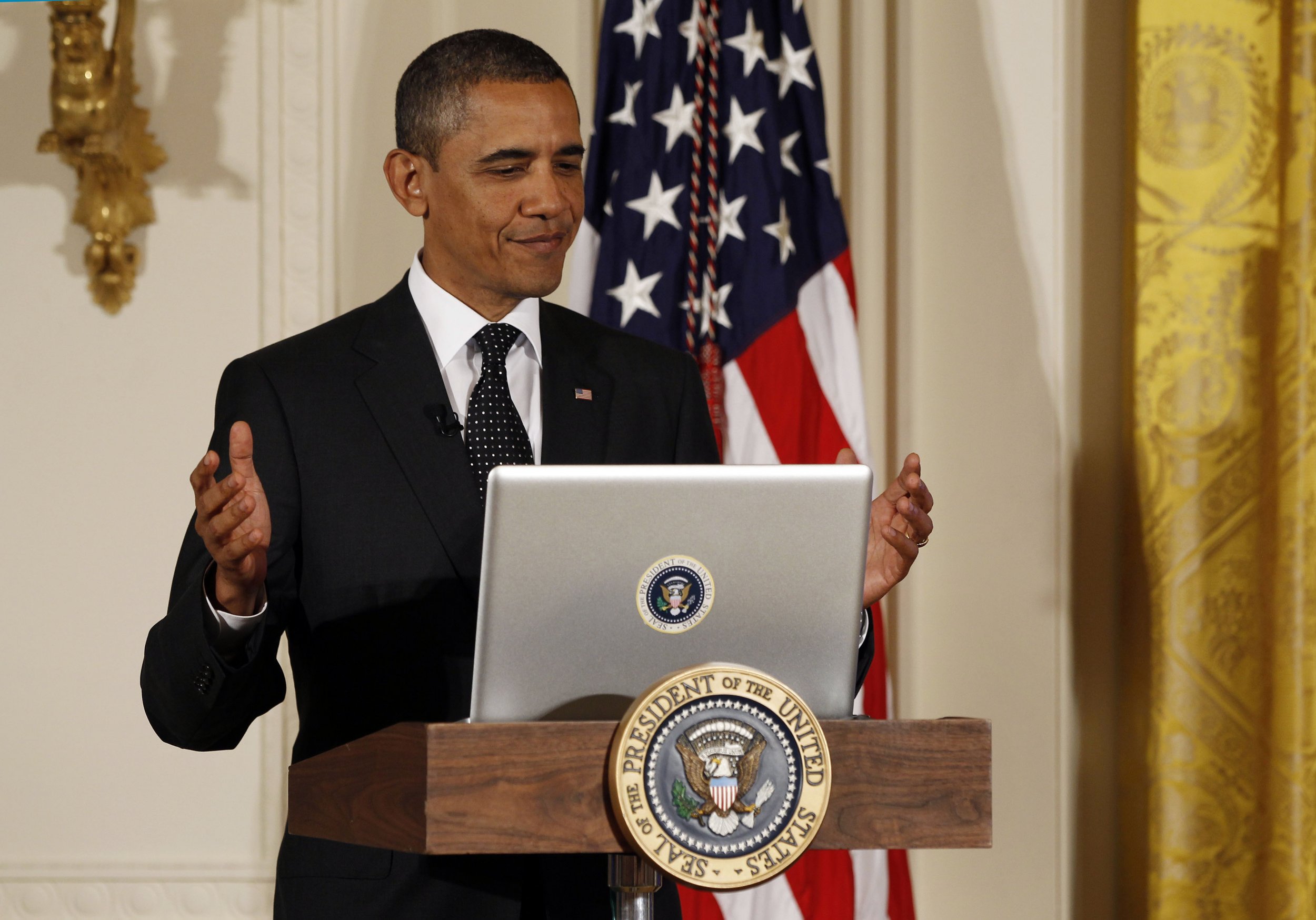 Less than two years ago, President Obama sent his first tweet from the only Twitter account ever dedicated exclusively to the highest office in the land. When his eight years in office end on January 20, Obama will hand over his "@POTUS" handle to his successor.
In a blog post Monday, the White House laid out its plan for the social media presidential transition. Obama widely has been referred to as the first "social media president" because, throughout his two terms in office, he often went live from the Oval Office using Facebook; hosted Google Hangouts; and joined platforms like Facebook, iTunes and Flickr. Earlier this year, the White House even posted a story on Snapchat. Aside from @POTUS, Obama also has been known to tweet messages from @BarackObama and @WhiteHouse, using as his signature his initials, "-BO."
Digital is a key part of Obama's efforts to ensure a smooth transition from his administration to the new president in January—regardless of party. The administration hopes the next leader will build on Obama's digital focus, which he began during his 2008 campaign.
Ranging from tweets to snaps, the National Archives and Records Administration (NARA) has been tasked with preserving all of the material the White House has published online during Obama's presidency. This means that, starting on January 20, the day of the Inauguration, the "@POTUS" handle will be made available to the 45th president. The account will continue with its more than 11 million followers, but the content on its timeline will be emptied.
NARA will migrate all of Obama's tweets to "@POTUS44" to serve as an archive of his account. His tweets—along with those from staff accounts like @WhiteHouse, @FLOTUS, @PressSec and @VP—will be archived at NARA, to preserve them in addition to all other presidential records.
As for Instagram and Facebook, the incoming administration will have access to the White House username and URL, and will retain the followers. As with Twitter, the new commander in chief will start with a blank slate on his or her timeline. An archive of the content posted to the Obama White House Instagram and Facebook pages will continue to be accessible to the public. Individual accounts for Obama and Vice President Joe Biden will be moved to new "44" usernames—which reference Obama as the 44th president—and be preserved by NARA. Similar approaches will be followed for other platforms, including YouTube, Tumblr and Medium.
The White House invites Americans to suggest creative ways to archive other content in accessible methods, such as Twitter bots or art projects.
The 45th president could be decided in a week. Republican presidential nominee Donald Trump has faced controversy for some of his past behavior on Twitter. He has used the platform to retweet white supremacist propaganda, to threaten to "spill the beans" on ex-rival Ted Cruz's wife (something that was never done) and to call Fox News anchor Megyn Kelly a "bimbo," to name just a few examples. Meanwhile, Democratic presidential candidate Hillary Clinton rarely makes news with her tweets...but her emails are a different story.