Obama Slams Right-Wing Media Venues for 'Stoking Fear and Resentment' Among White People
Democratic former President Barack Obama has said that "certain right-wing media venues" are stoking the fears and resentment of white people.
"There are certain right-wing media venues, for example, that monetize and capitalize on stoking the fear and resentment of a white population that is witnessing a changing America and seeing demographic changes," Obama said.
These media venues "do everything they can to give people a sense that their way of life is threatened and that people are trying to take advantage of them," Obama continued.
Obama made his comments during an interview with CNN anchor Anderson Cooper. Cooper had asked Obama whether he thought he had told the "story of race in America" during his presidency as the nation's first Black president.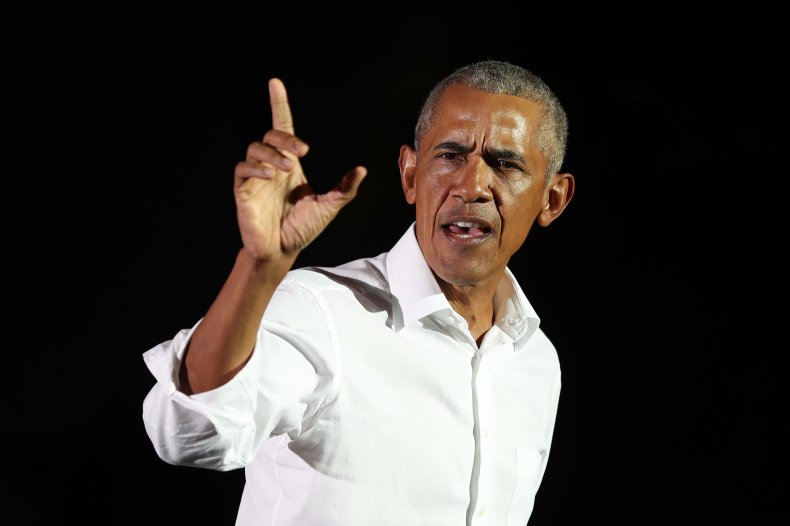 Obama mentioned that when he tried to discuss racial issues and discrimination during his candidacy and presidency, his political opponents would often try to "exploit it for their own political gain."
He listed as examples two different instances. The first occurred during Obama's 2008 presidential campaign. It involved Jeremiah Wright, a reverend at Trinity United Church of Christ in Chicago, Illinois—a church Obama attended.
Video of the reverend captured him saying, "God damn America" as part of a sermon he gave against the nation's historic mistreatment of Black people and other non-white racial groups.
Right-wing outlets seized on Wright's comments as a way to question Obama's Christianity and proof that Obama sought to sow racial division among Americans.
Obama said that Wright had acknowledged that his comment was "inappropriate" and "had deeply offended people." However, Obama refused to disown Wright, comparing him to a close uncle. Conservatives said Obama didn't do enough to condemn Wright or distance himself from Wright's comments.
The second instance Obama mentioned involved his 2009 criticism of Cambridge, Massachusetts police. The police arrested Black Harvard professor Henry Louis Gates Jr. for entering his own home. At the time, Obama said the police had acted "stupidly." Obama told Cooper that the criticism made him lose more support among white voters than at any other point during his presidency.
While Obama didn't name any specific right-wing media outlets, he did mention the Republican party's focus on banning critical race theory (CRT) from schools and government-related groups. CRT is a field of study that analyzes race and racism as social dynamics throughout history.
Numerous Republican states and leaders, including former President Donald Trump, have banned CRT as an allegedly racist and divisive form of "radical ideology." They believe CRT teaches that white people are evil and indoctrinates people into "hating our country."
In his comments to Cooper, Obama criticized Republicans for focusing on CRT as "the threat to our Republic" rather than on economic troubles or climate change.
"It's hard for the majority in this country of white Americans to recognize that, look, you can be proud of this country and its traditions and its history and our forefathers. And yet, it is also true that this terrible stuff happened. And that, you know, the vestiges of that linger and continue," Obama told Cooper.
Newsweek contacted The Obama Foundation for comment.