'Obi-Wan Kenobi': Release Date, Cast, Trailer and Plot
Star Wars fans rejoice because Lucasfilm has shared new details about its Disney+ show focused on Obi-Wan Kenobi.
The Jedi Master (played by Ewan McGregor) was last seen in 2005's Revenge of the Sith when he went up against a fallen Anakin Skywalker (Hayden Christensen) in battle, and helped find a home for twins Luke and Leia after their mother Padmé Amidala's (Natalie Portman) death.
Here is everything you need to know about the show, including when it will be released and who is set to return.
When Is 'Obi-Wan Kenobi' Out?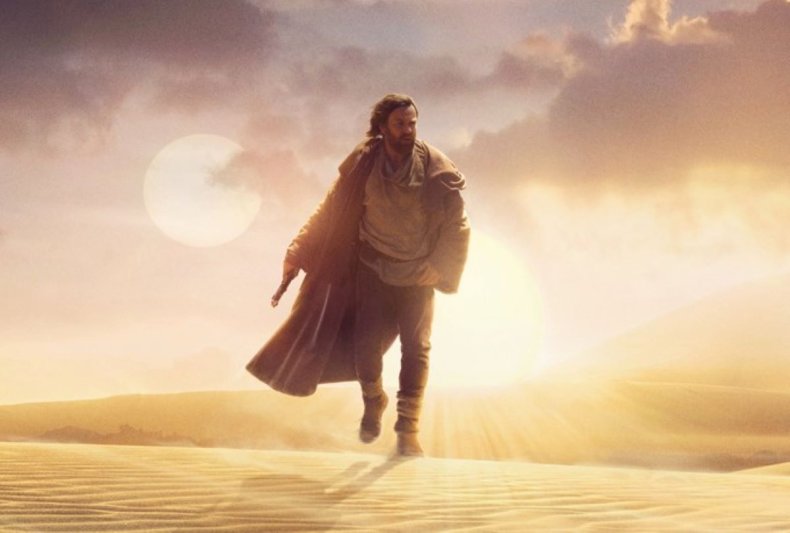 Obi-Wan Kenobi is set to be a limited series on Disney+ and is being released on Friday, May 27.
The show was originally set to air on May 25, exactly 45 years after the release of the first Star Wars film, A New Hope, in 1977, however on Thursday, March 31 Lucasfilm shared a video of McGregor confirming the date had changed.
The actor explained that the show would now be coming out on Friday, May 27 instead, though no reason was given, and he added that fans would get to watch two episodes, rather than one, on the show's premiere.
Like the previous Star Wars Disney+ shows that have been released on the streaming platform, the show will then come out on a weekly basis.
What Will Happen in 'Obi-Wan Kenobi'?
Obi-Wan Kenobi is set 10 years after the events of Revenge of the Sith and will follow its eponymous character on Tatooine as he continues to grapple with Anakin's fall to the Dark Side.
His former Jedi apprentice is now the Sith Lord Darth Vader, and Kenobi will have to face this, his greatest defeat, once more.
The series is directed by Deborah Chow, who previously worked on The Mandalorian, and Lucasfilm president Kathleen Kennedy has said the show will feature the "rematch of the century."
Who Stars in 'Obi-Wan Kenobi'?
When the show was first announced at Disney's D23 event in August 2019, it was confirmed that McGregor would reprise his role as the iconic Jedi Master.
He is not the only actor to return from the prequel series because Christensen is going to once again portray Anakin, aka Darth Vader.
Joel Edgerton and Bonnie Piesse are also confirmed to be making an appearance in the show, returning as Luke's uncle and aunt Owen and Beru Lars, respectively.
Other cast members who have been announced for the show include Moses Ingram, Kumail Nanjiani, Indira Varma, Rupert Friend, O'Shea Jackson Jr., Sung Kang, Simone Kessell and Benny Safdie.
Is There a Trailer for 'Obi-Wan Kenobi'?
On Wednesday, October 9 Disney+ shared the first trailer for Obi-Wan Kenobi which saw the Jedi Master keep a watchful eye on a young Luke on Tatooine.
As he remains in hiding members of the Empire's forces scour the galaxy looking for him, with an as-yet-unnamed dark-side user played by Moses Ingram on his trail.
The trailer saw Kenobi lamenting how the Jedi had lost the war against the Empire, all while trying to keep one step ahead of the villains out to get him.
A second trailer was released on Star Wars Day, aka May 4, to give fans a closer look at the series as a whole, including their first look at Christensen's Darth Vader.
In the teaser clip Inquisitor Reva (Moses Ingram) warns Kenobi that he will never be able to escape his former apprentice.
Obi-Wan Kenobi will launch on Disney+ on Friday, May 27.
Update 03/10/2022 4.09 a.m. EST: This article was updated to include the official teaser trailer for Obi-Wan Kenobi.
Update 04/01/2022 4.33 a.m. EST: This article was updated to include the revised release date for Obi-Wan Kenobi.
Update 05/04/2022 10.48 a.m. EST: This article was updated to include the trailer released on May 4 for Obi-Wan Kenobi.