Alexandria Ocasio-Cortez was more tweeted about this year than Hillary Clinton, Bernie Sanders and Joe Biden, according to a new Twitter blog post.
The social media platform revealed Monday that the freshman Democratic representative from New York was the fourth most tweeted about politician worldwide in 2019, putting her behind only President Donald Trump, former President Barack Obama and Indian Prime Minister Narendra Modi.
But she was two spots ahead of Vermont Sen. Sanders, the sixth most tweeted about politician of 2019, and three places ahead of 2016 Democratic presidential nominee Hillary Clinton.
Former Vice President Joe Biden was the eighth most tweeted about politician despite being the frontrunner in the Democratic 2020 primary race, according to the Real Clear Politics polling average.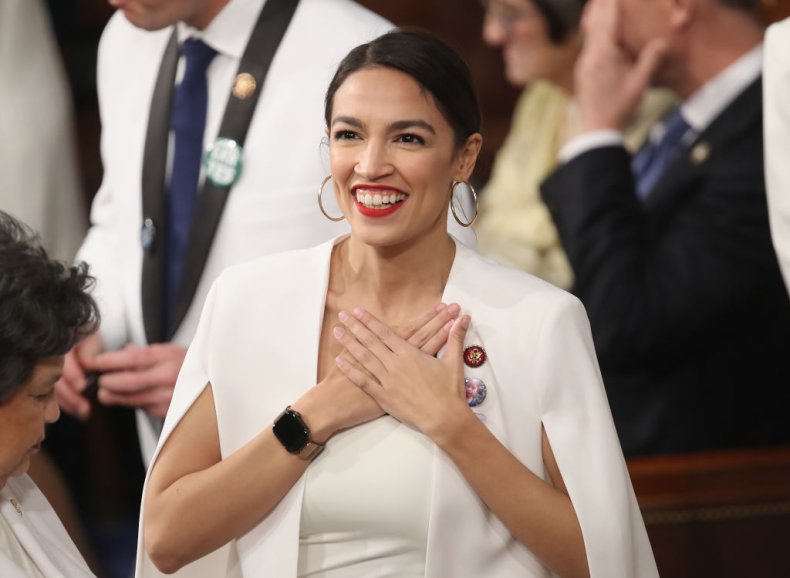 Ocasio-Cortez was also more tweeted about than major world leaders like French President Emmanuel Macron, Brazilian President Jair Bolsonaro and Vladimir Putin.
The New York representative has an enormous audience on the network, holding 5.6 million followers on her account at the time of writing.
But, while she has more followers than Biden, Ocasio-Cortez has managed to rank as the fourth most tweeted about politician of the year despite having significantly fewer followers than Clinton and Sanders, who can boast of 26 million and 8.8 million respectively.
This could be thanks to the fact Ocasio-Cortez's tweets regularly go viral, picking up tens of thousands, or sometimes hundreds of thousands, of likes on the platform.
Her posts also have a tendency to make headlines, including a recent tweet from the freshman representative trolling Amazon and some of her critics after the online retailer reportedly agreed to open a new office in the city without tax credit or subsidy incentives included in an earlier plan opposed by Ocasio-Cortez.
President Trump's ranking as the most tweeted about politician worldwide is not likely to come as a surprise, given the fact he has a much greater following of 67.4 million and holds the highest office in American politics.
The commander-in-chief is also a prolific tweeter, posting 105 times on Sunday alone and prompting an angry response from North Korea in the process.
He also caused social media to explode in the run-up to Thanksgiving when he tweeted a picture of his head on the body of Rocky Balboa, the fictional boxer played by Sylvester Stallone in the Rocky film series.
Newsweek has contacted Twitter for the full data and metrics behind its rankings, but did not receive a response by time of publication.
The social media network ranked the most tweeted about politicians by number of unique authors discussing them on Twitter between January 1 and November 15 of this year. Mentions of their names, handles and related keywords were included in the final tallies.