A dog that visited her owner's office has delighted the internet after a picture of her went viral on Reddit.
Shared on Thursday on the subreddit r/rarepuppers, Ryan Cohen—who uses the Reddit handle mmmChickenTenders—posted the image with the caption: "Sometimes I bring her to the office with me... She'll lay there all day and just watch me work."
With more than 16,000 upvotes, the picture has melted hearts with hundreds of comments.
The 7-year-old Great Pyrenees called Gamestop—"We're big gaming fans," jokes owner Cohen—lives with her owner in Grapevine, Texas.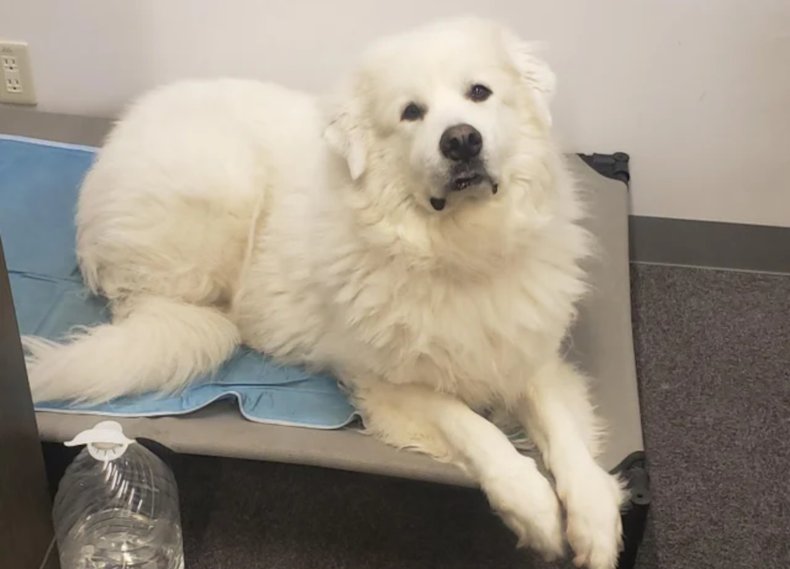 Cohen told Newsweek: "She absolutely loves to work! I always say she was born to work. She has a nickname at work, they call her 'The Chairman' since she is the real boss."
"I love when people bring their doggies to work," wrote one Redditor.
"She's just too happy to be with you at work. So cute," said another comment.
According to the American Kennel Club (AKC), the Great Pyrenees was recognized as a breed by the AKC in 1933 and is now the 66th most popular breed in the U.S. Famed for their patient and calm attitude, the AKC says that these dogs are "mellow companions and vigilant guardians of home and family."
"She's beautiful," wrote one commenter: "I wouldn't get much work done," another user loved the dog's signature Great Pyrenees fur and said: "The FLUFF."
The positive and therapeutic value of time with dogs has been noted in various studies, including one published in the Journal of Behavioral Medicine and another in Anthrozoös. In a 2021 study, researchers from Lisbon, Portugal undertook multiple case studies to analyze the impact of dogs in the workplace. The study interviewed dog owners who routinely brought their dogs into the office and the managers in the same companies. Analyzing the data, they found that dogs had an overall positive impact on the well-being of workers in the office environment.
The report stated that people and places appeared to be happier and more relaxed when a dog was around and noted that pet-friendly policies can project the image of a more relaxed and informal work culture—conveying a positive image for potential employees and the outside world. But researchers did note that the positive effects of dogs in the office are also linked to certain prerequisites that need to be fulfilled by a company, including flexible hours, autonomy, and open communication.
One commenter on the viral post joked: "I can't bring my dog to work she would get on the desks and eat everyone's food all day. What a mess," and another said: "I could bring one of my dogs lol the other one would wreak havoc everywhere she went."
Cohen said that Gamestop loves to eat fruits and, for some reason, absolutely hates Stormtroopers from Star Wars. "She must be protected at all costs," joked Cohen.
"What a good girl," said another Redditor, while one commenter wrote: "What a great office pup she is."