Bette Midler, Cher and Others Pay Tribute to Officer Brian Sicknick Amid Capitol Ceremony
President Joe Biden honored fallen police officer Brian Sicknick in an emotional ceremony in Washington, D.C. on Tuesday evening.
The late U.S. Capitol police officer died from injuries sustained while responding to pro-Trump rioters who stormed the building on January 6. He was 42.
Sicknick's remains will lie in state inside the Capitol's Rotunda—an honor that is usually only bestowed upon former presidents, military officials and members of Congress.
The ceremony took place on Tuesday at the East Front of the Capitol as Sicknick's remains arrived in a hearse.
Speaker of the U.S. House of Representatives Nancy Pelosi, Senate Majority Leader Chuck Schumer, Senate Minority Leader Mitch McConnell and House Minority Leader Kevin McCarthy were present for the ceremonial arrival of Sicknick's ashes.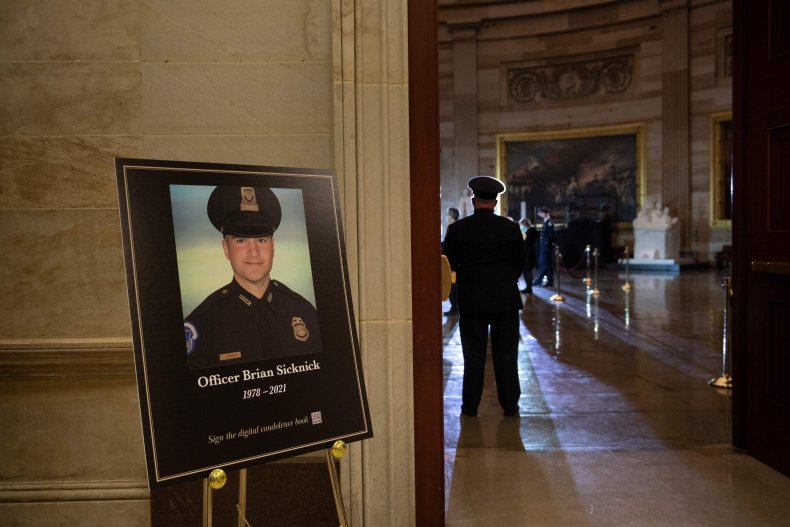 "The U.S. Congress is united in grief, gratitude and solemn appreciation for the service and sacrifice of Officer Brian Sicknick," Pelosi and Schumer said in a statement before the ceremony.
"The heroism of Officer Sicknick and the Capitol Police force during the violent insurrection against our Capitol helped save lives, defend the temple of our democracy and ensure that the Congress was not diverted from our duty to the Constitution. His sacrifice reminds us every day of our obligation to our country and to the people we serve."
The ceremony has been met with much sadness online, with many celebrities publicly paying their respects to the fallen officer.
"Hard to believe this happened in our country, and in front of our eyes," tweeted Bette Midler. "Never forget."
Scott Dworkin of the Dem Coalition wrote: "Officer Brian Sicknick will lie in honor in the Capitol rotunda tonight. He'll be buried at Arlington National Cemetery tomorrow. He was 42 years old."
"Tragic. My sympathies to his family," said actress Rosie Perez. "#BrianSicknick American Hero."
Musical icon Cher had some harsh words for Trump in her tribute to Officer Sidnick. She tweeted: "Remains Of Fallen Officer BRIAN SICKNICK. Gave His Life 4 His Country, & Now Has The Honor Of Lying In State, in The Capital Rotunda. His Mother, Father, Brothers,& Fiancé Will Never Hold him Again. donald trump is responsible For all the deaths. trump Is a Human Who's Worth Nothing."
"Having experienced my own horrific loss, tonight I am reminded of why electing @JoeBiden as President mattered so deeply to me. He is the right President for our time. His decency, civility, and empathy is desperately needed. A really important night for America," said activist Fred Guttenberg.