Texas Police Couldn't Stop Salvador Ramos Before Uvalde School Shooting
Child killer Salvador Ramos was involved in a shootout with authorities before he entered the school to begin his massacre, but they were unable to stop his rampage, an official revealed.
Despite coming under fire by officers as he approached Robb Elementary School, Ramos—who was wearing body armor—managed to continue on his path into the building, where he killed 19 children and two adults on Tuesday morning.
The 18-year-old was armed with a handgun, an AR-15 semi-automatic rifle, and high-capacity magazines, investigators said after the attack in Uvalde, Texas.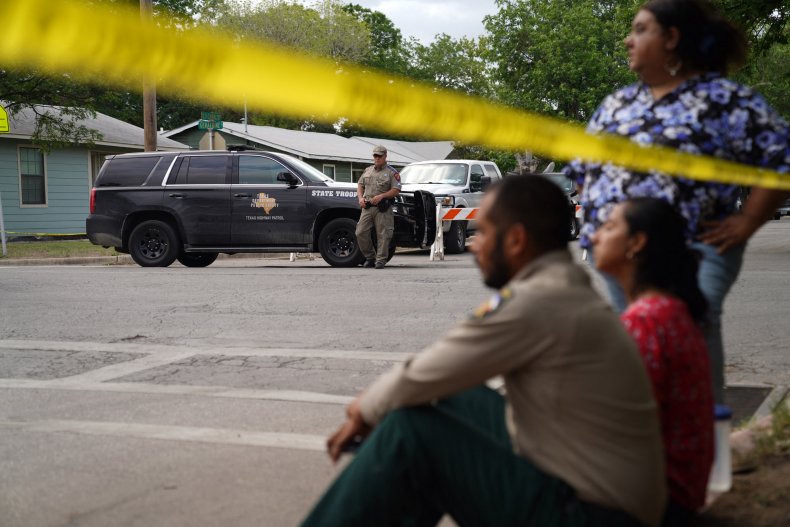 On Tuesday night, Sgt. Erick Estrada, of the Texas Department of Public Safety, told CNN news anchor Anderson Cooper that law enforcement officers had actually exchanged gunfire with Ramos before he committed mass murder.
He did not specify which branch of law enforcement was involved, but said: "The suspect did crash near a ditch nearby the school. That's where he exited his vehicle with what I believe was a rifle, and that's when he attempted to enter the school where he was engaged by law enforcement.
"Unfortunately, he was able to enter the premises and then from there that's when he entered several classrooms and started shooting his firearm."
Newsweek has contacted Uvalde Police Department for further information.
With the young victims and bereaved families still reeling in the aftermath of the mass shooting, much of the national discussion has turned predictably to the nation's gun laws.
While some, such as Texas Attorney General Ken Paxton, have called for arming elementary school teachers in response to the tragedy, others questioned how gun-wielding educators would have fared better than the trained, armed professionals.
Paxton told Fox News: "The reality is we don't have the resources to have law enforcement at every school. It takes time for law enforcement, no matter how prepared, no matter how good they are, to get there. So having the right training for some of these people at the school is the best hope."
But CNN reporter Natasha Bertrand tweeted on Tuesday night: "Sgt. Erick Estrada of the Texas Dept of Public Safety tells @andersoncooper the shooter crashed his car near the school, got out with a gun and wearing body armor, was engaged by law enforcement, but made his way into the school anyway and went classroom to classroom shooting."
In response to Bertrand's tweet, one follower sarcastically replied: "This is, apparently, why we need to arm teachers: because police can't stop the shooters." Another added: "So... the good guys with guns didn't stop him."
The mass shooting at Robb Elementary School, which teaches children aged 7 to 10, ended when Ramos was shot and killed. The teenager is also believed to have shot his grandmother before setting out for the school.