Police Arrest Dozens Outside of Courthouse in St. Louis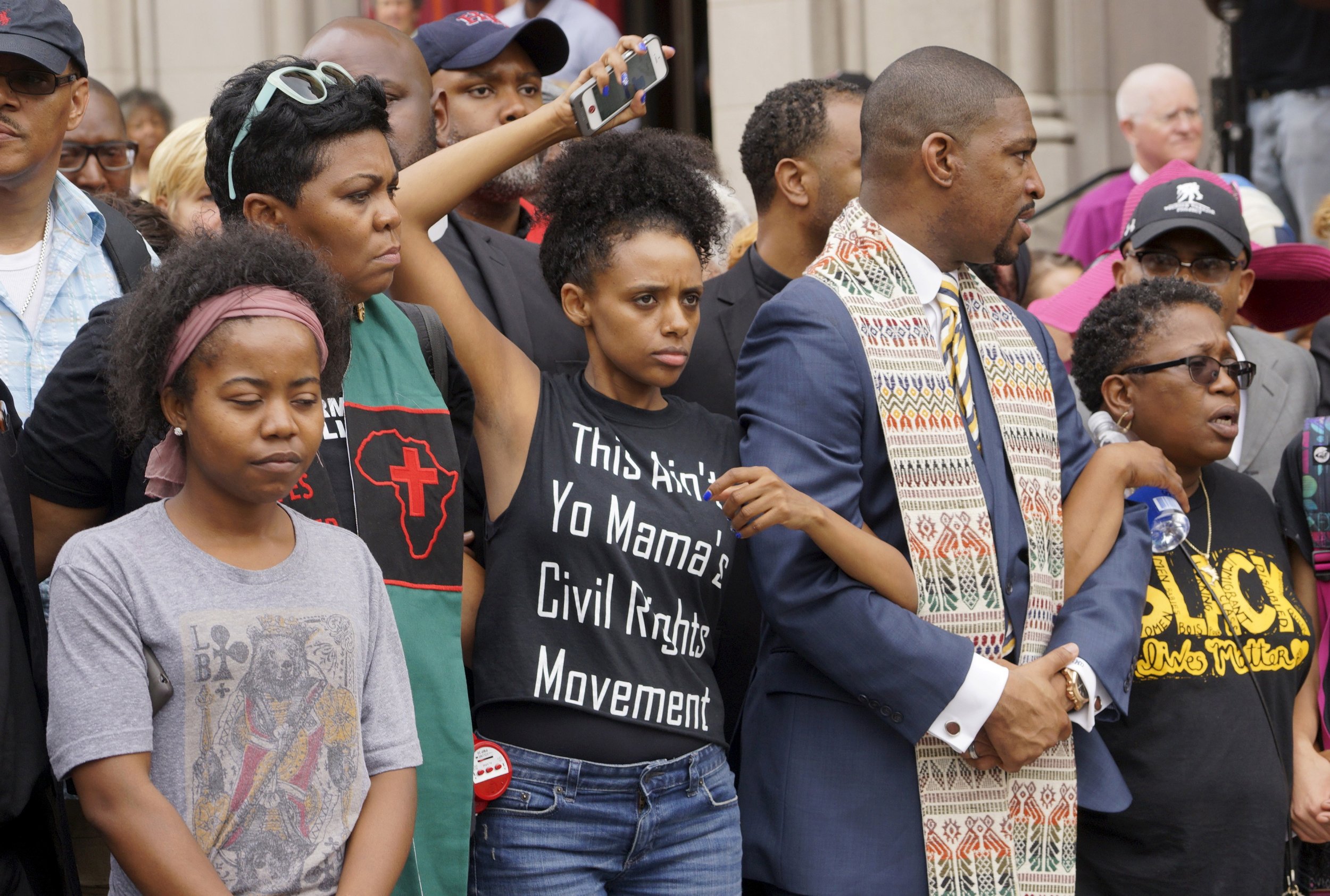 Updated | Officials issued a state of emergency Monday in St. Louis County, Missouri, on the second day of protests that erupted as people gathered in Ferguson for the one-year anniversary of Michael Brown's death.
Brown, an 18-year-old African-American, was fatally shot by a white police officer on August 9, 2014, in Ferguson. The high-profile case forced the St. Louis suburb into the national spotlight.
"The recent acts of violence will not be tolerated in a community that has worked so tirelessly over the last year to rebuild and become stronger," St. Louis County Executive Steve Stenger said in a statement Monday afternoon. He added that Ferguson "will not be destroyed by a few that wish to violate the rights of others."
As Stenger announced the state of emergency, police were arresting more than 50 protesters outside of the Thomas F. Eagleton United States Courthouse in St. Louis, according to the St. Louis Post-Dispatch. They demanded the dissolution of the Ferguson Police Department, which was sharply criticized by the U.S. Department of Justice for routinely violating the constitutional rights of African-Americans.
"We've come to say, 'Enough is enough,'" a woman protester yelled to the crowd, which gathered for what they called "Moral Monday."
Dozens of demonstrators, including clergy members and community activists, stood in the square outside of the building and chanted "Black lives matter," "You can't stop the revolution" and "Which side are you on?" to the beat of drums. They were blocked from entering the courthouse by barricades set up by police.
Last year, protesters gathered for months in cities across the country in the wake of Brown's death. Similarly, demonstrators on Monday yelled, "Hands up, don't shoot." They eventually sat, arms linked, in solidarity on the steps of the courthouse, with their backs to police officers.
Just after 2 p.m. local time, a different woman protester led the crowd away from the courthouse to another destination in downtown St. Louis. "We are leaving this place," she said, "but we are never leaving the fight."
As part of the state of emergency, St. Louis County Police Chief Jon Belmar took over emergency management in the city of Ferguson and surrounding areas, effective immediately, according to Stenger.
"Chief Belmar shall exercise all powers and duties necessary to preserve order, prevent crimes and protect the life and property of our citizens," Stenger said in the statement.
The dozens of arrests came after a weekend that began peacefully but ended in violence when two groups started firing guns at each other, police said. Also, a young man reportedly opened fire on officers in an unmarked car, who shot back. He was in critical condition Monday, authorities said.