Ohio Democratic Senator Calls on Cruz, Hawley to Resign as Capitol Riot Backlash Grows
Senator Sherrod Brown of Ohio joined the growing chorus of Democrats calling for Senators Ted Cruz and Josh Hawley's resignation following the Capitol riots.
"Both Senator Josh Hawley and Senator Ted Cruz have betrayed their oaths of office and abetted a violent insurrection on our democracy. I am calling for their immediate resignation," Brown said in a tweet on Saturday.
"If they do not resign, the Senate must expel them," he continued.
Cruz and Hawley, who represent Missouri and Texas respectively, have faced backlash following the Capitol riot this past Wednesday. Democratic lawmakers have claimed the two Republicans acted as provocateurs, fanning the flames that led to the riot when they planned to object to the electoral vote certification over baseless claims of voter fraud.
Senate Democrats Chris Coons of Delaware, Patty Murray of Washington and Ron Wyden of Oregon, alongside several Democrats in the House, shared Brown's calls to remove the two Republicans.
Coons said they "should resign," speaking to reporters on Thursday.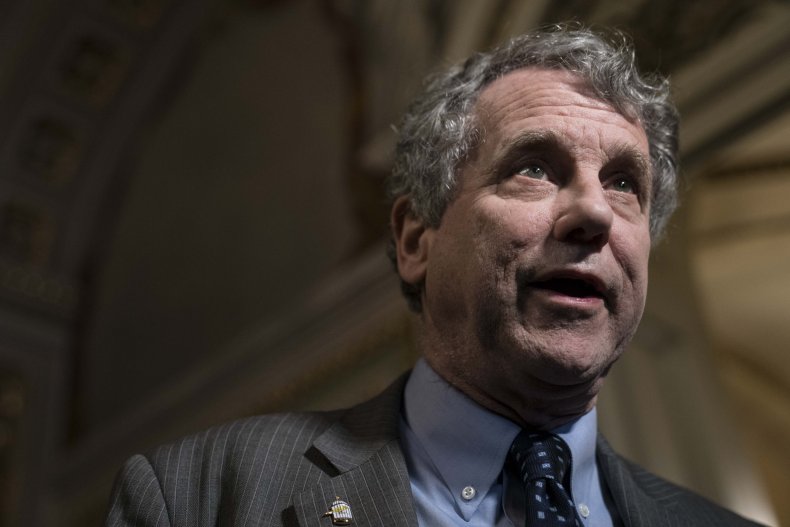 "Any Senator who stands up and supports the power of force over the power of democracy has broken their oath of office," Murray said in a statement Friday. "Senators Hawley and Cruz should resign."
Wyden accused Cruz, Hawley and President Donald Trump of "culminating in the assault on the seat of our democracy."
"There must be consequences for senators who would foment a violent mob for personal gain," Wyden tweeted Friday. "I call on Senators Hawley and Cruz to resign and accept the responsibility which they so clearly bear."
Cruz and Hawley have both denounced the violence that erupted following the pro-Trump protest. Hawley, however, has stood by his decision to challenge the election results.
"I will never apologize for giving voice to the millions of Missourians and Americans who have concerns about the integrity of our elections," Hawley said in a Thursday statement. "That's my job, and I will keep doing it."
Cruz claimed Democrats were "playing politics" amid calls for his removal.
"No one should be surprised to see Democrats playing politics and to see them try to attack strong conservative leaders. That's something Democrats have done for a long time. I do think it's really cynical for them to be trying to take advantage of what was a tragic event that occurred yesterday in Washington– the terrorist attack on the Capitol," Cruz said in a Wednesday interview with Texas television station KTRK.
"It was despicable, those criminals who attacked the citadel of democracy. That was a horrific thing for our nation," Cruz added. "Every one of those terrorists who committed that attack needs to be prosecuted, fully prosecuted. They need to go to jail for a very long time."
According to the U.S. Constitution, "each House may determine the rules of its proceedings, punishing its members for disorderly behavior, and, with the concurrence of two-thirds, expel a member." Expelling a member of Congress, however, is rare and happened only a handful of times throughout U.S. history.
Newsweek reached out to Brown, Cruz and Hawley, but did hear back in time for publication.