Ohio Gov. Mike DeWine Admits State Doesn't Have Money to Distribute COVID Vaccine, Urges Congress to Pass Stimulus
Ohio doesn't have the funds to distribute a coronavirus vaccine, Governor Mike DeWine admitted on Tuesday.
During an interview with CBS This Morning, DeWine said "no, we do not" when asked whether Ohio had enough money to roll out a vaccine. "But we're going to get it out one way or another. We have to do that," DeWine added. "What we would like, of course, is a bill from Congress.... We really need that."
DeWine then insisted that Ohio will be able to distribute the vaccine even if Congress fails to pass another economic relief bill.
"We're going to do it. We have CARES Act dollars that we could use. We're going to do whatever we have to do to get it done," he said. "No one in Ohio should think that, if Congress doesn't pass a bill, we're not going to get this out. We will get it out, and we'll start the shots as soon as we get it."
The governor then reiterated that the "bigger picture" was that Congress needs to pass a relief bill to help the states for "many, many reasons."
The U.S. is expected to have a pair of coronavirus vaccines before the end of the year. According to CBS News, the first doses of Pfizer's vaccine could be ready by December 15, while Moderna's vaccine could be available by December 22.
Both companies have released data from late-stage clinical trials saying that their vaccine candidates have an efficacy rate of about 95 percent.
Pfizer is waiting for emergency use authorization from the Food and Drug Administration. If it is granted, about 6.4 million doses of the Pfizer vaccine will be distributed around the country, according to Operation Warp Speed officials. On Monday, Moderna applied to the FDA for the authorization.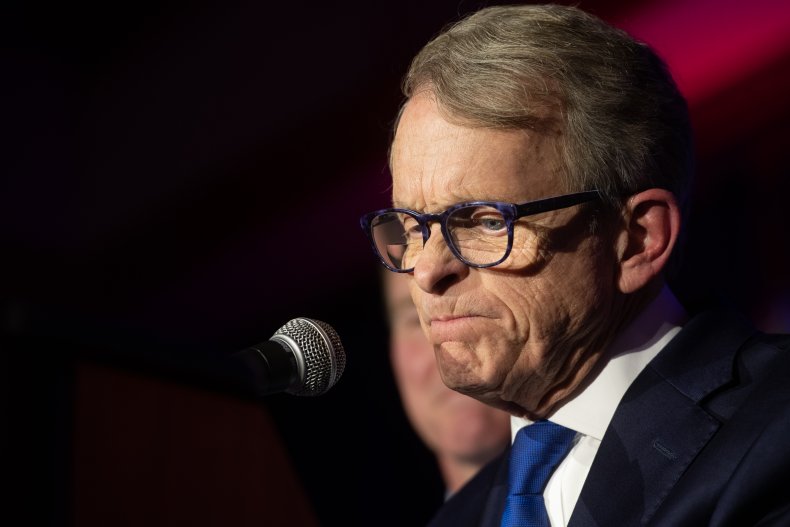 In September, the director of the Centers for Disease Control and Prevention (CDC) told the Senate that it needed $6 billion to facilitate the vaccine's distribution, according to The Hill.
"Right now, we've leveraged about $600 million, but we do not have the resources to support 64 jurisdictions to get this plan operational, so to me it's an urgency," CDC Director Robert Redfield said. "The time is now for us to be able to get those resources out to the state, and we currently don't have those resources."
Congress passed its last economic relief bill, the CARES Act, nearly eight months ago. But negotiations for a second bill have met obstacles as Republicans and Democrats offered competing plans.
In May, the Democrat-controlled House passed the $2.2 trillion Health and Economic Recovery Omnibus Emergency Solutions (HEROES) Act, which was revised in October, but it has not been acted upon in the GOP-controlled Senate. Meanwhile, a smaller $500 billion bill has been proposed by Senate Republicans.
President-elect Joe Biden has repeatedly urged Congress to pass another relief bill as soon as possible. Members of Biden's economic team have also highlighted the need for new legislation.
DeWine's office didn't respond to Newsweek's request for comment in time for publication.