Ohio Republicans Urge Trump Rally Boycott Over 'Terrible' Vance Endorsement
A non-profit group of Ohio conservatives have called for a boycott of former President Donald Trump's upcoming rally in the state on Saturday over his endorsement of U.S. Senate candidate J.D. Vance.
Ohio Value Voters said in a statement that Trump's endorsement of Vance was a "terrible decision" that "can only be attributed to very poor advice from people around the former president." The group also urged anyone who does decide to attend the rally in Ohio's Delaware County to "make your voices heard" by letting Trump know that Vance is "wrong" for the state when the former president introduces the candidate.
"Booing is entirely appropriate!" the group's message read.
In a statement shared with Newsweek by Vance's campaign and attributed to Donald Trump Jr., who has also declared his support for Vance and joined him on the campaign trail this week, the former president's son said: "The MAGA Movement is strongly united behind my father's endorsement of J.D. Vance, which you can see by the surge he's seen in the polls since the endorsement.
"It's unfortunate that career politician Josh Mandel is pushing his supporters, some of whom are on the dole, to boycott a Trump Rally. Very not MAGA of him!" Trump Jr. said.
Donald Trump opted to endorse Vance over several other Republican primary candidates for the U.S. Senate race even though Vance has criticized the former president in the past. Ohio Value Voters, who have endorsed Republican Josh Mandel in the race, cited Vance's apparent shift regarding the former president as a reason that Vance is "wrong" for Ohio.
In its release urging the boycott of the Trump rally, Ohio Value Voters included a video showing several of Vance's past remarks about Trump in 2016 and 2017, including a time where he stated: "I'm a 'Never Trump' guy."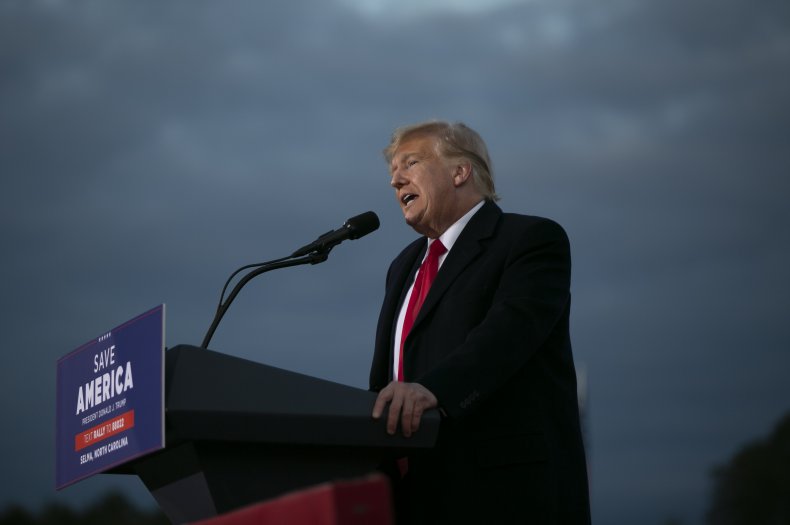 "Vance cannot be trusted to stand upon principals when he practices 'situational politics,'" Ohio Value Voters President John Stover said.
"In 2016 and 2017, Vance led all others with his derogatory comments against Trump," Stover continued. "Now, he claims to be 100 percent behind our former President. We read in God's word, in the book of James 1:8, 'A double-minded man is unstable in all his ways.'"
The group also reiterated its support for Mandel and encouraged Ohio residents to vote for him.
"Josh Mandel will serve our state with conservative principles and defend our constitutional rights," it said.
Donald Trump has acknowledged Vance's past remarks but said that he believes the candidate is the "most likely" to defeat his Democratic opponent.
"Like some others, J.D. Vance may have said some not-so-great things about me in the past, but he gets it now, and I have seen that in spades. He is our best chance for victory in what could be a very tough race," Trump said in an April 15 statement announcing his support for Vance.
"It is time for the entire MAGA movement, the greatest in the history of our Country, to unite behind J.D.'s campaign because, unlike so many other pretenders and wannabes, he will put America First. In other words, J.D. Vance has my Complete and Total Endorsement. He will not let you down. MAKE AMERICA GREAT AGAIN!" the statement added.
Vance responded to the endorsement in a tweet on April 15 saying he was "incredibly honored" to have Donald Trump's backing.
"He was an incredible fighter for hard working Americans in the White House, he will be again, and I'll fight for the America First Agenda in the Senate," Vance said.
Newsweek reached out to Ohio Value Voters and a spokesperson for Donald Trump for comment.