Oil Prices Are Dropping — Will Gas Prices Go Down, Too?
Americans could start to see some relief at the gas pump as elevated oil prices are starting to show signs of decline.
Gas prices have soared to their highest level in more than a decade since the Russian invasion of Ukraine began on February 24, which has thrown global markets into a tailspin as Russia is one of the world's largest oil producers.
In the United States, a majority of the costs imposed at the pump is derived from the price of crude oil. West Texas Intermediate, which serves as the U.S. reference point for oil prices, hit above $130 per barrel earlier this month, but dipped below $100 during trading on Monday, March 14.
American Automobile Association (AAA) spokesperson Andrew Gross said the oil market leveling out will "take a lot of the pressure off pump prices" by telling Newsweek, "It will likely drop but it won't drop very fast. It'll be a much more gradual decline."
The national average for a gallon of gas on Monday was $4.325, according to AAA. Consumers, on average, are now paying 30 cents more for gas than just a week ago and 90 cents more than a month ago. Gross added that AAA has seen pump prices drop fractionally since peaking on Friday, March 11.
GasBuddy's Patrick De Haan tweeted that he was seeing a "slow decline" in prices at the pump as well.
Gross attributed the recent declines to COVID-19 concerns in China after the city of Shenzhen, a major manufacturing hub, was put on lockdown. Other traders told CNN that the oil price drop was partly because of renewed hope for progress in talks between Russia and Ukraine to end the war.
Some experts, however, told CNN the drop in prices may be short-lived. Tom Kloza, global head of energy analysis at the Oil Price Information Analysis, said he thinks prices will rise to $4.50 per gallon as demand increases this spring and summer as more Americans head out on the road.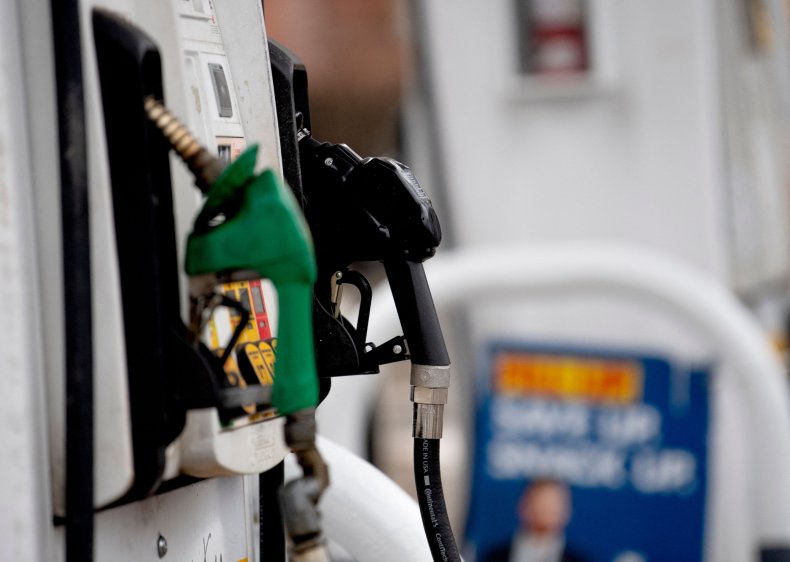 President Joe Biden has said his administration is using "every tool at our disposal" to help ease financial pressures from rising energy costs, which includes releasing about 60 million barrels of oil from emergency reserves, with half of them being released by the U.S.
Easing that type of pressure will be a big help to minimum wage workers, who have to spend almost one hour's worth of pay to get to and from work amid the gas price spike, a Newsweek analysis found.
The White House initially held out on sanctioning Russia's energy sector, stating that such a move would hurt Americans at home. However, after facing pressure from both sides of the aisle last week, the president announced a ban on Russian oil imports.
"Americans have rallied to support the Ukrainian people and made it clear we will not be part of subsidizing Putin's war," Biden said as he delivered remarks from the White House on March 8.
Before the ban was implemented, a majority of Americans said they supported the move even if it were to raise prices at the pump.
Republicans have hit out at Biden over policies they say harm U.S. oil production and energy independence, including stopping construction of the Keystone XL pipeline and pausing new federal oil and gas leases and permits. The president has said such claims are "simply not true" and has pointed to thousands of drilling permits sitting unused by the industry.