New Mexico Sheriff Denies Making OK Symbol Linked to White Supremacy While Posing for Family Photo
A photo has appeared online which shows a sheriff in New Mexico flashing a hand symbol which now has associations with white supremacy. Rio Arriba County Sheriff James Lujan has denied his gesture had anything to do with white supremacy.
As reported by the Santa Fe New Mexican, a photo of Lujan was uploaded onto his wife's Instagram account showing him displaying the "OK" hand gesture, a symbol which has links to white supremacy and the far-right due to an online troll campaign from controversial message board site 4Chan.
The photo of Lujan flashing the symbol has since been deleted by his wife, Julie Casado. According to Amanda Martinez, the Santa Fe New Mexican reporter who first covered the story, Casado's Instagram account has since been set to private.
Lujan denied that flashing the OK sign had anything to do with white supremacy.
"He texted me this morning saying that as a Hispanic Democrat he is not a racist and that he was playing a game like slug bug," Martinez tweeted.
"Also... I tried to get in touch with Lujan since Tuesday afternoon [December 24]. He only chose to respond after the article was published."
Newsweek has requested comment from Lujan via a Facebook message to The Rio Arriba Sheriff's Office and will update this article when a response is received.
Lujan was previously sued by two former Rio Arriba County lieutenants who alleged they were subjected to racial discrimination after he was appointed sheriff in 2014.
Marvin Armijo and Gabriel Gonzales both claimed Lujan called them the n-word as well as being subjected to sexual harassment. Armijo also alleged Lujan told him that black people do not know how to hunt when he requested time off to go on a hunting trip.
In October, a man filed a lawsuit against Lujan claiming he unlawfully pulled him over for having a Mexican flag on his truck on the Fourth of July.
Earlier this year, the Anti-Defamation League (ADL) included the OK hand gesture in its database of hateful symbols because of its association with the far-right.
OK Symbol and White Supremacy
The hand sign's ties to white supremacy initially started as a hoax on 4Chan as part of a troll campaign called "Operation O-KKK." The aim was to trick the media into thinking the symbol—commonly used by President Donald Trump during his public speaking—was a secret code to show support for white supremacy, since the fingers spell out WP (white power).
The hoax became so widespread that it was being used as a sincere expression of white supremacy, while also continued to be used as a troll tactic by others.
This month, an investigation was launched after cadets and midshipmen were seen making the gesture while being filmed during an Army-Navy football game in Philadelphia.
The West Point and the Naval Academy determined that the students were not deliberately making a racist gesture, but instead playing the "circle game"—a game similar to slug bug where people playfully punch someone if they spot the symbol below their waist.
Brenton Tarrant, the Australian man accused of killing 51 people during the Christchurch, New Zealand, mosque attacks in March, also flashed an OK hand gesture during his first court appearance.
"Even as extremists continue to use symbols that may be years or decades old, they regularly create new symbols, memes and slogans to express their hateful sentiments," said Jonathan Greenblatt, CEO of the ADL.
"We believe law enforcement and the public needs to be fully informed about the meaning of these images, which can serve as a first warning sign to the presence of haters in a community or school."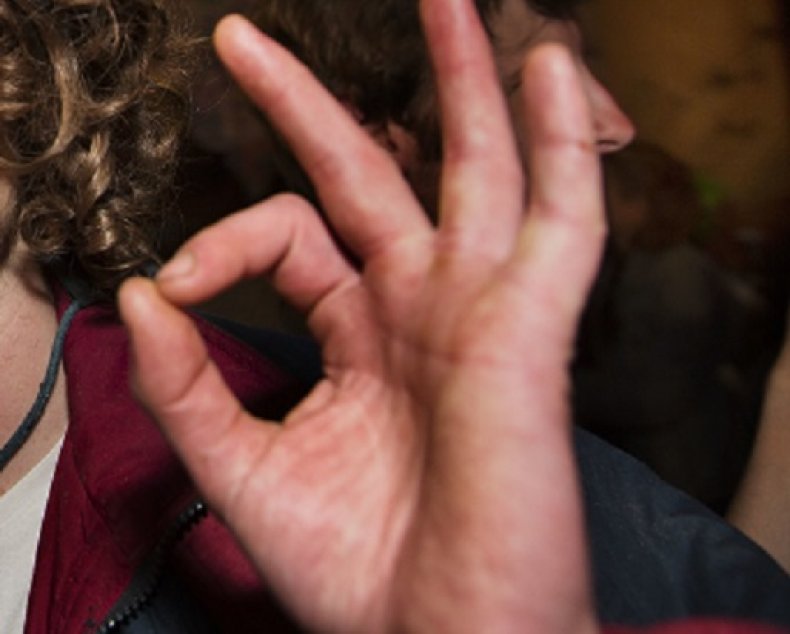 New Mexico Sheriff Denies Making OK Symbol Linked to White Supremacy While Posing for Family Photo | U.S.