Oklahoma Abortions Set to Be Felonies After Governor Kevin Stitt Signs Bill
Performing an abortion will be a felony in Oklahoma once a bill signed into law Tuesday by Governor Kevin Stitt takes effect in August after it passed through the state House last week.
The new law would put medical professionals who perform abortions at risk of being charged with a felony and possibly facing up to 10 years in prison and up to $100,000 in fines. The only exception provided in the bill is for abortions performed because the pregnancy threatens the life of the mother.
Dozens of states have introduced or passed bills placing restrictions on abortion ahead of a highly anticipated Supreme Court ruling in a suit fighting a Mississippi abortion ban that some have warned could significantly alter or overturn the legal precedent set by Roe v. Wade in 1973.
The new Oklahoma law has been condemned by reproductive rights groups and Democratic lawmakers, with White House Press Secretary Jen Psaki saying in a statement that the "unconstitutional attack on women's rights is just the latest and one of the most extreme state laws signed into law to date."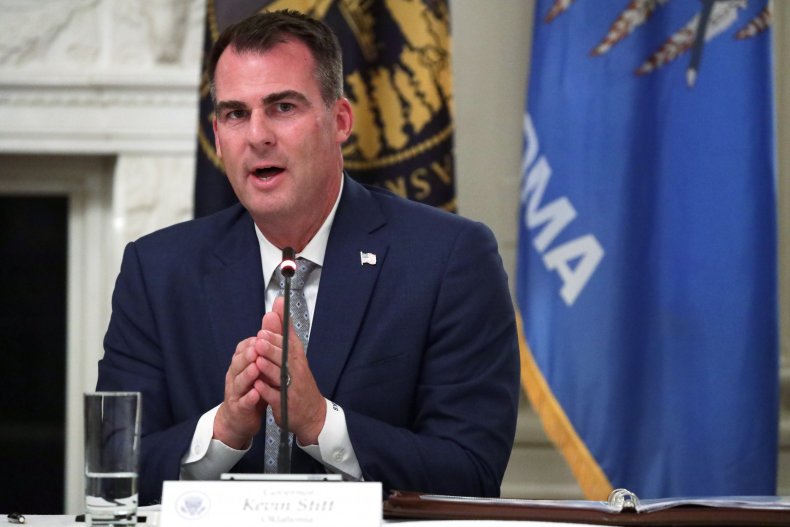 Stitt said Tuesday that he wants Oklahoma to be the "most pro-life state" in the country and that the bill will be challenged in court by "liberal activists" who he claimed want to challenge the "way of life" of people in Oklahoma.
"It's a very dark day in Oklahoma," Emily Wales, interim president of Planned Parenthood Great Plains Votes said in a statement to Newsweek. "We have been in the middle of a crisis for the last seven months—as Texans have been forced to leave their home states for care—and now Oklahomans may have to do the same. It's unconscionable."
Wales and other reproductive rights activists said in the statement that it is important for women to know that abortion is still legal until the law goes into effect, and pledged to fight the new law in court.
Supporters of the bill said in a debate that it was different from other abortion bills because it does not levy punishments against the women seeking abortions, only the doctors who perform them, Newsweek previously reported.
"We should be about protecting life," the bill's author, Republican state Senator Nathan Dahm said at the Tuesday ceremony, according to The Oklahoman. "What we are saying here today is the intentional taking of an innocent life has consequences. It is criminal."
The new law is set to go into effect 90 days after the current legislative session ends, which means that it will likely take effect in August barring legal challenges.
Two other abortion bills are nearing approval in the Oklahoma state legislature. One bill would ban abortions from conception and would allow lawsuits against those who "aid or abet" a woman who seeks one. The other bill is similar to the controversial Texas law that bans abortions after a "fetal heartbeat" can be detected, which is usually around six weeks of pregnancy—before many women know they are pregnant.
"Oklahoma's slate of abortion bans send a clear and devastating message to Oklahomans that their lives and futures are unimportant to the legislators who represent them," Myfy Jensen-Fellows, advocacy director of Trust Women, an abortion care organization with a clinic in Oklahoma City, said in a statement to Newsweek.
"Not a single one of these bills will end abortions in Oklahoma," she continued. "They will push people further to the margins, force people to carry pregnancies that are dangerous to their own health, or take greater risks to find abortion care wherever they can."
Update 4/12/22, 3:36 p.m. ET: This story's headline was updated to reflect the fact that the bill was signed into law Tuesday, but is not yet in effect.
Update 4/12/22, 2:51 p.m. ET: This story was updated with a statement from White House Press Secretary Jen Psaki.
Update 4/12/22, 2:30 p.m. ET: This story was updated with additional information.
Update 4/12/22, 1:45 p.m. ET: This story was updated with additional information.