Oklahoma Attorney General Pruitt Files to Run for Inhofe's Senate Seat
Scott Pruitt, the former head of the Environmental Protection Agency (EPA) during the administration of ex-President Donald Trump, has filed to run in Oklahoma's special election to replace retiring GOP Senator James Inhofe.
Pruitt, a Republican who also served as Oklahoma's Attorney General from 2011 to 2017, resigned as EPA chief in July 2018 amid scandals involving alleged corruption, nepotism and unprofessional behavior. On Friday, Pruitt officially filed as a candidate to replace Inhofe, who announced in February that he would be retiring at the end of the year.
Other Republican candidates vying for the seat include U.S. Representative Markwayne Mullin, state Senator Nathan Dahm, former Oklahoma House Speaker T.W. Shannon and former U.S. National Security Council Chief of Staff Alex Gray. At the time of his retirement announcement, Inhofe endorsed his former chief of staff, Luke Holland.
Pruitt is a relatively late entry to the race, with primary elections set to take place on June 28. Since Oklahoma votes heavily Republican, most expect the GOP nominee to become Inhofe's eventual replacement. The only current Democratic candidate is Kendra Horn, a former Oklahoma U.S. Representative.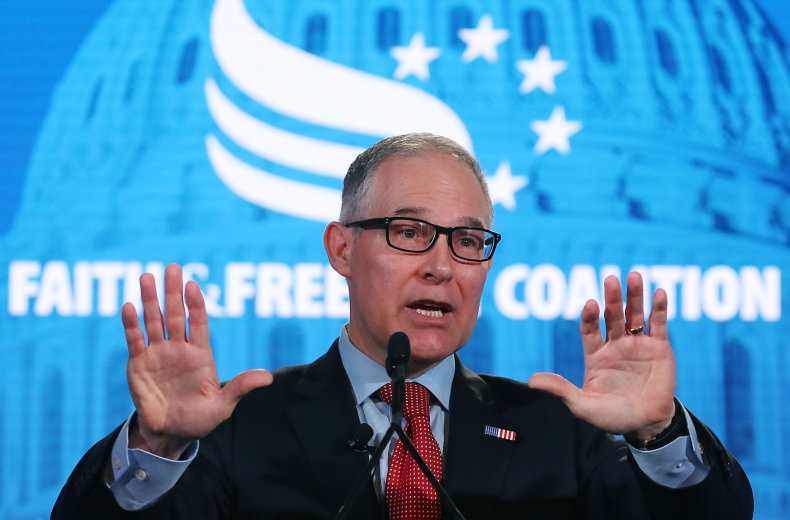 Trump's choice to appoint Pruitt to lead the EPA was notable and controversial due to his rejection of the scientific consensus on climate change. During his time in office, Pruitt was sent several copies of Global Warming for Dummies and climate denial texts, according to information obtained by a transparency organization.
Pruitt's leadership of the agency was also criticized due to a series of rollbacks of Obama-era climate and anti-pollution rules. However, a wave of scandals that Pruitt described as "unrelenting attacks on me personally" ultimately led him to submit a resignation letter to Trump, who accepted it with a statement praising Pruitt for having done "an outstanding job."
Multiple ethics investigations were launched during Pruitt's time leading the agency. Among his scandals were allegations that he used his position to try to land his wife a high-paying job, inappropriately spent the agency's money on his personal benefit and borrowed money from staff that he never paid back.
In what might have been his biggest scandal, Pruitt allegedly rented a luxury Washington, D.C., condo from an energy lobbyist at a rate of $50 per night, far lower than market value.
Pruitt told the Associated Press on Friday that he "led with conviction in Washington, D.C." while at the EPA, and insisted that he had been targeted for criticism because the agency was the "Holy Grail of the American left."
"And I made a difference in the face of that," said Pruitt. "I think Oklahomans know when The New York Times and CNN and MSNBC and those places are against you, Oklahomans are for you."
Newsweek reached out to the Oklahoma Republican Party for comment.