Oklahoma School Book Ban Blocks Works From Eight Black Authors—Full List
Forty-two books, including eight by Black authors, have been banned from at least one of the over 500 school districts in Oklahoma, according to a national index of banned books from PEN America, a group that champions free expression in the United States.
The result was part of a national survey, covering the period between July 1, 2021 and March 31, 2022, which found that 1,145 unique titles by 874 different authors had been banned at a school somewhere in the U.S.
PEN America warned that "such censorship has expanded rapidly" in American schools, with books targeted disproportionately relating to "communities of color and LGBTQ+ subjects."
A report by the American Library Association found there were an "unprecedented" number of attempts to ban certain books from libraries, schools and universities in 2021, many focusing on "the lives of LGBTQIA+ persons and Black persons."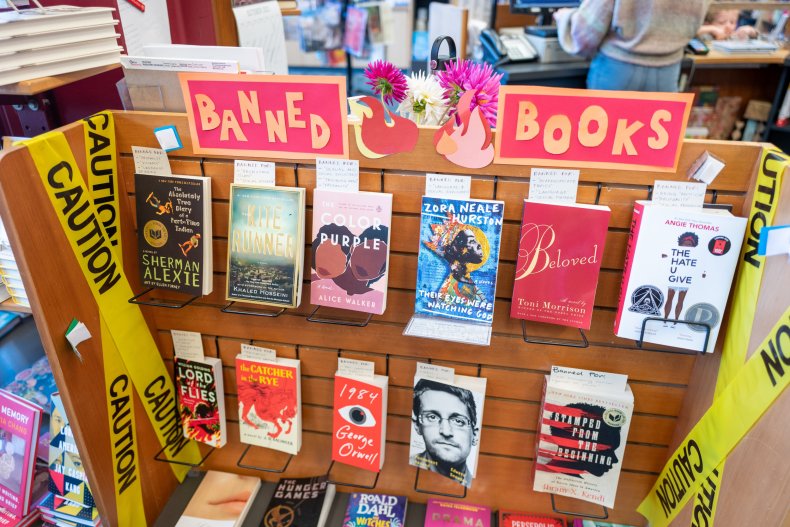 In Texas, some students have formed book clubs specifically to read books that have been banned, with examples including Ashley Hope Pérez's Out of Darkness and Margaret Atwood's The Handmaid's Tale according to The Texas Tribune.
PEN America defines a book as being banned if it has been removed from school libraries or classrooms, or banned from circulation, as a result of either complaints or laws passed by legislatures.
Under this definition the following books by Black authors have been banned from an Oklahoma school district:
I Know Why the Caged Bird Sings, Maya Angelou
Narrative of the Life of Frederick Douglass, Frederick Douglass
A Raisin in the Sun, Lorraine Hansberry
Their Eyes Were Watching God, Zora Neale Hurston
For Black Girls Like Me, Mariama J. Lockington
The Bluest Eye, Toni Morrison
All American Boys, Jason Reynolds
The Hate U Give, Angie Thomas
Books from white authors which deal with race and racism, such as Harper Lee's classic To Kill a Mockingbird, are also included on the Oklahoma banned book list.
Some of the works banned in Oklahoma deal with LBGTQ rights, with a particular focus on transgender issues.
They include Jeff Garvin's Symptoms of Being Human, which deals with gender fluid adolescents coming of age, and George by Alex Gino, a novel focused on a transgender girl.
Also on the PEN America banned list for Oklahoma schools were a number of modern classics, including Aldous Huxley's Brave New World and Of Mice and Men by John Steinbeck. In those cases, a specific reason was not given as to why the book had been subject to a ban.
According to PEN America, 41 percent of book bans across the U.S. are "tied to directives from state officials or elected lawmakers to investigate or remove books in schools."
The organization calls this "an unprecedented shift in PEN America's long history of responding to book bans, from the more typical pattern in which demands for book removals are initiated by local community members."
In 2021, the Oklahoma state legislature passed House Bill 1775, which, among a list of prohibitions, bans schools from teaching that suggest people bear responsibility for past actions committed by those of the same race or sex.
Newsweek has reached out to Oklahoma Governor Kevin Stitt for comment.
Last month a librarian at Belton Middle School in Texas went viral on TikTok, gaining 1.3 million views, after explaining why she had refused to take down a display as part of Banned Books Week, which included Harry Potter by J.K. Rowling and the Alice series, by Phyllis Reynolds Naylor.