Old Putin Ally Appears to Snub Zelensky on Camera
One of Russian President Vladimir Putin's old allies appeared to snub Ukrainian President Volodymyr Zelensky on camera on Thursday.
Journalist Jack Parrock posted a video on Twitter on Thursday afternoon that showed Zelensky walking toward European Union leaders in Brussels, Belgium. In the video, all the other leaders appeared to clap for Zelensky as he walked toward them, but Hungarian Prime Minister Viktor Orban did not appear to join the applause.
"As Ukrainian President Zelensky walks up for the family photo with EU leaders in Brussels, they all seem to clap, apart from one: Hungary's Viktor Orban," Parrock wrote in the caption.
The video comes as war continues between Ukraine and Russia. February 24 will mark one year since Putin announced the "special military operation" and invaded Ukraine.
Orban has been an ally of Putin for several years, and in April, the Hungarian leader spoke about Zelensky after winning his fourth consecutive election.
"We will remember this victory until the end of our lives because we had to fight against a huge amount of opponents," Orban said during a speech in April, "and the Ukrainian president, too—we never had so many opponents at the same time."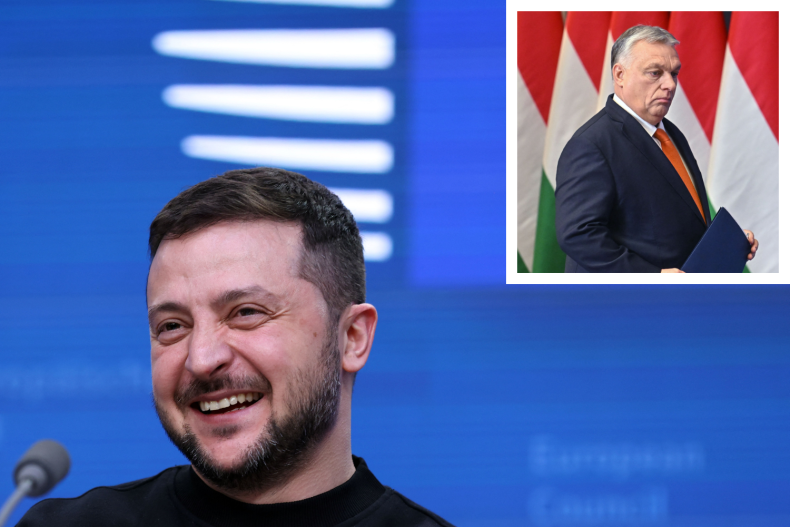 Hungarian Foreign Minister Péter Szijjártó previously criticized EU sanctions against Russia.
"So if you look at it in a practical way, not in an ideological way, what was the impact of sanctions, you see they are more harmful to Europe than Russia," Szijjártó told CNBC during the World Economic Forum in Davos, Switzerland, last month. "So we should not more forward with the sanctions because simply they have not fulfilled the expectations and target we have put on them."
According to Reuters, last month the Ukrainian Foreign Ministry issued a statement in response to what it called "disparaging statements of the Prime Minister of Hungary Viktor Orban."
"It was emphasised to the Hungarian diplomat that the anti-Ukrainian rhetoric, which has been heard from the Hungarian leadership for a long time, is absolutely unacceptable and causes serious damage to Ukrainian-Hungarian relations," the ministry said, according to Reuters. "The Hungarian side was urged to stop this negative trend in order to avoid irreparable consequences for the relations between the two countries."
However, in a tweet on Thursday following Zelensky's meeting with EU leaders, Orban wrote: "Hungary will continue to provide humanitarian and financial support to [Ukraine]."
"We support an immediate ceasefire in order to prevent the further loss of human lives. Hungary belongs to the peace camp!" the tweet added.
Newsweek reached out to the ministry of foreign affairs in Hungary and Ukraine for comment.