Olive Garden Employee Reveals How Breadsticks Are Made in Video Viewed 4.6 Million Times
In keeping with the recent TikTok trend of fast food employees sharing how fan-favorite items are prepared, an Olive Garden employee has gone viral for his post sharing how the popular breadsticks are prepared.
Jack Linne, better known as @jacklinne8 on the video sharing platform, shared a snippet from his workday at a Florida Olive Garden franchise in early July. Though posted on July 7, the video only recently has gone viral. It has been viewed upwards of 4.6 million times and liked by over 461,000 TikTok users.
"Olive Garden behind-the-scenes," Linne says at the beginning of his video, using the app's text-to-speech function. He begins putting the pre-baked breadsticks on a lined baking sheet, and shows several dozen trays in the kitchen prepared to keep up with the restaurant's bread demand.
He then places the tray in a preheated oven for three minutes. The video cuts to the warmed breadsticks cooling down on a preparation table as Linne uses a large brush to generously coat them with melted butter. Once sufficiently buttered, he pours a liberal amount of house-made garlic salt on top.
"All done!" Linne concludes, as the tray of breadsticks are carted off elsewhere in the kitchen.
Linne told Newsweek he initially decided to post about the fan-favorite breadsticks after seeing others share their own fast food chain experiences.
"I've just seen some people post videos at restaurants and I thought it might get some views and people would be interested in it," he explained.
"I didn't think I was exposing much of a secret because the [recipe is] online and it's not that big of a surprise that it's just salt and butter on bread...I thought maybe 15,000 [views] max."
Indeed, TikTokers in the fast food industry have earned hundreds of thousands of views for sharing information about their chain restaurants. In late June, a former Little Caesars worker went viral after showing how the chain allegedly produces their marinara sauce. In May, a Chick-fil-A employee shared how his location utilizes a conveyor belt to speed things up at the drive-thru.
Viewers took to the comments to express their fascination with the bread preparation process. "Y'all must be doing that constantly," one hypothesized, given the popularity of the chain's breadsticks. "Idec how they made they still fire," another added.
Other former fast food employees confirmed Linne's video was an accurate representation of how the breadsticks are made throughout the day. "I worked at Olive Garden for 10 years, that's exactly how we made it," one shared. "At ours we put them in for 3 minutes, turn it and then 3 minutes more. If we didn't then it was still slightly doughy. They only did this if it was super busy," another shared.
A report from Mashed noted that in 2014, Olive Garden served between 675 million and 700 million breadsticks annually, averaging about three sticks per guest. While it was not immediately made clear how the actual bread is baked, a host of copycat recipes are available online for those willing to prepare them at home.
Dozens in the comments also expressed their relief that the breadstick secrets were "not as bad as...anticipated," as compared to other recent accusations against fast food titans. A former Dunkin' employee "exposed" the company's food secrets before quitting in April, while a Kentucky Fried Chicken employee revealed exactly what went into the popular mashed potatoes in June.
Some even humorously shared how much they enjoy the bread served at Olive Garden. "[I] wait 20 minutes for server to finally bring said breadsticks," one said. "Something must be in the garlic salt to make them so addictive," another joked.
According to a report on Cosmopolitan, Olive Garden indeed makes an in-house blend of garlic powder and salt that is not available for purchase in stores. So while several commenters claimed they had plans to make them at home, the spice blend may not be exactly the same.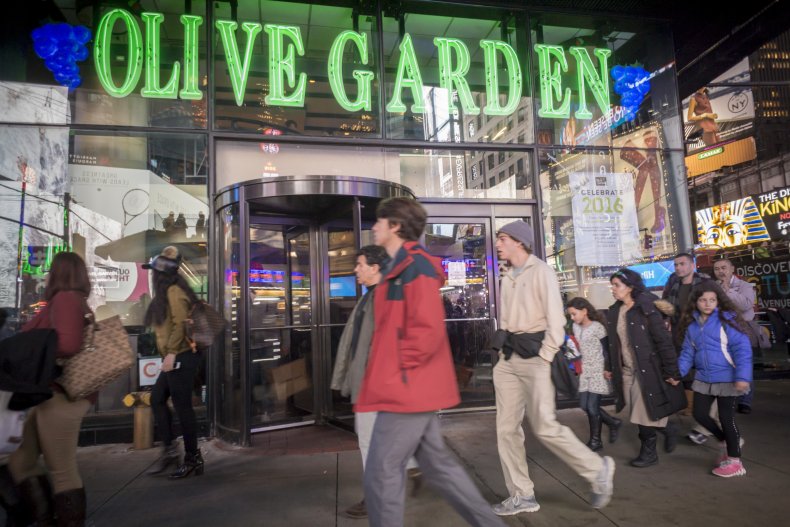 Newsweek reached out to Olive Garden for additional comment on their breadsticks, but did not immediately hear back in time for publication.
Linne is also not the first Olive Garden employee to share industry secrets. TikTok viewers were left horrified in May after a woman who claimed to work at Olive Garden for 10 years shared that she would never eat at the restaurant again for a host of reasons, including what she said were gross meal ingredients and cleanliness problems.
"I worked there for 10 years. There's a reason why you feel like s**t after you eat there," she ominously said. "Just trust me, don't eat there."
Newsweek was not independently able to confirm her accusations.