Olivia Jade Insists She Was Straight-A Student Before College Admissions Scandal
Olivia Jade Giannulli has spoken out on the college admissions scandal that saw her parents, Lori Loughlin and Mossimo Giannulli, jailed for their involvement.
The YouTube star's parents—as well as actress Felicity Huffman—were among the dozens of people who pleaded guilty to paying into a fraudulent scheme to get their children into a number of the top universities in the U.S.
Giannulli, whose parents paid $500,000 for her to get into the prestigious University of Southern California as a rowing recruit, has insisted that she was a straight-A student in high school before the scandal hit the headlines in 2019.
Speaking with psychologist Dr. Hillary Goldsher on her podcast, Conversations With Olivia Jade, the 22-year-old influencer sought to correct misconceptions about her.
"I am super aware that I've been given opportunities because of my parents and that I live a very blessed and fortunate and privileged life," she said, per Entertainment Tonight. "But then there's also a part of me that feels… it's tricky. It's hard to speak on because I know that to the average human, I have it easy."
Insisting that she had always maintained a strong work ethic, the former Dancing With the Stars contestant went on: "There is a big misconception about me, I feel at least personally, where I get that comment of, 'You don't work hard.'
"But I didn't have to start my YouTube when I was 14. I did put in a lot of work. There's all these rumors floating around about my grades—'She clearly didn't work hard. She must have failed school.' I don't even think I've ever said this publicly, but in high school I had straight As and I worked really hard at school."
Adding that she "totally understands" why there are people who look at her in such a way, she then went on to discuss her therapy sessions, which started soon after news of the scandal broke, attracting a flurry of headlines and scrutiny.
"I started [therapy] a few years ago when things went sideways in my family and with the college scandal," she said. "I just needed somebody to talk to. If you have the resource and you can, I would really recommend it."
She added: "When I first started, I wanted it to be good and everything to be healed and all of this to work overnight or within a week's span. And I feel like it's been years, and I'm still dealing with things and I still have so many questions."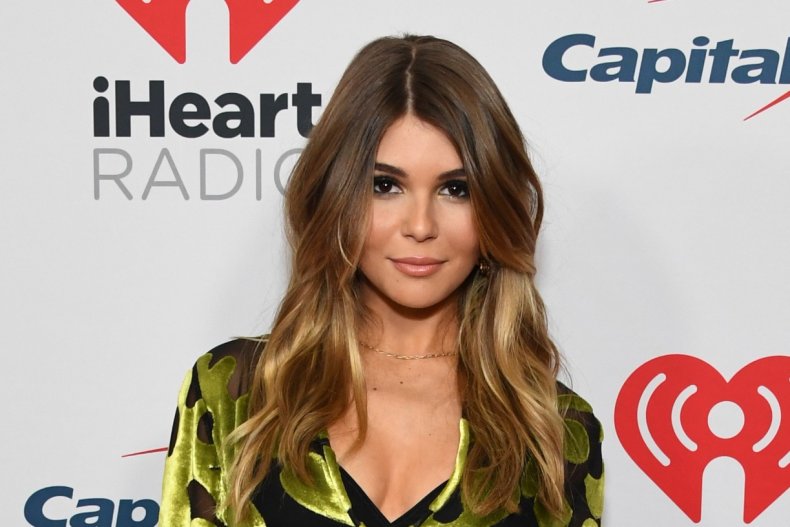 In November 2021 she and her sister, Bella Rose Giannulli, defended their mother for her role in the scam.
Olivia Jade Giannulli said: "I think for me, even though I also was getting dragged negatively, it didn't nearly affect me as much as Mom having all this thrown on her.
"And I think we can talk about this, that she really took this whole thing on her back, solely. There are a lot of people that were in this case and a lot of other parents and I do not know one other person's name."
During an appearance on Jada Pinkett Smith's Red Table Talk in December 2020, Giannulli said that she had no idea of what her parents had done to get her into her college of choice, as she also apologized for her part in the scandal.
"I'm not trying to victimize myself," she said. "I don't want pity. I don't deserve pity. I just want a second chance and to say I recognized that I messed up."
She went on: "What's important for me is to learn from the mistake, not to now be shamed and punished and never given a second chance. I mean, I'm 21, I feel like I deserve a second chance to redeem myself [and] to show I've grown."
Giannulli said that her parents' actions "came from a place of wanting the best for their kids. They thought it was normal. In that community, it was not out of the ordinary."
"No matter what the situation is, you don't want to see your parents go to prison," she said. "But it's necessary for us to move on and move forward.—I'm trying to look at the positives in situations, you know?
"I know it's a positive that she's in there right now. She gets to really rethink everything that happened, kind of figure out… what she wants to do with what she's learned from all of this. Hopefully, that will be a blessing in the end."
Former Full House star Loughlin was sentenced to two months in prison in 2021, which she has already served, while her husband received a five-month sentence, which he is due to complete serving in April 2022.
Loughlin said at the time she was sentenced: "I went along with a plan to give my daughters an unfair advantage in the college admissions process and in doing so I ignored my intuition and allowed myself to be swayed from my moral compass.
"I have great faith in God and I believe in redemption and I will do everything in my power to redeem myself and use this experience as a catalyst to do good."