Every Artist Olivia Rodrigo Has Been Accused of Copying on 'Sour'
Olivia Rodrigo has retroactively added two artists to the writing credits for her single "Good 4 U" from her debut album Sour.
According to Billboard, sources with knowledge of the situation said the update acknowledged an interpolation of the 2007 single "Misery Business" from pop-punk band Paramore.
The pair who co-wrote "Misery Business"—Paramore's lead vocalist Hayley Williams and former guitarist Josh Farro—were credited as writers of "Good 4 U."
Both artists were included in the song's writer listing at the website of the American Society of Composers, Authors and Publishers (ASCAP).
Newsweek has contacted the representatives for Rodrigo for comment.
Here we take a closer look at the artists Rodrigo has been accused by some parties of copying on her Sour album.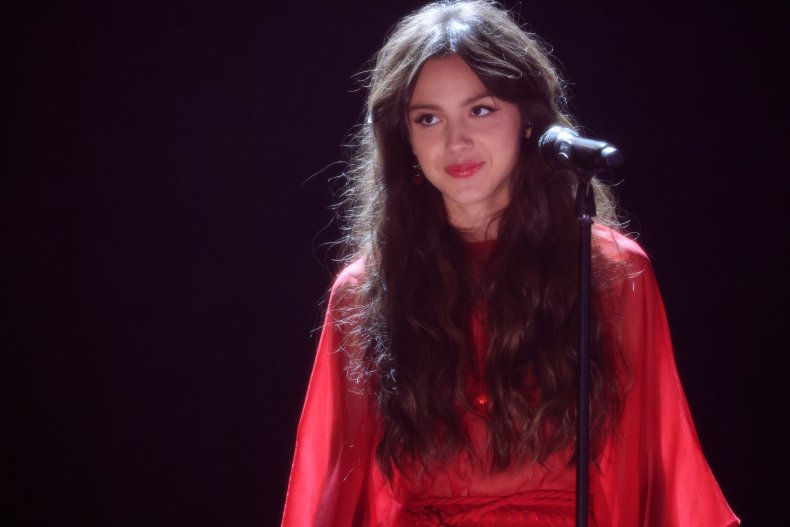 Paramore
According to Billboard, sources said the respective teams for Rodrigo and Paramore were in touch about "Good 4 U" before its release in May.
Williams reacted to the latest update of the writing credits for "Good 4 U" in an Instagram story posted on August 24.
Back in late May, fans of "Good 4 U" took to TikTok following the release of the song's music video to report the similarities in the choruses of "Good 4 U" and "Misery Business."
In a comment posted around three months ago on YouTube channel of Adamusic, which shared a mashup of the two tracks, user John Paul Cross drew several comparisons between the songs.
The user explained: "Guys, big theory on the lyric combo of this mashup: in Good For You, Olivia sings about how torn up she is about a breakup and how fast the guy recovered; Misery Business is about Hailey Williams harboring a grudge against a popular girl who stole a boy she likes, and the vindictive pleasure she felt after stealing him back.
"The mashup combines the narratives into one, with Olivia filling the role of the popular girl who initially stole the boy, and Hailey filling the role as the emo girl who got him back, with their individual lyrics detailing their respective reactions to these events. Adam if this was intentional you are a 200 IQ genius," the user wrote.
Rodrigo bagged her second no. 1 on the Billboard Hot 100 songs chart with "Good 4 U."
In June, all 11 tracks from her Sour album landed in the top 30 of the Billboard Hot 100 chart. Three songs from the album were in the chart's top 10 ranking, led by "Good 4 U" at no. 2 at the time.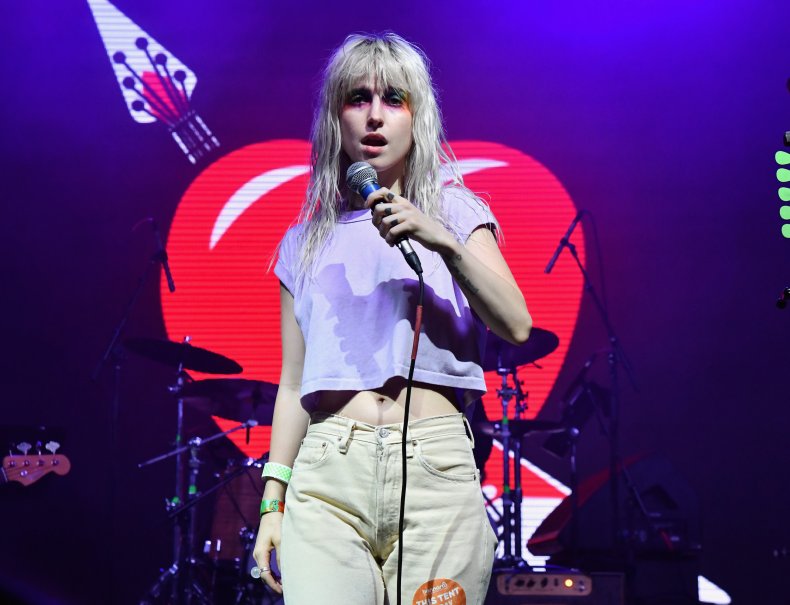 Elvis Costello
Variety reported Rodrigo was accused of co-opting a guitar riff from Costello's song "Pump It Up" on her single "Brutal."
In a June 28 post on Twitter, user Billy Edwards (@biiilyedwards) tweeted: "No sh*t. First song on the album [Sour] is a pretty much direct lift from Elvis Costello," in response to the Guardian's report on Rodrigo being accused of plagiarism.
Costello replied to the tweet by @biiilyedwards, writing: "This is fine by me, Billy. It's how rock and roll works.
"You take the broken pieces of another thrill and make a brand new toy. That's what I did. #subterreaneanhomesickblues #toomuchmonkeybusiness." Costello wrote in the tweet.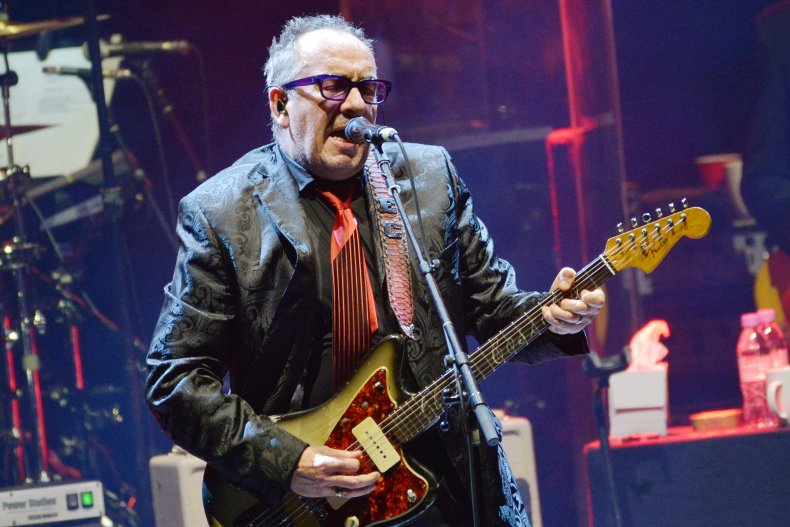 Courtney Love
In late June, Love accused Rodrigo of "stealing" her album artwork concept.
In a post on Instagram, Love posted Rodrigo's Sour artwork on Instagram with the caption: "Spot the Difference! #twinning" in an effort to note the similarities to Hole's Live Through This album cover from 1994.
Rodrigo acknowledged the similarities in a comment on Love's post: "love u and live through this sooooo much."
Love responded to Rodrigo's comment, writing: "Olivia—you're welcome. My favorite florist is in Notting Hill, London! Dm me for deets! I look forward to reading your note!"
Love, who was married to the late Nirvana frontman Kurt Cobain, also shared her thoughts about the similarities between the artworks on Facebook.
Love wrote: "It was rude of her, and [Rodrigo's label] geffen not to ask myself or [Live Through This cover photographer] Ellen von unwerth," in reply on Facebook. "It's happened my whole career so I d c. But manners is manners!"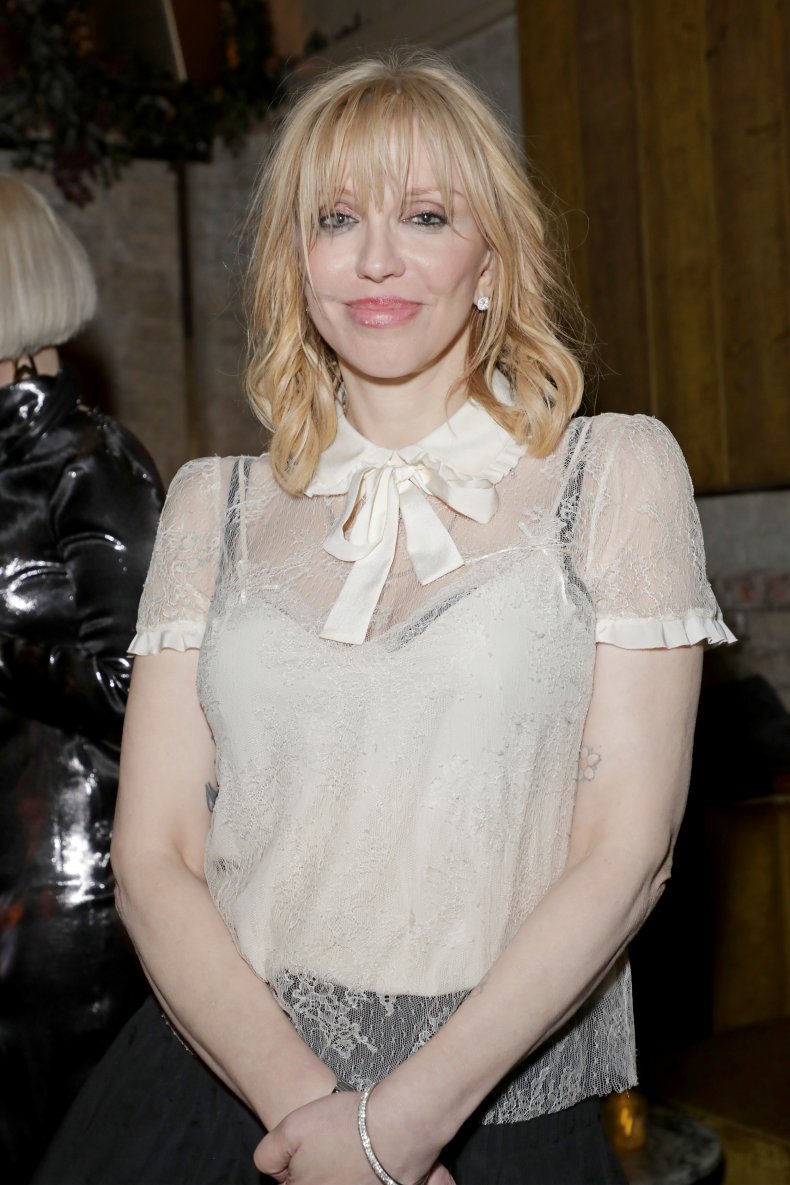 Pom Pom Squad
Rodrigo has also been accused of copying the album artwork of Death of a Cheerleader from Pom Pom Squad, an indie rock band from Brooklyn.
Sharing images from the Instagram accounts of the band and Rodrigo highlighting some of the album artwork from Sour and Death of a Cheerleader, Twitter user @smghollander tweeted: "Why are we talking about Courtney when who Olivia copied was this Indie rock band called Pom Pom Squad." The post had over 2,100 RTs at the time of reporting.
In a subsequent tweet, the user shared another side-by-side comparison showing similar prom queen-themed images from both albums.
In a reply to the tweets by @smghollander, user . @mxmtraitor pointed out "she [Rodrigo] really didn't tho. it seems to me that pompomsquad references petra collins aesthetic because her lux music video is very similar to selena gomez's fetish mv [music video]."
User @MeredithEO tweeted: "And Sofia Coppola, the 3rd pic is an homage to a shot from The Virgin Suicides," in a reply to both @smghollander and . @mxmtraitor.
User @grandsextile added: "so is the first picture! lux eats a popsicle while walking down the street in the virgin suicides," in a reply to all three of the aforementioned users.
Taylor Swift
Although Rodrigo was never accused of copying Taylor Swift, similarities between a couple of her songs and Swift's tracks have been made. Swift and others were credited as writers to those two songs from Rodrigo.
Variety reported on July 9 that Rodrigo has previously spoken about the influence that Swift has had on her songwriting.
Back in early July, Taylor Swift, Jack Antonoff and St. Vincent were acknowledged as co-writers for Rodrigo's track "Deja Vu."
Rolling Stone reported on July 9 that the bridge of "Deja Vu" was inspired by the song "Cruel Summer," which was co-written by Swift, Antonoff and St. Vincent.
According to Rolling Stone, the trio were added to the song's metadata on the Spotify and Tidal music streaming services, with credit given to them for the bridge of "Deja Vu."
Rodrigo acknowledged the influence of Swift's track on "Deja Vu" in previous interviews.
Swift and Antonoff were also given credit for another track from Sour, titled "1 Step Forward, 3 Steps Back," at the time of its release.
"1 Step Forward, 3 Steps Back" interpolates Swift's "New Year's Day," co-written by Swift and Antonoff, from Swift's 2017 album Reputation.