Olympians Show Off 'Swag Bags' Tokyo Gives Athletes Complete With New Phones
After watching what their favorite Olympians receive as gifts for participating in the Tokyo Games, viewers are joking that they will train hard for the 2024 Olympics in Paris.
Videos in which Team USA athletes share with fans the "swag bags" they receive for competing for America have gone viral online for their pricey presents, including designer clothes and new electronics.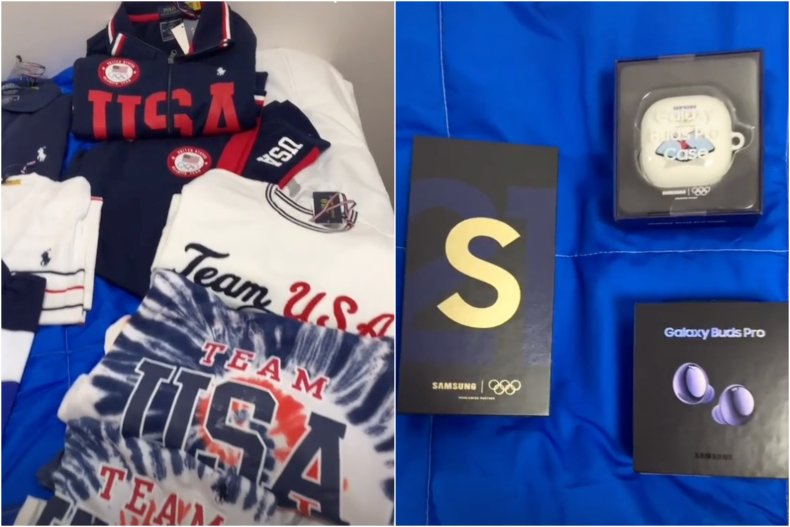 Footage first emerged of the haul American athletes received for their participation in the Olympics last week, when 28-year-old rugby union player Cody Melphy shared on TikTok what he was gifted upon arrival.
Viewed over 11.4 million times and liked by more than 1.7 million fans, the clip shows Melphy wasting no time diving into his haul.
"Welcome to Tokyo 2020 Team USA," Melphy writes in text-to-speech overlay at the beginning of the video. He does a quick sweep of his bedroom, which has several bags of goodies on the bed.
"Thank you Oakley," he writes as he unboxes a massive sunglasses package from the Team USA sponsor. According to the Team USA sponsorship webpage, Oakley created protective products as the official eyewear provider of the United States Olympic Committee [USOC].
Melphy then thanks Samsung, who provided a new smartphone and set of wireless earbuds to athletes. According to Samsung's website, the phone company has served as a worldwide Olympic partner since 1998, and athletes competing for their respective countries received a new phone, earbuds with a protective case and water bottle.
"Just as new records are created when limits are pushed, Samsung is continually challenging the possibilities of Olympic Games marketing by believing that a valuable change begins when crossing barriers," the website read. "Samsung's innovative mobile technologies have transformed the way the Olympic Games community, athletes, and fans around the world communicate and share with each other."
Until its contract expires in 2028, the tech titan "will continue to serve as the official Worldwide Olympic Partner and provide wireless communication and computing equipment support for the Olympic Games."
Melphy then moves on to the massive designer clothing haul from sponsors Nike and Ralph Lauren, complete with plenty of shirts, shoes and sweatsuits.
Viewers flocked to the comments to express their amazement at the "swag bags" each American Olympian earned.
"I WANT TO BECOME AN OLYMPIAN JUST FOR THE FREE S**T," one person boldly proclaimed.
"So what you're saying [is] all I gotta do is make it on the Olympic team and I get free stuff. Got it," another joked.
On Monday, fellow Team USA Olympian 30-year-old Katie Nageotte, who is slated to take part in the pole vaulting competition next week, also corroborated Melphy's claims with a video of her own on TikTok that garnered 3.8 million views and nearly 655,000 likes. Fans were no less impressed with her own in-depth explanations of each gift.
"First up, we have the SKIMS. Thank you Kim Kardashian!" she jokes, panning over a white robe and beige intimates. "These are the comfiest things I've possibly ever worn."
Indeed, the popular shape-wear line launched by the reality star in 2019 is the official underwear brand of the 2020 Olympics for Team USA. The brand is even selling loungewear and intimate pieces similar to those that were sent to competing athletes on their website.
"This exclusive (and very limited edition) sleepwear and loungewear collection, in partnership with Team USA, supports the incredible strength and resilience of the female athletes participating in the Tokyo 2020 Olympic and Paralympic Games," the SKIMS site read.
Nageotte also shows off the footwear provided by Nike and sunglasses provided by Oakley. "The slides, really cool tennis shoes and even cooler shoes," she remarks. "These are all really awesome."
She then turns to "the first [duffel] bag" filled with goodies. In a backpack provided by the United States Olympic and Paralympic Committee (USOPC), each athlete receives a "beautiful watch," branded Team USA face mask and socks.
The USOPC also gave competitors like Nageotte a host of athleisure pieces. She shows off a Team USA rain jacket, "the media suit ... if you get requested for media [appearances]" and T-shirts.
"I mean, you name it, we got it," she says. "I mean, we got decked out."
Nageotte the turns her attention to the "Ralph Lauren bag," which also gave athletes piles of red, white and blue tie-dyed clothes as well as elegant designer polo pieces.
"I swear I had a shirt with that bear on it when I was a kid!" she says, pointing to a shirt featuring a patriotic teddy bear.
Among the luxury goods were sweatsuits, hats, fanny packs, tote bags and "podium outfits."
"If you are lucky enough to get on the podium, this is what you wear," Nageotte explains.
She focuses her camera on a white tracksuit that is to be worn "with either a tank top or t-shirt, mask and shoes."
She also shows off her Samsung package, confirming she, like Melphy, was gifted a smartphone and earbuds from Samsung. "I mean, come on!"
Nageotte saved her favorite for last: the opening and closing ceremony outfits designed by Ralph Lauren.
"The closing ceremony's outfit," she gushes. "So, I won't be going, but still so happy I get it. It's an all-white fit, white polo and white jeans with Team USA on the one leg and the sneaks.
"And the thing I'm most excited about, the blazer!" she concludes. "The opening ceremony's outfit! I missed it, it came with jeans. But ugh, I have dreamed of this!"
She dons the outfit with a smile and red-and-blue nails. While Nageotte appears thrilled with the ensemble, it did draw criticisms from viewers on Twitter, who deemed Team USA's outfits for the 2020 Olympics opening ceremony too "pretentious," "preppy" and severely lacking in "drip," according to the New York Post.
Viewers once again remarked on the incredible—and expensive—gifts the Olympians received.
"Finding Fourth of July outfits is gonna be so easy for you," one viewer joked in light of the patriotic color scheme many pieces featured.
"If I knew Olympians got all that free stuff maybe I would've been athletic," another lamented.
Nageotte humorously responded: "If I knew Olympians got all this free stuff I would have tried harder in 2016."
Some in the comments, however, wondered how these athletes would be able to transport all their goodies home. Melphy eased their worries with a follow-up video posted over the weekend, explaining that the USOPC takes care of everything.
"A lot of you have seen this ... haul for Team USA asking how we are going to carry it all," Melphy says using the text-to-speech function. "Yes, they gave us two more duffel bags! Yes, they pay for us to get it back to the states!"
Melphy also noted in the comments section of his initial video that he intended to give away some of the gifts he received in a contest on his Instagram.
Similarly to lighthearted clips showing off the Olympian "swag bags," other athletes have begun sharing "behind-the-scenes" looks of the games in Tokyo. Nigerian-American basketball player and second-year medical student Erica Ogwumike showed fans how she spends her downtime in the Olympic village, which features a host of shops and amenities for all participants.
The growing popularity behind Olympics-themed TikToks comes amid a slew of controversies associated with this year's Games. The internet went into a frenzy over the cardboard "anti-sex" beds Olympians were provided in their dorms, and days later an Australian athlete claimed she and her team only were given 10 minutes to eat in the dining halls to mitigate the spread of COVID-19 as cases rise in the country.