Olympic Athlete Claims Team Gets 10 Minutes to Eat Amid COVID Outbreaks in Tokyo
Amid a slew of controversies associated with the Tokyo 2020 Olympics, an Australian athlete has come out claiming she and her team only receive 10 minutes to eat their meals inside of the dining halls.
Tilly Kearns, a water polo player competing for Team Australia, shared a typical lunch routine she and her teammates have while staying in Tokyo. After posting the video to her verified TikTok account on Tuesday, the video has since been viewed over 4.8 million times and liked by nearly 1 million viewers.
"This is how we keep COVID safe in the Olympic dining hall," Kearns narrates over footage of her grabbing some hand sanitizer before proceeding indoors.
"First, we sanitize [our hands] and put these gloves on before we touch anything," she continues. "We go and grab one of these trays. Each individual tray has been sanitized and washed."
Kearns then cuts to a panoramic shot of the lower level of the dining hall, in which athletes, cafeteria staff and other personnel walk around "obviously [with] our masks on."
She then shares a clip of an average dining table that her team eats at, which boxes in individual seats with plexiglass. "In every little cubicle, there are disinfecting wipes, so we wipe down everything that we're gonna touch," she says. "The screen, the sides [of the table], the chair, everything.
"It makes mealtime conversations pretty difficult because it's hard to hear through them, but it keeps us safe," she acknowledged.
However, Kearns startles her millions of viewers when she reveals she and her teammates are only allotted 10 minutes to complete their meals. "We have a team rule that once the mask is off, you only have 10 minutes to eat to reduce exposure [to COVID]," she says.
After Kearns and her team have a very quick lunch, they once again don their masks, clean up their lunch stations and "sanitize [their hands] again on the way out."
While not a widely mandated procedure for all Olympians, she and her fellow Australian athletes reportedly are given a brief window to eat in an effort to minimize the risk of catching COVID. According to data published by the International Olympic Committee [IOC], 58 people, a majority of whom are Japanese officials, have so far tested positive for the virus since participants began arriving in the country earlier this month.
Most recently, an unnamed teenage gymnast competing for Team USA was confirmed to have tested positive for COVID-19 on Monday morning while staying at her training camp just outside of Tokyo.
The gymnast's positive result was announced just a day after fellow USA Team star and tennis player Coco Gauff, 17, pulled out of the games after also testing positive. It is not yet clear whether Gauff traveled to Japan before finding out her result.
Additionally, on Wednesday, Guinea decided to pull its Olympic team from the 2020 Tokoyo Games over COVID concerns.
"Due to the resurgence of COVID variants, the government, concerned with preserving the health of Guinean athletes, has decided with regret to cancel Guinea's participation in the 32nd Olympics scheduled for Tokyo," the country's statement said, via the Associated Press.
Prior to Guinea's announcement, only North Korea had decided to not participate in the Games, which the nation announced in early April.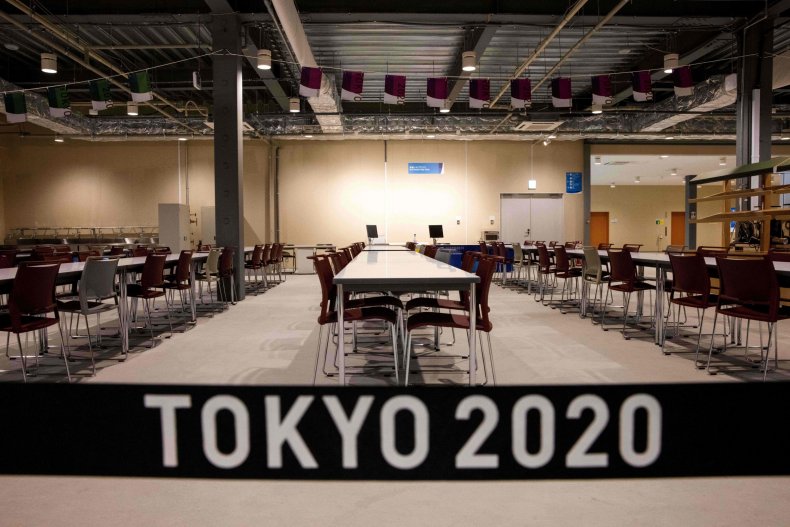 Several commenters expressed concern for the athletes. "10 minutes?! How does that promote health eating??!! You'd have to shovel the food," one said. "I can't stop thinking about the amount of waste generated," another shared.
Others expressed dismay with the decision to host the Olympics this year as new COVID variants threaten non-vaccinated populations. "This is a lot of effort for a non-essential event that shouldn't really be happening in a time like this," one said. "Glad you're staying safe however i hope you understand and appreciate that 70% of the local population didn't want the Olympics this year," another added.
Still, many showed support for Kearns and Team Australia. "It seems like everyone on the Aussie team is taking this seriously! Appreciate it," one fan noted. "To everyone thinking this is excessive, imagine training your whole life for the Olympics, getting COVID, can't participate and several others," another chimed in.
Kearns' latest Olympics behind-the-scenes video comes amid the "anti-sex" bed scandal, in which the beds are rumored to have been designed to collapse under the weight of any more than one occupant in order to discourage sex amid rising cases of COVID. Athletes like Kearns have since disproven the theories, sharing that the beds are made of an eco-friendly material to promote waste reduction.
"Yes, the beds are really cardboard," Kearns explains in her video. "But, it's really hard cardboard, so it's not gonna break.
"You can customize the mattress, have it as hard or soft as you want," she continues. "We were also given mattress toppers to make it even more comfortable, and for taller athletes, there are bed extenders.
"And it's not because they're trying to stop people [from] having sex, it's because they're making it a more environmentally-friendly Olympics. We love them!" she concludes.
The opening ceremony may be still a day away, but the Tokyo 2020 Olympics have already gone down in history as arguably the most controversial edition ever held. Aside from COVID concerns, social protests, the impact of transgender athletes, the ban on swim caps designed for Afro hair, and more are at the forefront of this year's event.