Omarosa Accuses Trump of Starting Race War
Apprentice participant and former White House aide Omarosa Manigault Newman accused President Donald Trump of starting a race war while exiting a Virginia airport on Saturday morning, as a controversy surrounding her new book grew.
Omarosa was chased down by a TMZ reporter while exiting Reagan National Airport on Saturday morning and asked about her relationship with the President and her ties to the administration. In the spontaneous interview, she plugged a memoir that included names of people who have since claimed her story, Unhinged: An Insider's Account of the Trump White House, contained false information and misrepresented facts.
When the reporter mentioned LeBron James Omarosa said, "If he wants to start a race war, he's succeeding."
At the end of July, Lebron James spoke about sports and Trump to CNN, mentioned in previous Newsweek coverage. "I believe our president is kind of trying to divide us. What I've noticed over the past few months [is] he's kinda used sports to kinda divide us, and that's something that I can't relate to," he told the CNN anchor at the time.
Trump has since responded to that particular interview via Twitter and said "Lebron James was just interviewed by the dumbest man on television, Don Lemon. He made Lebron look smart, which isn't easy to do." The jab resulted in a nine-minute monologue in which Lemon ranted about his dissatisfaction with the President's behavior.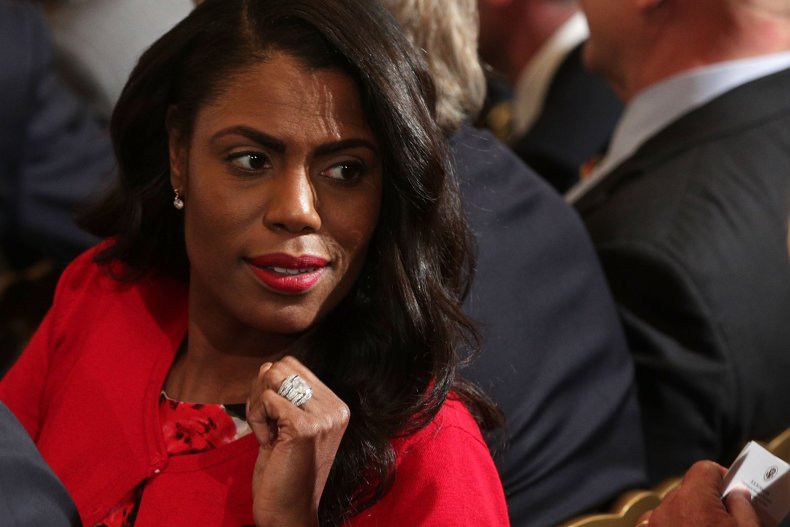 Omarosa has worked to disassociate herself from a President that she had defended after she was fired in December after allegedly misusing the White House car service known as "CARPET, Politico reported.
She has since accused Trump of dropping the N-word and said she had tapes of him speaking the term on the record. Her book alleges the Trump campaign offered her $15,000 a month. The nondisclosure agreement she said came with the deal she refused to sign would have limited her from commenting publicly on the President, Vice President Mike Pence, or members of their families.
Political consultant Frank Luntz, mentioned on page 149, has said mentions of his name in the book were based on a false rumor that Omarosa heard from a person who claimed to have heard the President use the term.
Actress Kristy Swanson said the whole situation mentioned in the book made her reminiscent of her former role as Simone Adley in the 80s classic. "Frank...this sounds like my line in Ferris Bueller's Day off..."My best friends sisters boyfriends brother's girlfriend heard from a guy who knows this kid who's going with a girl who saw Ferris pass out at 31 flavors last night," she Tweeted in response to Lutz.
"I am no longer friends with him (the President), said Omarosa in the video interview, "nor do I want to be."