Omicron Found in 13 Passengers From Two Flights as Officials Warn Variant May Elude Vaccines
Dutch health officials have identified a cluster of air travelers from South Africa with the new Omicron variant of COVID-19, while Dr. Anthony Fauci and other officials warned that the variant may resist available vaccines.
Officials in the Netherlands found that a total of 61 travelers who arrived on two flights from the African country on Friday had tested positive for COVID-19. Of those infected travelers, 13 were determined to have the new Omicron variant.
The travelers flew into the Schipol airport in Amsterdam, which ranks among the busiest in all of Europe.
Dutch authorities are now in the process of reaching out to individuals who arrived from other southern African nations where Omicron has been on the rise since Monday. In addition to South Africa, those countries include Botswana, Eswatini, Lesotho, Mozambique, Namibia and Zimbabwe.
Globally, cases have also been detected in Australia, Belgium, Botswana, Denmark, Germany, Hong Kong, Israel, Italy, and the United Kingdom.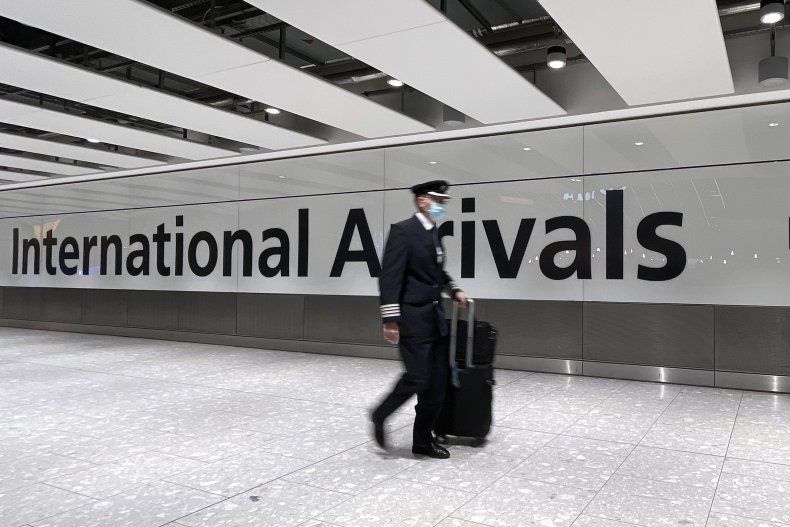 The variant, officially known as B.1.1.529, was first disclosed to the World Health Organization (WHO) on Wednesday by scientists in South Africa. WHO later confirmed on Friday that the first known case of the new strain was found on November 9. Officials said the "variant has a large number of mutations, some of which are concerning," including a potentially higher risk of reinfections.
Since the variant was announced, several countries, including the U.S., moved to restrict travel from South Africa and several other nearby countries. President Joe Biden announced the move on Friday.
"As a precautionary measure until we have more information, I am ordering additional air travel restrictions from South Africa and seven other countries," Biden said. "As we move forward, we will continue to be guided by what the science and my medical team advises."
During the announcement, Biden also once again urged people to get vaccinated against COVID-19 if they have not already, while also urging those already vaccinated to seek out booster shots.
This emerging situation, Biden said, "should make clearer than ever why this pandemic will not end until we have global vaccinations"
Newsweek reached out to the CDC for a comment on this story.
Paul Burton, chief medical officer at vaccine maker Moderna, said on Sunday that the Omicron variant could potentially have some resistance to the vaccines currently on offer.
"We should know about the ability of the current vaccine to provide protection in the next couple of weeks," Burton said during an appearance on the BBC's The Andrew Marr Show.
Despite this potential resistance, Burton insisted that a newly formulated vaccine could be made available as soon as early next year.
"If we have to make a brand new vaccine, I think that's going to be early 2022 before that's really going to be available in large quantities," he explained. "The remarkable thing about the mRNA vaccines, the Moderna platform, is that we can move very fast."
Meanwhile, Fauci also expressed concern over the new variant's potential for vaccine resistance during a Sunday appearance on Meet the Press.
"The profile of the mutation strongly suggests that it's going to have an advantage in transmissibility," the infectious diseases expert said. "And that it might evade immune protection that you would get, for example, from a monoclonal antibody or from the convalescent serum after a person's been infected. And possibly against even some of the vaccine-induced antibodies. It's not necessarily that that's going to happen, but it's a strong indication that we really need to be prepared for that."