Omicron March on Beijing Strains China's Zero-COVID Policy Before Olympics
Some 20 million people are now living under the strictest of COVID-19 measures in China as health officials moved to put up a safety ring around Beijing ahead of the Winter Olympics in three weeks.
The National Health Commission (NHC), China's central health authority, is tracking four major outbreaks across the country. These include Delta clusters in Xi'an and Yuzhou, in the provinces of Shaanxi and Henan, where more than 14 million residents remain under an indefinite lockdown.
On Monday, the port city of Tianjin, 80 miles southeast of the Chinese capital, was put under partial lockdown over the spread of Omicron, which is thought to be many times more transmissible. On the same day, the government of Anyang, also in Henan in central China, announced a full lockdown following the discovery of the same coronavirus variant.
China is one of the few remaining countries in the world still pursuing a zero-COVID policy, despite having fully vaccinated around 85 percent of its population. The Omicron clusters, whose origins remain unclear, pose the biggest tests for Beijing's no-tolerance approach to the virus, a strategy it has defended in the face of internal criticism and external skepticism.
To overcome this winter's COVID surge before the start of the Lunar New Year break on January 31 and the Winter Games on February 4, China is expending extraordinary amounts of financial and human resources and repurposing some of the strictest public health measures from the early days of the pandemic.
Districts in Tianjin, which has a population of 14 million, have been placed into three public health categories: lockdown, control and prevention. In the first, residents aren't allowed to leave their homes; in the second, each household is permitted to send one family member to purchase supplies every two days; and in the third, movements are restricted to the immediate neighborhood.
Municipal officials have called for a "moat" to be built around the city in order to safeguard Beijing. Public transport has been suspended and schools and universities shut as citywide testing begins this week. Additional exit controls are also in place, with residents required to supply negative PRC tests as well as approval from businesses and community authorities in order to leave the city limits.
Around 300 miles away, Anyang's 5.5 million residents are living under harsher conditions. After one of its Omicron cases was traced to a college student who had returned from Tianjin before the New Year, all transport was suspended and direct bus and train links to Beijing were halted. A report by China's state broadcaster CCTV said the case indicates the Omicron variant has been active in the city for at least two weeks.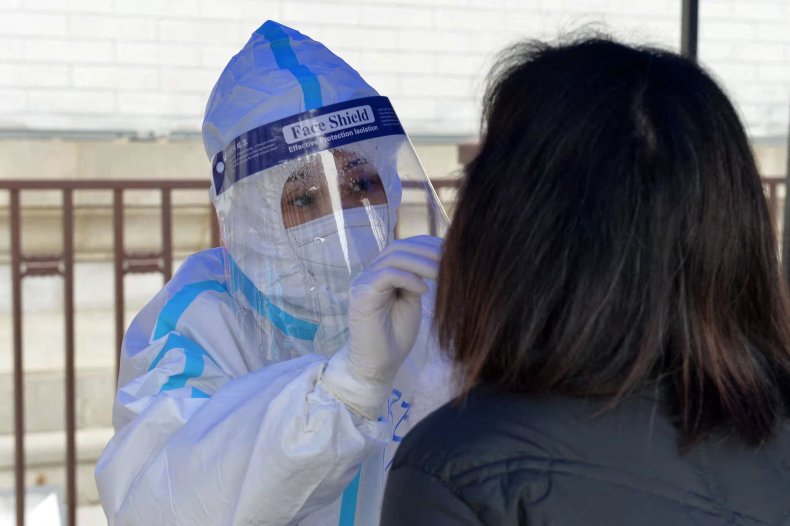 On Tuesday, the NHC said 110 locally transmitted symptomatic COVID-19 cases were reported across China on January 10. The figure didn't include 50 individuals who tested positive but exhibited no symptoms—a separate reporting category maintained by Chinese health authorities since the start of the pandemic.
The country's total cases reached 103,968, while its COVID-related deaths remained unchanged at 4,636.
China's zero-COVID policy holds political significance for the Chinese leadership and especially President Xi Jinping. Its successful containment of the virus has been one of its proudest achievements, and will continue to lend the Chinese Communist Party legitimacy as Xi seeks an unprecedented third term at the party's twice-a-decade National Congress this autumn. Tight COVID controls are expected to last until after the event.
Before that, Xi's suitability as leader will be strengthened by the successful hosting of not only Beijing 2022, but also the postponed 2021 Summer World University Games in Chengdu, Sichuan, in June, and the 2022 Asian Games in Hangzhou, Zhejiang, in September.