One for Each Night: Eight Hanukkah Songs from 2015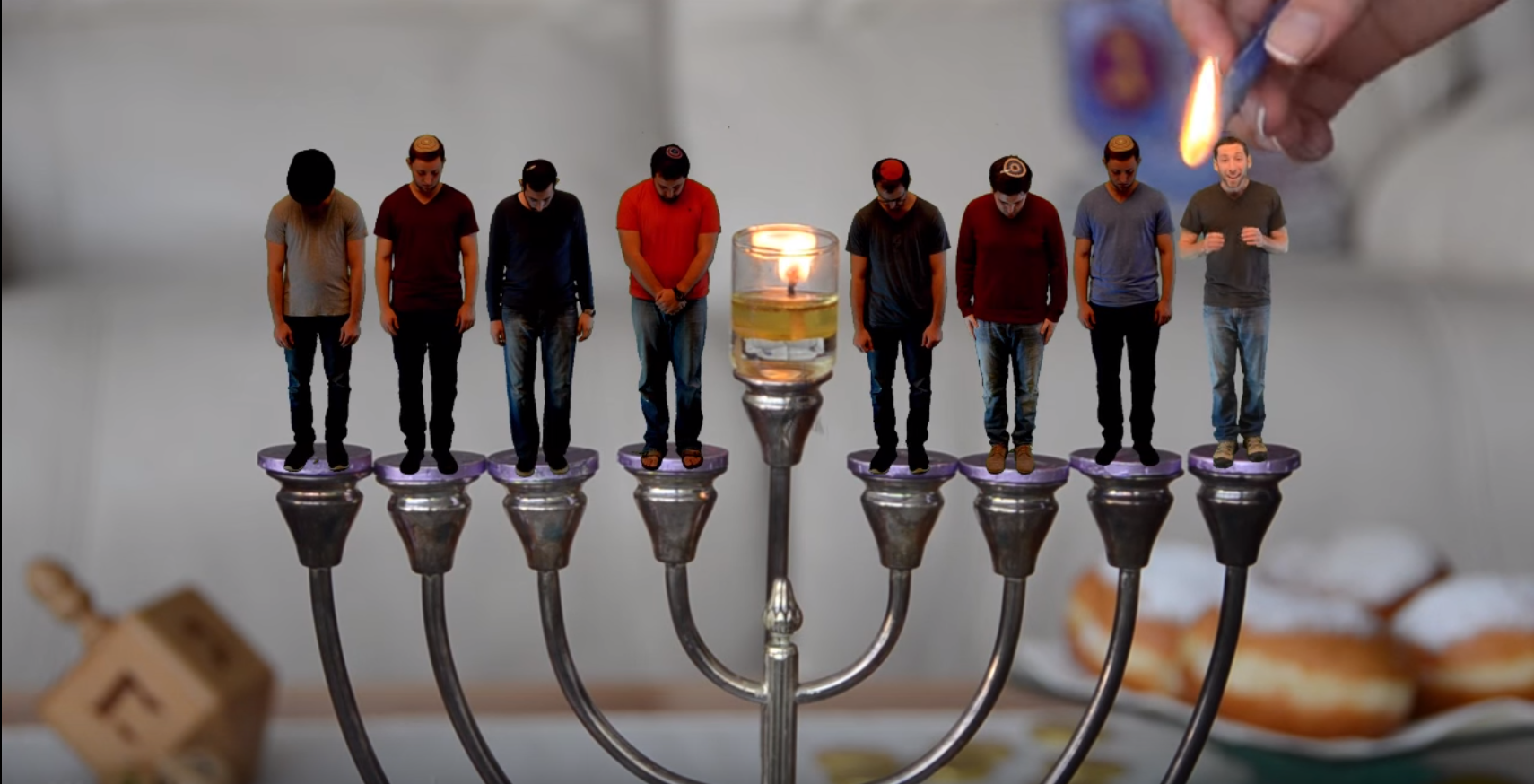 This list needs very little introduction, since mashups, parodies and other songs created for Jewish holidays have become a new tradition. Last time Hanukkah came around, Newsweek compiled some of the classics from recent years. This year, there were enough new songs released to last, as Adam Sandler would say, "eight craaaazy nights." One for each night, they spread a sweet light (or sound, in this case) to remind us how a 21st-century Hanukkah can be done right.
First Night: "Chanukah Song Part 4" by Adam Sandler
We'll start with one of the true pioneers of the genre, Adam Sandler, who first performed "The Chanukah Song" on Saturday Night Live in 1994. At a live show in San Diego this past November, he surprised his audience with "a fourth list of people who are Jewish, just like Jesus, Olaf, Punky Brewster, Scott Rudin and meeeee." Listen to the second and third lists here and here.
Second Night: Young Amy Schumer + Jimmy Fallon and Rashida Jones
This is a two-fer, because one's a super-short video of a young Amy Schumer singing about the holiday and the other, a holiday parody medley by Jimmy Fallon and Rashida Jones, devotes only a few lines to Hanukkah sandwiched between a lot of Thanksgiving and Christmas.
Third Night: "A One Direction Hanukkah" by Erez Cohen Music featuring A.K.A. Pella, Six13 and the Y-Studs
In recent years, a cappella parodies of famous pop songs rewritten for Jewish holidays have become a staple. The first of several such videos on this list focuses on London-based pop boy band One Direction and features groups including Six13, whose "Watch Me (Spin/Drey-Drey)" is below.
Fourth Night: "Lift Yourself Up" by Shir Soul Singers
"Lift Yourself Up" is not a parody or as explicitly Hanukkah-y in its lyrics as some of the others, but the holiday certainly serves as the setting for this song by Shir Soul, a Jewish wedding band and a cappella group from the New York City area.
Fifth Night: "Al HaNisim" by Kippalive
In this Hanukkah-cappella video, the members of Kippalive really embody the holiday; they are the candles standing in the eight spots of the menorah as they sing this arrangement based on a prayer recited for Hanukkah.
Sixth Night: "8 Days (of Hanukkah)" by Sharon Jones & the Dap-Kings
Need a break from the a cappella parodies? OK, fine, but two of the best are still to come, so make sure to keep scrolling after you listen to this Hanukkah tune by Sharon Jones & the Dap-Kings from their new album It's a Holiday Soul Party.
Seventh Night: "Watch Me (Spin / Drey-Drey)" by Six13
Last year Six13's Hanukkah parody of Taylor Swift's "Shake It Off" went viral—garnering to date more than two million views—and inspired a Newsweek roundup of modern Hanukkah tunes. For passover this spring, the group parodied "Uptown Funk," and this Hanukkah, they took on Silento's "Watch Me (Whip/Nae Nae)."
Eighth Night: "Latke Recipe" by The Maccabeats
Last, but certainly not least, The Maccabeats released "Latke Recipe," a parody of "Shut Up and Dance" by Walk the Moon. In previous years, the group has made Hanukkah videos like "All About That Neis" (2014), "Burn" (2013), "Shine" (2012), "Miracle" (2011) and, with more than 11 million views, "Candlelight" (2010).