One-Eyed Cat Reunited With Owner After Five Years of Prison Life
A one-eyed cat that went missing five years ago has been reunited with its owner, according to officials.
The Scottish SPCA announced in a press release Friday that the cat, Dexter, was found in a shipping container on an off-shore oil rig. It's not entirely clear how Dexter ended up on the rig; however, officials did say the container came from Peterhead—the Scotland town that Dexter has called home for the last five years.
"We were alerted yesterday to an incident of a cat being found in a shipping container offshore," said Scottish SPCA animal officer Aimee Findlay in Friday's release, adding that Dexter was flown back to shore via helicopter.
Officials quickly learned that Dexter had been living as a stray outside of the Peterhead Prison. There he was fed, "loved" and even given a special nickname.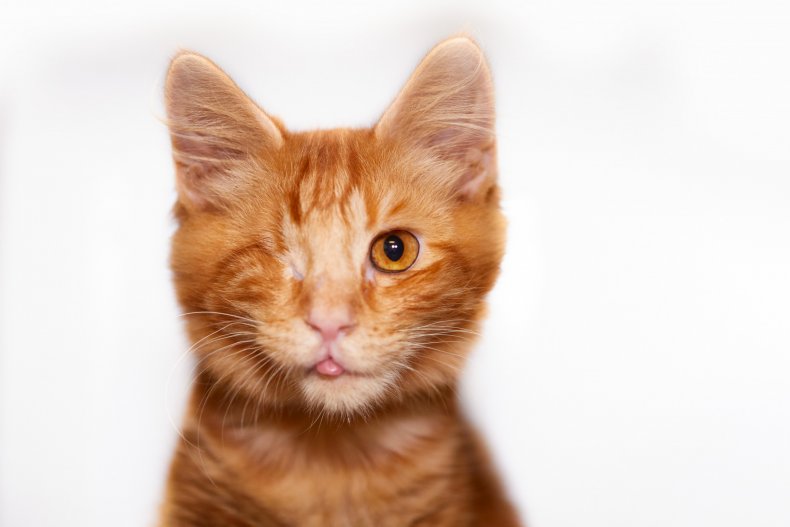 "The cat had been nicknamed 'One-eyed Joe' by the prison who had been feeding him for five years, but after checking him for a microchip it turns out his real name is Dexter and he has been missing for five years!" Findlay exclaimed.
"We are so glad that he was well looked after for the time he was missing, but were even more delighted to be able to reunite him with his original owner thanks to his microchip being up to date," Findlay continued.
According to the ASPCA, "microchips are tiny transponders, about the size of a grain of rice, that can be implanted in your pet's skin by many veterinarians and animal shelters."
Though they are a great "backup option" for pet identification, the organization said they should never be solely relied upon.
"Reading a microchip takes a special scanner, one that an animal control officer or shelter will have, but your neighbor down the street will not," explained ASPCA. "That said, microchips provide an extra level of protection in case your pet loses their collar and tags."
In fact, several cats in addition to Dexter have been reunited with their owners thanks to their microchips.
In December, an Arizona pet owner was reunited with her cat, Monkey Face, after spending six years apart.
"[The] reunion was PRICELESS! It was easy to see the joy they had cuddling after such a long time," said San Antonio Care Services in a Facebook post about the reunion.
The Scottish SPCA also managed to reunite a couple with their 12-year-old cat in September after a decade of separation. And last summer, a woman received a call from a veterinarian that her cat, Mini Max, had been found after going missing six years prior.