One Teen Dies Following Sand Collapse on Beach, Sister Survives
One teen is dead and another is injured after becoming trapped in the sand that collapsed on them as they were digging a hole on a New Jersey beach.
According to authorities, 18-year-old Levi Caverly, a resident of Maine, and his 17-year-old sister were digging a large hole in the sand at a beach in Toms River when they became stuck after the ground gave way. The younger sibling was rescued and received treatment, according to police; however, Caverly died in the collapse.
The family was visiting from out of town and spent the afternoon at the beach, authorities said. Mo Hill, mayor of Toms River, told NBC10 that the two teens were using frisbees to dig a 10-foot hole in the sand.
Authorities say they received the call Tuesday just after 4 p.m. local time. Live footage from the scene showed dozens of first responders working to help with the rescue, and the Toms River Police Department advised beachgoers on social media to avoid the area, warning "Multiple police units, EMS are currently on scene."
"The 17 year old female victim was rescued and treated at the scene," the Toms River Police Department said in a Facebook update. "But her brother Levi Caverly, 18 of Maine, tragically died in the collapse."
This is not the first time this week that digging underground has resulted in the death of a minor.
Utah officials on Monday reported that a 13-year-old boy had died from injuries sustained from a sand dune collapsing while he was digging the day before at a state park, according to the Associated Press.
Ian Spendlove, of Santa Clara, Utah, was digging a tunnel at southern Utah's Coral Pink Sand Dunes State Park when it collapsed on him. Park rangers said they had to dig the boy out of over 6 feet of sand.
First responders rescued Spendlove, administered CPR and rushed him to a nearby hospital. A day later, he died after not regaining brain activity, the Utah Division of State Parks Department said.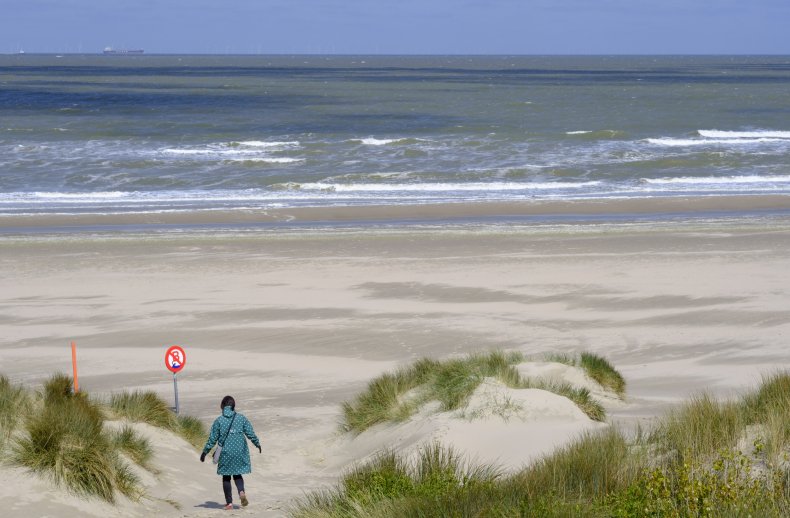 Harvard Medical School assistant professor Dr. Bradley Maron, who has been tracking sand hole collapses worldwide for the past decade, told Ocean City Today in 2020 that sand collapse incidents aren't as rare as people think.
Maron said several dozen young people have been killed over the last decade on U.S. beaches when their hole or sand tunnel collapsed on them. He said about 60 percent of collapses have been fatal.
From 1997 to 2007, Maron documented 52 incidents in which beachgoers became buried in sand that collapsed, according to NBC. In 31 of these cases, the victims died. Since 2007, Maron says he's aware of at least 25 additional incidents.
Newsweek reached out to the Toms River Police Department for comment.
This is a developing story check back for updates.