Internet Sympathizes As Online Banking Mishap Ruins Man's Surprise Proposal
A woman has confessed to ruining her own engagement surprise after accidentally logging into her boyfriend's bank account and seeing he had made a large purchase at a ring shop.
She shared the "misdemeanor" in a Reddit post on Wednesday, using the handle u/Same_Fly_5110.
The woman explained that she had been doing some paperwork on her boyfriend's computer and logged into what she believed to be their joint savings account, but was in fact his personal account.
The password was saved on his computer, she said, and "the usernames are basically the same for both accounts, off by 1 character at the end." As a result, "it genuinely didn't set off any alarms"—until the woman spotted the payment.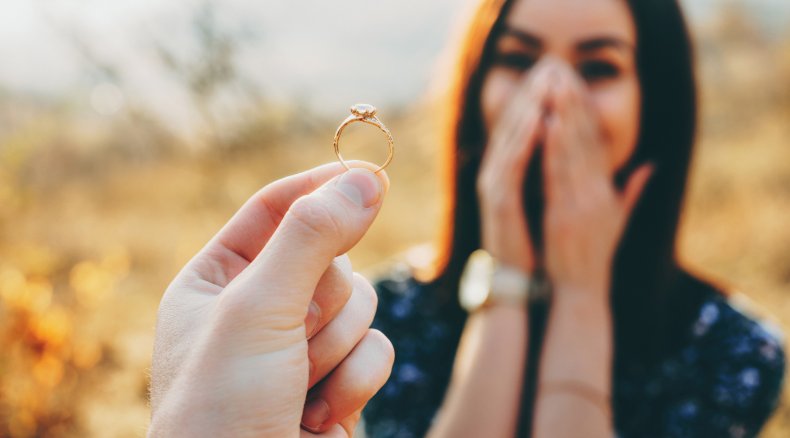 At first, she feared their account had been hacked, before realizing he had probably bought her an engagement ring.
"My dumba** ruined my own engagement surprise," the woman said, adding that she had mentioned the jewelry shop to her boyfriend in the past.
She did not reveal how big the payment was, but the average cost of an engagement ring in the U.S. is more than $3,500, according to Brides.com. The Wedding Stats website says the most popular ring type is a round brilliant-cut diamond.
The woman went on: "I called my sister, who just visited last night, to gush and she said my boyfriend told her last night while I was cooking dinner that he plans on proposing."
Her sister found it "hilarious" that she had spoilt her own surprise, she said.
The post, which was shared on the r/tifu thread where people discuss the many different ways they have messed up, has already received over 10,800 upvotes.
One user, akaKinkade, thought the story was heading in a different direction and expressed relief that it didn't: "That took such a sweet turn after a scary start. Congratulations!!!"
Maryxjane222 had a similar thought, writing: "I was preparing myself for a hotel charge or something. Pleasantly surprised."
UrbanRedFox joked: "Waiting for the TiFUpdate When we hear that the boyfriend has been pranking her for the next 6 months by staging false opportunities, having read her misdemeanor on Reddit."
Orlin_ quipped: "Lots of untied shoe laces in their future."
Another user, NoGood_Boyo, wrote: "Congratulations! Kind of a sweet story, can you keep it a secret that you know, for three months though? If you keep the secret, and he proposes, maybe don't tell him right away? It's sort of a weird position to be in."
Wholesomefolsom96 added: "Dude... I love that they now BOTH get to/have to live this whole time with the secret!!"
Newsweek has reached out to u/Same_Fly_5110 for comment.
Do you have a similar story you want to share? We want to see the best ones! Send them in to life@newsweek.com and they could appear on our site.