Just a quarter of Americans say the approve of President Joe Biden's handling of Afghanistan, as the chaotic withdrawal of U.S. forces from the country faces widespread criticism.
New polling released Sunday by NBC News showed that only 25 percent of respondents said they approve of Biden's handling of the situation in Afghanistan. Conversely, 60 percent of respondents said they disapproved of the president's actions when it came to withdrawing from the two decades-long conflict.
The poll was conducted from August 14 to 17 and has a margin of error of plus or minus 3.1 percent. One thousand U.S. adults were interviewed for the survey.
The new polling showed that Biden's overall approval rating also dipped to 49 percent—down from 53 percent in April. Additionally, the president's disapproval rating jumped to 48 percent, a 9 point increase from 39 percent back in the spring.
The Trump administration signed the Afghanistan peace deal with the Taliban in February 2020. Under that agreement, the U.S. planned to withdraw all its troops by May 1 of this year. After taking office, Biden chose to extend the deadline to September 11, then moved it forward to August 31. But the Taliban regained near total control of the country last Sunday, two weeks before Biden's withdrawal deadline.
The swift Taliban takeover took the U.S. off guard. Military and intelligence analysts had reportedly believed it was possible that the U.S.-backed Afghan government could fall with a month to 90 days. Biden and other administration officials had publicly downplayed those reports, with the president insisting the Taliban returning to power was "not inevitable."
Biden has faced substantial criticism as the U.S. has scrambled to evacuate Americans remaining in Afghanistan as well as thousands of Afghans who worked with the U.S. and its NATO allies during the past 20 years. Many of those Afghans have faced death threats and fear for their safety under Taliban rule.
The NBC News polling results align with those of a separate survey conducted by Morning Consult/Politico this month. That poll found that just 25 percent of registered voters believed the Afghanistan withdrawal going "very" or "somewhat" well. Meanwhile, 57 percent said that it was not going too well or not well at all.
Another poll conducted by CBS News/YouGov and released Sunday showed that 44 percent of respondents believe the troop withdrawal was going "very badly" and 30 percent said it was going "somewhat badly." However, it also showed that 63 percent of Americans approve of removing U.S. troops from Afghanistan. Just 47 percent said they approved of how Biden's handling of withdrawing the troops.
Despite the criticism, Biden has defended the withdrawal. The president has said that the U.S. achieved its objectives in the country long ago. He has argued that the situation would not be different if the U.S. spent billions of more dollars and remained in the country several more years.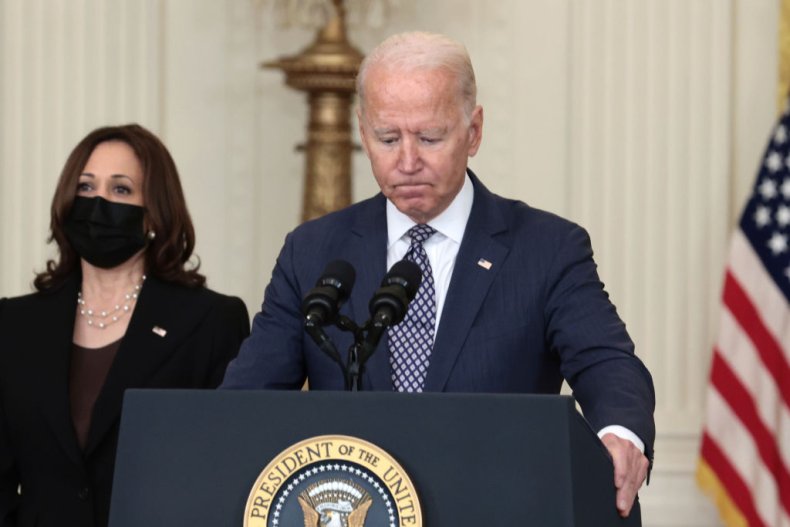 Updated 1:53 PM ET, with additional polling data from CBS News/YouGov.