About one in 10 Americans believe daycare centers, preschools or K-12 schools should open this fall without restrictions, a new poll says.
According to a survey conducted July 16 through 20 by The Associated Press-NORC Center for Public Affairs, just 8 percent of Americans answered that they think schools should open for in-person instruction as usual, and only 14 percent believe schools could reopen with minor adjustments.
Nearly half of respondents, 46 percent, said they thought major adjustments were needed if schools reopen in a few weeks, amid rising coronavirus cases in the U.S.
Adjustments including daily disinfections, mask requirements, temperature checks, social distancing in classrooms and a hybrid instruction model employing both in-person and virtual learning to reduce classroom capacity were considered "essential" measures by the majority of survey respondents.
Overall, Republican voters were more positive about reopening schools than Democrats, the survey showed.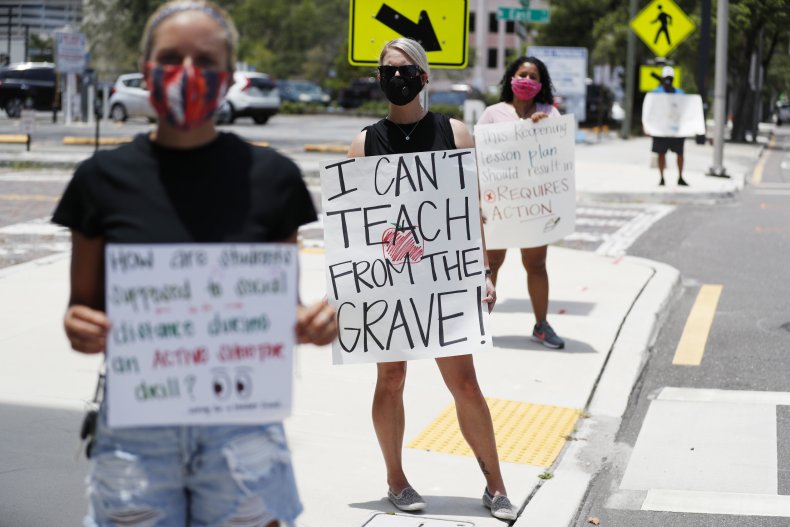 The decision of whether to reopen schools is currently being debated by American citizens and lawmakers alike.
Several major school districts across the U.S. are refusing to open their doors until coronavirus cases drop, opting to instead begin the year with virtual learning programs.
But President Donald Trump's administration has continuously pushed for in-person learning to resume, citing the academic, mental and physical benefits of having kids present in the classroom.
"What want to do is, we want to get our schools open," Trump told reporters July 7. "We want to get them open quickly, beautifully, in the fall."
A new GOP-backed economic stimulus plan prioritizes safely reopening schools amid the pandemic, as the proposal includes $105 billion for K-12 schools, Senate Majority Leader Mitch McConnell said Tuesday.
But Senator Patty Murray (D-Wash.), the ranking member of the Senate Health Committee, expressed her disproval of the proposed bill, saying that "bullying schools with one-size-fits-all demands" was inappropriate and the "thought of using students as a bargaining chip is appalling" and a "nonstarter."
Robert Redfield, director of the U.S. Centers for Disease Control and Prevention, said this week he would "absolutely" feel comfortable sending his school-aged grandchildren back into buildings in the fall.
The CDC released guidelines in May explaining how a school might safely accept students for in-person learning, recommending that K-12 school administrators should teach, monitor and enforce social distancing, hand-washing, daily health checks and disinfecting processes, according to its website.
All schools should dismiss staff and students for at least two to five days if a person infected with coronavirus has been in a school building. Virtual learning should still continue even if buildings are closed, the guidelines state.
The American Academy of Pediatrics has also advocated for in-person learning, with its president-elect writing in a CNN op-ed that the organization recommends that "students be 'physically present in school' as much as safely possible."
"Our guidance states that we should be actively and safely working towards a goal of having students return to in-person learning," wrote Dr. Lee Beers, adding that schools "play a critical role in addressing racial and social inequity."