Only About a Third of Republicans Would Get a COVID-19 Vaccine and a Third Wouldn't: Poll
Only about a third of Republicans said they will get a government-approved coronavirus vaccine when it becomes available, according to a new poll released this week by NBC News and SurveyMonkey.
While a third of Republican respondents told pollsters they do not intend to get the vaccine, 36 percent said they will and 31 percent said they aren't yet sure.
The poll found a sharp divide between Republicans and Democrats, with independents leaning toward the Republican viewpoint. Only 12 percent of Democrats said they will not get vaccinated, while 58 percent said they will and nearly a third—30 percent—said they're not sure. Meanwhile, a quarter of independents said they will not get vaccinated and 37 percent said they will, with 38 percent undecided.
SurveyMonkey said its pollsters conducted the survey online among 34,269 adults between August 10 and 16, with a 1 percent margin of error. The poll's combined answers from those respondents found about 44 percent said they will get a vaccine and 22 percent said they will not.
The survey also asked respondents about the kinds of preventive measures they are taking to protect themselves against coronavirus infection, as well as their opinions on reopening efforts in the U.S. Though only about half of Republicans said they wear masks while in public spaces, high majorities of Democrats—88 percent—and independents—73 percent—said they wear a protective face covering every time they leave the house.
While a majority of Democrats—86 percent—and of independents—64 percent—also said they believe their local economies are opening too quickly, 69 percent of Republicans said they believe the pace is too slow.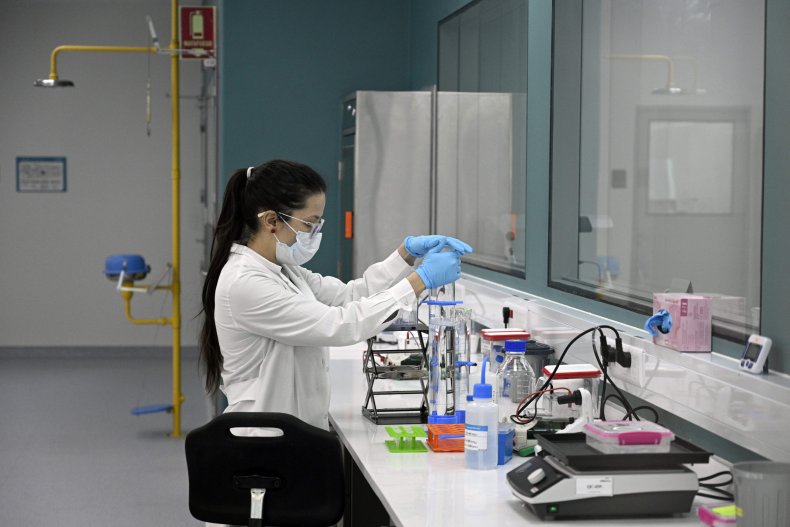 Respondents' opinions on their state leaders' handling of the pandemic was not high, with less than a third of respondents in any of the three political groups saying they strongly approved of their governor's strategy.
Opinions on President Donald Trump's handling of the pandemic were far more divided, with 87 percent of Republicans saying they either somewhat approved or strongly approved of his response to the crisis. In contrast, 91 percent of Democrats said they somewhat disapproved or strongly disapproved of the president's strategy, with 62 percent of independents agreeing.
The poll was conducted about five months after states began closing to slow the spread of the virus in mid-March. Though every state designed its own restrictions and reopening guidelines, several had to later postpone or reverse reopening efforts because of spiking infection rates. As schools begin classes this month for the fall semester, many are doing so virtually, as the virus remains a threat in the country. There is a general sense among many Americans that developing, approving and distributing a vaccine is key to getting the country back on track.
As this poll suggests, it's likely there will be significant chunks of the population that decide against getting vaccinated. This uncertainty about a government-approved vaccination has been a trend seen in several recent polls over the past few months. More than a third of American respondents told Fairleigh Dickinson University pollsters in late May they would not get vaccinated, and a poll from researchers at Harvard, Northeastern University, Northwestern University and Rutgers University that was conducted in mid-July found Republicans were least likely to express interest in getting a vaccine. However, that poll found Republican support for a potential vaccine was stronger than in this month's SurveyMonkey poll.
According to Dr. Anthony Fauci, director of the National Institute of Allergy and Infectious Diseases and member of the White House's coronavirus task force, it is possible that 1 billion doses of an effective vaccine could be ready by the end of 2021. Several potential vaccines are in development in the U.S. and around the world. Some promising candidates are receiving federal support through the Operation Warp Speed project, which the Trump administration launched in May to boost development and manufacturing efforts once a vaccine proves viable.