Only Two Republicans Have Said They Support Lindsey Graham's Abortion Ban
Lindsey Graham's 15-week abortion ban has divided Republicans, as the South Carolina senator's conservative proposal arrives at a crucial time for the GOP, less than 60 days ahead of the midterms.
On Tuesday, Graham introduced legislation that could institute a nationwide, federal ban on abortions after 15 weeks of pregnancy.
For many within the GOP ranks, the move came as rather unexpected: the South Carolina senator had previously supported a 20-week abortion ban, and Senator Mitch McConnell, the minority leader, had reassured that his party won't be seeking to ban abortion on a national level.
McConnell himself, in the aftermath of Graham's ban, distanced himself from the South Carolina senator's decision.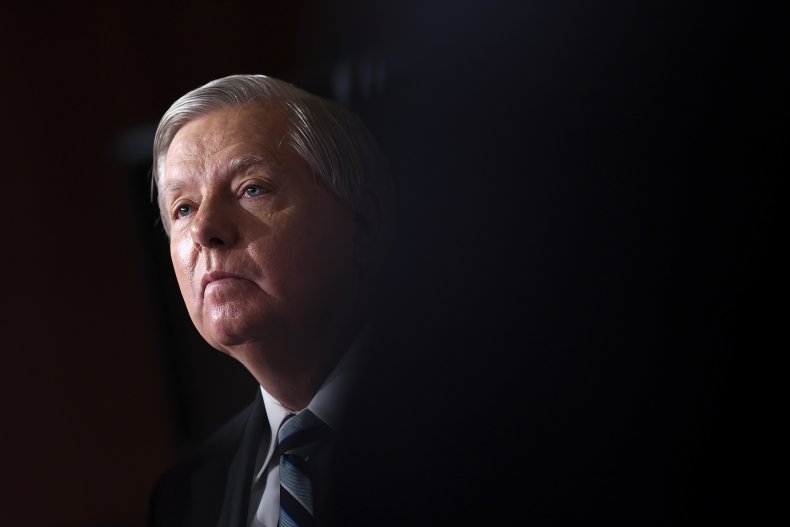 Pressed on the matter by reporters on Tuesday, McConnell said decisions on abortion should be left up to individual states—as the Supreme Court stated on June 24 when overturning Roe v. Wade. About Graham's ban, he said: "You'll have to ask him about it."
Republicans have been wary of polarizing the electorate on the issue of abortion following the end of Roe v. Wade, an upturning that has galvanized the Democratic party and Democratic voters.
Graham's ban, which allows more restrictive, pre-existing state laws on abortion to stay in place while superseding laws allowing the procedure after 15 weeks in more liberal states, would likely appeal to the most conservative Republicans.
So far, only a couple of Republicans have officially expressed themselves in support of Graham's ban. These are Herschel Walker, Georgia's Senate nominee, and South Dakota Senator John Thune.
Walker told both CNN and Politico that he supports the South Carolina senator's 15-week abortion ban, writing in a statement: "I am a proud pro-life Christian, and I will always stand up for our unborn children. I believe the issue should be decided at the state level, but I WOULD support this policy."
Questioned by CNN, Thune said he supported the 15-week abortion ban and that the legislation will give GOP candidates a "place to land" as Democrats take a strong stance pro-abortion rights during the midterms.
"I would expect there would be pretty good support for that among, you know, pro-life Republicans and maybe some pro-life Democrats," he told CNN. "I also think that because the Democrats have tried to convert this into a one-sided argument that represents their singular view of the world, which is all Republicans are for an outright ban. I think this changes that narrative and gives candidates a place to be for something that reflects their views and doesn't fit the Democrats' narrative."
Republican Texas U.S. House candidate Irene Armendariz-Jackson, a rising star of the GOP, the daughter of Mexican immigrants and the wife to a border patrol agent, didn't officially stated her support for Graham's ban, but started a social media kerfuffle on Twitter with an activist speaking against the legislation.
Olivia Julianna, a Gen-Z activist who rose to fame for collecting over $2 million for abortion funds after being body-shamed by Florida's Congressman Matt Gaetz, wrote on Twitter about Graham's ban: "I would rather walk barefoot through the streets of El Paso in the middle of July than listen to a damn word that comes out of the mouth of Lindsey Graham. A NATIONAL abortion ban. The GOP is telling you who they are, believe them."
Armendariz-Jackson replied to her tweet, writing: "You're not wanted in El Paso."
Olivia Julianna then responded to the GOP candidate sharing recent polls that indicate Armendariz-Jackson is 29.4 points behind Democratic candidate Veronica Escobar.

Other Republicans have been reluctant to express either support or condemnation for Graham's ban.
Speaking to CNN, Florida Senator Rick Scott said he'd "look at it." Texas Senator John Cornyn and Wisconsin Senator Ron Johnson said any decision on abortion rights and access should be left to the states.